These Maps Show The Average Teacher's Salary in All 50 States
No one pursues a career in education thinking they're going to make a hedge fund manager's salary. As recent teacher protests across the country attest, the average teacher's pay can be paltry compared to the level of work they put in. To illustrate just how dramatically teacher salaries can vary across the country, the personal finance site Howmuch.net combed through teacher salary figures listed by the Bureau of Labor Statistics at the elementary, middle, and high school levels, then compiled three maps. 
With the average national teacher salary hovering around $50,000, it's clear there's a great disparity at play. Teachers in California and New York make a killing compared to those in more fiscally conservative states like West Virginia and Arizona -- two places where teacher walkouts have recently made national headlines. 
After parsing through the BLS data, Howmuch determined the 10 best states for teacher salaries:
1. New York: $81,613
2. Alaska: $80,627
3. Connecticut: $78,567
4. California: $76,523
5. Massachusetts: $75,720
6. New Jersey: $72,460
7. Oregon: $69,643
8. Virginia: $68,707
9. Maryland: $67,173
10. Rhode Island: $67,050
If you're interested in seeing the entire national makeup reflected in elementary, middle and high school teacher salaries, see the maps below:
Courtesy Howmuch.net
Here's the situation for middle school teachers: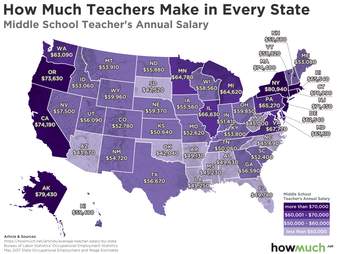 courtesy: Howmuch.net
And high school teachers:
Courtesy: Howmuch.net
Sign up here for our daily Thrillist email and subscribe here for our YouTube channel to get your fix of the best in food/drink/fun.
 
Sam Blum is a News Staff Writer for Thrillist. He's also a martial arts and music nerd who appreciates a fine sandwich and cute dogs. Find his clips in The Guardian, Rolling Stone, The A.V. Club and Esquire. He's on Twitter @Blumnessmonster.