Celebrities collaborating with fast food brands isn't anything new. Over the past year, we've seen Mcdonald's partner with BTS and Saweetie, Popeyes with Megan Thee Stallion, and Justin Bieber with Tim Hortons. Before that, Travis Scott's collaboration with Mcdonald's led to pure pandemonium. Now, A&W is daring to be different with its "Anti-Celebrity Meals."
Unfortunately, the meals aren't edible. Instead, they're part of a new marketing campaign that puts A&W employees at the forefront over celebrities or influencers. A representative from the cheese curd-loving company told Thrillist that its focus is to "celebrate the true stars of A&W and those are the real-life employees."
In the new ads, which are all over A&W's social media, you can see four A&W employees, all of which are based in Central Kentucky stores. They are the "locally sourced celebrities" in the campaign, photographed and juxtaposed with other fast food chains' celebrity campaigns like Travis Scott, Saweetie, and J Balvin.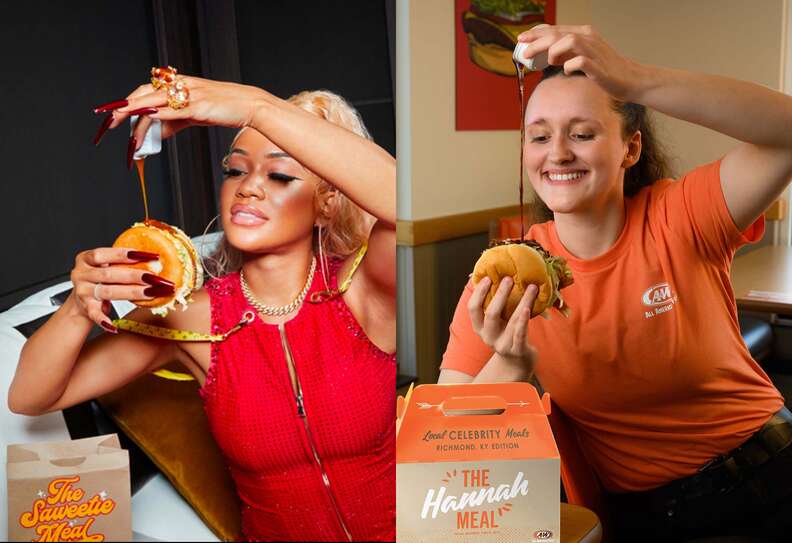 According to A&W, the campaign is a way to shine a spotlight on employee recruitment and retention issues that have not only hit A&W but are causing problems for fast food chains nationally. In a National Restaurant Association survey conducted in July 2021, 75% of restaurant operators said recruiting and retaining employees was their top challenge compared to 8% in January 2021.
As a bit of an incentive, A&W franchises are being equipped with a comprehensive hiring package that includes 3D employee-meal box yard signs and new uniform T-shirts. All pieces are customizable to each store location and the names of local employees. So as you cruise to your local A&W, keep an eye out for these playful pokes at other brands that actually aim to create more jobs within communities.
Janae Price is a News Staff Writer at Thrillist. She's a native New Yorker and loves all things cheese, K-pop, and culture. Follow her on Instagram and Twitter @janae_larie.