Blessed Child Born in a Chick-fil-A Will Get Free Food For Life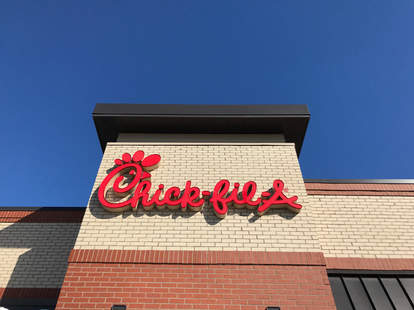 If all of our births so seamlessly integrated with a fast food company's marketing strategy, we'd never have to spend a dime on chicken nuggets for a lifetime, either. But alas, you cannot be this child, who was born in a Chick-fil-A, and thus inducted into a rare breed of humans who reap the reward of free food for simply entering this world next to a deep fryer.
On Tuesday, Robert Griffin's wife Falon was experiencing contractions, so the couple dropped their two elder daughters off with friends at a San Antonio Chick-fil-A so they could head to Texas' University Hospital. Since it was around 10 pm and the store was closed, the couple began banging on the door so Falon could use the bathroom. Soon after that though, her condition worsened: After dropping his girls off, Robert soon found Falon in the Chick-fil-A bathroom going into labor, according to local reports. 
The ensuing scene was detailed by Robert in a Facebook post, replete with visceral details about the baby's umbilical cord being stuck around her neck twice, and also tangential praise for the president and conservatism -- which doesn't really apply to bathroom childbirth, but whatever. 
Talon described the situation to KENS-TV, saying "I couldn't control it. I was basically [straddling] the toilet — I wasn't even sitting down. I was literally standing giving birth, with one hand on the wall and one hand holding her head."
Anyway, the Griffins pulled through: Robert tended to his wife, while Chick-fil-A employee Brenda Enriquez dispatched paramedics who showed up shortly afterward.
For the Griffin's troubles, the chain has offered the newborn baby, named Gracelyn Mae Violet Griffin, free food for life and the offer of a job when she's old enough to at least walk, according to KENS-TV. While free food for simply being born is a nice, marketing-savvy gesture from the fried chicken peddler, the news has left more than a few people scratching their heads and positing questions about the unfairness of modern life:
Really makes ya think.
h/tPeople
Sign up here for our daily Thrillist email and subscribe here for our YouTube channel to get your fix of the best in food/drink/fun.
 
Sam Blum is a News Staff Writer for Thrillist. He's also a martial arts and music nerd who appreciates a fine sandwich and cute dogs. Find his clips in The Guardian, Rolling Stone, The A.V. Club and Esquire. He's on Twitter @Blumnessmonster.