This Newborn Had Perfect Timing, So Her Parents Named Her Eclipse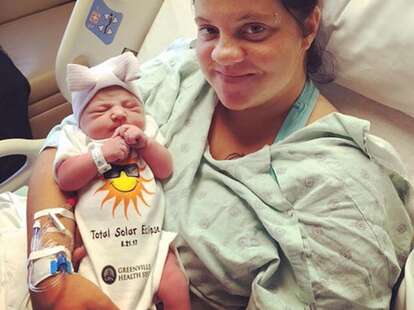 Courtesy of Greenville Health System
A lot goes into choosing your baby's name. There's the consideration of family forebears whom you may feel obliged to honor, and figuring out something just unique and pleasant enough to ensure there's some inherent air of individuality. And then sometimes, their birth just so happens to coincide with a magnificent celestial event and you're just like "Screw it, we're naming her Eclipse."
That's what happened in South Carolina this morning -- a few hours before the incredible total solar eclipse occurred overhead -- when a newborn baby girl's parents legally named their new daughter Eclipse.
Eclipse Alizabeth Eubank was born Monday morning, August 21, at 8:04am at Greenville Memorial Hospital in Greenville, South Carolina, which was within the narrow path of totality. And while her parents, Freedom and Michael Eubanks, had originally planned to name her Violet, they had a last-minute change of heart.
"I kind of felt like it was meant to happen, to have her on this day," Freedom told ABC News (she wasn't due until September 3). "I think it was just meant to be, her name. We're probably going to call her Clipsey."
As a nice touch, all of the babies born at Greenville Memorial on the big day of the total solar eclipse -- including Eclipse and 10 others as of Monday afternoon -- were gifted a special eclipse-themed onesie, all of which sport emoji-esque suns wearing sunglasses. And while those other wee ones will eventually grow out of their onesies, Eclipse gets to rock her special celestial-themed souvenir for life.
h/tABC News
Sign up here for our daily Thrillist email and subscribe here for our YouTube channel to get your fix of the best in food/drink/fun.