Bacardi Just Unveiled Its First-Ever 100% Biodegradable Spirits Bottle
Booze without the guilt of leftover plastic!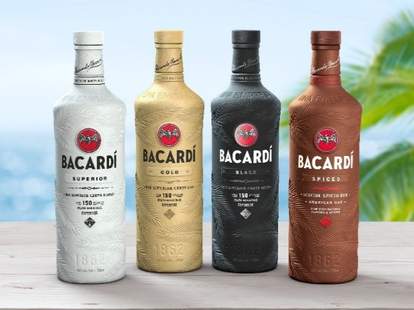 You're likely flying through the liquor cabinet these days. It's called coping with 2020, we get it. But there is a problem with your happy hour habit: the very real environmental consequences that come with popping bottles. Liquor brands, however, have been working tirelessly towards a solution, so you can booze without trashing the planet full of leftover plastic.
Bacardí is the latest company to jump aboard, following the likes of Johnnie Walker and Carlsberg Brewery. The world's most awarded rum maker just unveiled its own 100% biodegradable bottles, set to hit retailers in 2023. The innovation will replace 3,000 tons of plastic in the process.
The eco-friendly bottles were created in partnership with Danimer Scientific, a leading manufacturer of biodegradable products. The company's previous petroleum-based plastics, which can take over 400 years to decompose, will be swapped for Danimer Scientific's Nodax PHA. The material is a biopolymer derived from natural oils that is biodegradable in compost, soil, freshwater, and sea water and after 18 months can disappear entirely without any harmful microplastics left behind.
Courtesy of Bacardi
"Nodax PHA is one of the most promising eco-friendly materials in the world today because it delivers the biodegradability that consumers demand without losing the quality feel they receive from traditional plastic," chief marketing & sustainability officer Scott Tuten said in a statement. "The material provides the best of both worlds, and we look forward to working with Bacardí and incorporating PHA into their iconic packaging."
Bacardí's biodegradable bottle is just a first step in the company's overarching goal to eliminate plastic. According to senior vice president of global operations Jean-Marc Lambert, the company is aiming to be 100% plastic free by 2030.
Sign up here for our daily Thrillist email and subscribe here for our YouTube channel to get your fix of the best in food/drink/fun.
Megan Schaltegger is a staff writer at Thrillist.