All the Free & Cheap Food You Can Get Right Now for Back to School
It doesn't much matter if you're counting down the days until school returns in anticipation or if you're dreading the return and trying not to think about it. It's coming either way.
However, there's good news. Restaurants are offering discounts to families and teachers because of school's imminent return. Don't want to go back? Have a burger at Jack in the Box. Shocked at how expensive Lisa Frank binders have become? The kids' buffet is on the house at Cicis. Can't pick why you need relief because there are so many headaches? Mai Tais are just a buck at Applebee's.
No matter what your reason, there are tons of back-to-school food deals available right now. (Also, back-to-school sales!) Here are some of the best.
Back to School Free Food Deals
Jersey Mike's
The deal: To celebrate a revamp of the My Mike's mobile app, Jersey Mike's is offering a free sub. New or existing customers can download the app (both iPhone and Android) and log into their account. After your first in-app purchase, you'll get 72 points added to your account. That's enough to get a totally free sub.
When: Through September 30
Jack in the Box
The deal: Use a Back to School Coupon (found here or through its social media channels) to get BOGO burgers at locations in Fresno, Santa Barbara, Los Angeles, St. George, and Chico-Redding. The coupon is only valid in-store.
When: Through September 30
Cicis
The deal: Prep yourself for the return to school with a free kids buffet from 4pm-close with the purchase of an adult buffet and a large drink.
When: August 20, 27, and September 3
Walmart & Target
The deal: Get yourself a free bunch of bananas at either location using a coupon found in the Coupons.com app.
When: August 20-25
Carrabba's Italian Grill
The deal: Order one of the chain's signature dishes -- Chicken Bryan, Chicken Marsala, Pollo Rosa Maria, or the Chicken Trio -- and you'll get a free order of Lasagne to take home.
When: Through September 8
Krispy Kreme
The deal: In celebration of the one-week-only release of pumpkin donuts, Krispy Kreme is offering a free donut to anyone who has purchased something pumpkin spice that wasn't satisfactory.
When: September 2-8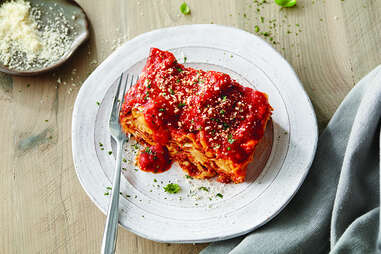 Back to School Food Deals
Domino's
The deal: Get half-off any menu-price pizza when you order online.
When: August 26 - September 1
Wendy's
The deal: Spend $10 through DoorDash and you'll get a free four-piece order of Spicy Nuggs as well as a small Sprite.
When: August 24 - September 7
Cici's
The deal: Get yourself two large one-topping pizzas for $10. The deal is available at locations across the country, but only for carryout and with this coupon.
When: August 30 - September 2
Jersey Mike's
The deal: On September 9, Jersey Mike's will send email club members an offer for $1 off any regular sub. Anyone in an area where school starts in September will get the email.
When: Sent on September 9
DoorDash
The deal: The food delivery service is offering 20% off any order of $10 or more with the code "LABORDAY19" in the US and "LABOURDAY19" in Canada.
When: September 2
B.GOOD
The deal: Celebrate back-to-school time. Students and teachers can get any salad, bowl, burger, or sandwich for just $5 when they flash a school ID.
When: August 14 - September 10
Cratejoy
The deal: The company that deliveries a box of goodies to your doorstep has some special back to school deals for everyone who is thinking about the end of summer. Whether you're looking for a self-care package for teachers or ways to deck out your dorm, there are plenty of options. Get 20% off a subscription with the code "BACKTOSCHOOL."
When: August 19-25
Firehouse Subs
The deal: Get $10 off any deluxe catering platter for all your... back to school festivities? Use this coupon to get the deal. (You can also take $2 off a medium or large sub with chips and a drink on September 2 with this coupon.)
When: August 28 - September 2
bd's Mongolian Grill
The deal: Participating locations have one night per week where students get a discount with a valid ID. The deal varies by location, but many have a $9.99 bowl or unlimited bowls for $11.99.
When: Ongoing
illy
The deal: Get a student discount code for 20% off online orders. You'll have to verify with Student Beans.
When: Ongoing
Applebee's
The deal: The chain's new Neighborhood Drink of the Month is a $1 Adios, available every day in September.
When: September 1-30
Local Food Deals
City Winery - Nashville, Tennessee
The deal: All year round, teachers can get 15% off in the barrel room restaurant and at the bar. Just flash your school ID.
When: Ongoing
Red Cow and Red Rabbit - Minneapolis/St. Paul, Minnesota
The deal: Visit any Red Cow or Red Rabbit with a school supply donation and you'll get half-off an appetizer. The donations will benefit Minneapolis and St. Paul Public Schools.
When: Through August 25
Teacher Appreciation Offers
Sun Basket
The deal: The meal delivery company is asking people to nominate their favorite teacher to get free Sun Basket meals for the entire school year. They'll select 10 teachers to win and announce them on September 14.
When: Nominate by September 5
Other Food Deals
Applebee's
The deal: All month long you can get $1 Mai Tais as part of the chain's Neighborhood Drink of the Month.
When: August 1-31
Chili's
The deal: Every month, Chili's serves up a margarita of the month for $5. This month's installment is a little Sex and the City-ish. It's a Tito's Cosmo-'Rita.
When: Through August 31
TGI Friday's
The deal: The chain's drink of the month is a boozy Long Island Ice Tea. It's just $5 all month.
When: Through August 31
7-Eleven
The deal: The convenience chain has finally made a Nerds Slurpee, and you can get it a medium one for just a buck through the 7Rewards app.
When: For a limited time
White Castle
The deal: For a limited time you can get two breakfast sliders for $3. The offer is part of the slider hub's Winning Waffle promotion. Buy any waffle item and you can win a trip to Belgium.
When: Through November 4
Marco's Pizza
The deal: Pick up a large or extra-large pizza and get a free medium cheese pizza with the code "FREECHZ" at participating locations.
When: September 3-5
UNO Pizzeria & Grill
The deal: Get $2 Stemmari Rosé Sangria with UNO's new ongoing drink promotion.
When: August 23 - September 30
Wahoo's Fish Taco
The deal: Grab two tacos for $5 after 5pm at participating locations.
When: August 19-31
Hungry Howie's
The deal: The flavored-crust hub is offering 51% off any pizza at regular menu price when you order online and carryout at participating locations.
When: August 19-25
Public School Restaurant + Bar
The deal: Place an order of at least $15 through DoorDash, and you'll get a free Summer Refresher with fruit chunks in your choice of Lavender Mint, Blackberry Pomegranate, or Strawberry Tangerine San Pellegrino. Calling them fruit chunks doesn't sound great, but you know it'll be good.
When: August 19-22
Shell Shack
The deal: All locations are participating in a school supply donation drive. Bring in new backpacks, pencil pouches, binders, calculators, markers, notebooks, construction paper, folders, or other supplies and, for your generosity, you'll get a free bowl of Chicken and Sausage Gumbo or New England Clam Chowder. It tastes good to help out.
When: August 19-23
Grimaldi's
The deal: To celebrate National Red Wine Day, you can nab $3 off a glass of wine or a $15 bottle of wine, as long as it's not the house wine.
When: August 28
Sonic
The deal: Nab a $1 hot dog because it's Thursday. No big deal.
When: August 29
Baskin-Robbins
The deal: Celebrate (or mourn) the unofficial end of summer with $1.70 ice cream scoops or two pre-packaged quarts of ice cream for $7.99.
When: August 31
Porter Road
The deal: For International Bacon Day, Porter Road is offering one free pound each of ham bacon, pork bacon, and pork back bacon when you spend $75 or more on the site.
When: August 31
Romano's Macaroni Grill
The deal: Romano's is offering free delivery on all orders placed at Macaronigrill.com.
When: August 28 - September 4
Fogo de Chão
The deal: Order any regularly-priced full churrasco and you'll get a free Children's Full Churrasco meal for a kid 12 or under.
When: August 30 - September 2
You can find even more offers around the same time in Thrillist's list of the best Labor Day food deals (and don't forget the Labor Day sales!).
More Back to School Deals?
If you know of any back-to-school deals we missed, shoot us an email to news@thrillist.com and we'll add 'em here.
Sign up here for our daily Thrillist email and subscribe here for our YouTube channel to get your fix of the best in food/drink/fun.