Everywhere Teachers Can Get Free & Cheap Food Right Now
A small thank you to people who help make us who we are.
Courtesy of Krispy Kreme
Courtesy of Krispy Kreme
Editor's Note: Information listed here may be subject to change depending on the developing situation with COVID-19's Omicron variant. Please check for the latest updates available or contact each establishment directly for more info.
Under the best of circumstances, there isn't enough appreciation for teachers. They're underpaid, working in underfunded schools, and are often having to battle to stop leaders at the local and state level from taking away their right to organize or something as simple as the funding for basic programs. It's not an easy job.
This year, the back-to-school season is, to comically understate the situation, complicated. We don't need to wade into the waters filled with representatives and leaders demanding things of schools and teachers that go against the recommended health guidelines in the middle of a pandemic. Suffice it to say, teachers deserve more thanks and preferably the kind that supports the health and financial well-being in the long-term. Nonetheless, both local and chain restaurants across the country are recognizing the difficult circumstances that face teachers this fall. Many of them are offering free and low-cost food to help teachers grab a little something delicious during a stressful time. Below you'll find offers from Krispy Kreme, KFC, and others looking to offer a small thank you.
Here are all the best food and drink deals for teachers available right now.
Free Food for Teachers
Pluckers Wing Bar
The deal: Teachers can grab a free appetizer every Friday.
When: Every Friday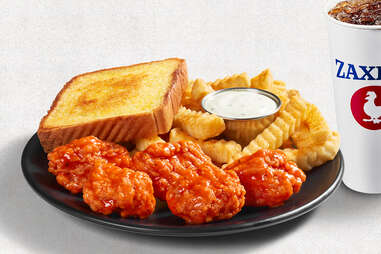 Sales for Teachers
Authenticity50
The deal: Teachers, military members, and first responders can take 20% off orders from the bedding company all year long.
When: Ongoing
Paper Source
The deal: The store offers teachers 15% off purchases year-round.
When: Ongoing
Other Food Deals Available Right Now
Moe's Southwest Grill
The deal: The burrito chain's new "Kids Eat Free" program offers a free meal to kids 12 and under every Sunday at participating locations. No purchase is required.
When: Ongoing
Boston Market
The deal: The rotisserie chain is offering free kid meals. No purchase is required at all. Kids 12 and under can just grab a free one.
When: For just a little while
More Deals for Teachers?
Did we miss some offers? Let us know about them at news@thrillist.com with "Teacher Food Deals" in the subject line, and we might include it here.
Want More Free Food?
Here's our huuuuuuuge running list of all the
free food
you can get right now, as well as the
best pizza deals
,
reward programs
,
birthday freebies
,
gift card offers
,
deals on food for kids
,
food delivery offers
, and
alcohol delivery deals
you'll find. If you want a little more than, say a free taco, we also have you covered with a long list of
meals you can get at fast food chains under $5
. You're welcome.
Additionally, we've put together a list of places offering
free food to healthcare workers and first responders
during the COVID-19 outbreak.
Sign up here for our daily Thrillist email and subscribe here for our YouTube channel to get your fix of the best in food/drink/fun.