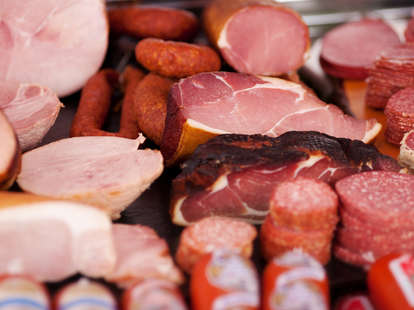 shutterstock.com
shutterstock.com
Hate to say it, but you might want to put down that big, beautiful breakfast sandwich. An alarming new report from cancer experts at the World Health Organization (WHO) has declared bacon, ham, sausage, jerky, and other processed meats as carcinogenic to humans, saying your favorite meats could lead to stomach, colon, and other cancers.
Basically, world health officials now classify processed meats at the same level of danger to humans as cigarettes, which is... terrifying.
Specifically, scientists from the WHO's International Agency for Research on Cancer found that each 50g portion of processed meats -- anything smoked, cured, or salted -- you eat every day increases your risk of colorectal cancer by 18%. The agency, in line with previous public health recommendations, suggests limiting your meat intake. Obviously, that's easier said than done because bacon, you know, tastes like bacon.
"For an individual, the risk of developing colorectal cancer because of their consumption of processed meat remains small, but this risk increases with the amount of meat consumed," Dr. Kurt Straif, Head of the IARC Monographs Programme, said in a press release. "In view of the large number of people who consume processed meat, the global impact on cancer incidence is of public health importance."
But the researchers didn't stop destroying your delicious diet there. The report also found that eating red meat could give you cancer, saying it's "probably carcinogenic."
"These findings further support current public health recommendations to limit intake of meat," Dr. Christopher Wild, Director of IARC, said in the release. "At the same time, red meat has nutritional value. Therefore, these results are important in enabling governments and international regulatory agencies to conduct risk assessments, in order to balance the risks and benefits of eating red meat and processed meat and to provide the best possible dietary recommendations."
Obviously, the meat industry can't be happy about the new report. But there's no way it's as devastated as we are right now.
Sign up here for our daily Thrillist email, and get your fix of the best in food/drink/fun.
Tony Merevick is Cities News Editor at Thrillist and is launching a startup that makes bacon patches for people who want to quit. Send news tips to news@thrillist.com and follow him on Twitter @tonymerevick.