A Bagel and a Burrito Had a Baby & It's the Bagelrito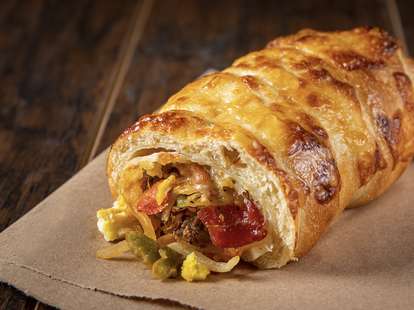 Courtesy of Einstein Bros. Bagels
There's nothing new about food mash-ups. We've seen the unholy and the divine in the portmanteau-ing of foodstuffs. In the brave spirit that brought you the Whopperito, the fried mozzarella stick grilled cheese at Denny's, and hot dog-stuffed crust pizza comes the nationwide release of the Bagelrito.
Einstein Bros. Bagels is unleashing the creation, named by its proud parents Burrito and Bagel, on February 27. Participating locations across the country are getting the breakfast bite that's being touted as "Big, Bold, and Easy to Hold." The latter of those things is certainly good, though, that might not be front of mind when considering potential problems with a Bagelrito.
The Bagelrito was tested in Denver back in October, and the company says it sold out within hours of being unveiled. (Though, it doesn't say how many it took to be considered a sellout.) "We heard our guests loud and clear," Teka O'Rourke, VP of marketing at Einstein, said. "Given the popularity of the Bagelrito during the Denver test, we knew we couldn't keep this breakfast innovation from the rest of the country for too long. We just needed a bit of time to ensure our bakeries are set up to meet the volume of orders we're expecting."
The bagel casing is filled with two cage-free eggs, bacon, turkey sausage, three cheeses, hashbrowns, salsa, and green chilies inside a flour tortilla, inside Asiago bagel dough. The existence of this potentially wonderful marriage of breakfast and dinner is proof that anything is possible if you dream big enough.
Sign up here for our daily Thrillist email and subscribe here for our YouTube channel to get your fix of the best in food/drink/fun.