Baileys Has a Apple Pie-Flavored Irish Cream Liqueur & You Can Already Get It
A summer Thanksgiving? What's not to love?
Personally, I'm of the camp that Thanksgiving should be celebrated more than once a year. Why save all the foods for a single occasion? We deserve fried turkey and stuffing and apple pie Baileys smack dab in the middle of summer. Turns out the latter part of that fantasy is now a reality, thanks to the liqueur maker's new seasonal Irish cream.
On Monday, Baileys said PSL who? with the debut of its apple pie-flavored liqueur, a limited-edition launch that's already hitting store shelves this August. And while, sure, that means it isn't sticking around permanently, that doesn't mean you can't stockpile enough to survive the season.
"Apple pie is a timeless, nostalgic American treat meant to be shared among loved ones. With the launch of Baileys Apple Pie, we hope to provide consumers with a convenient way to experience this familiar comfort," director of liqueurs at Diageo Stacey Cunningham said in a statement. "We encourage consumers to celebrate the 'season' responsibly and enjoy the indulgence of Baileys Apple Pie with friends and family."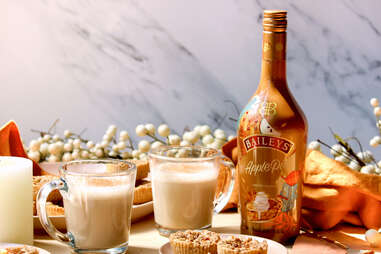 If you're really trying to follow my example (you should) and throw an inappropriately premature Friendsgiving this year (the more stuffing the merrier), then you might want a little extra help in the bartending department. What does one do with the apple pie Baileys?
Home delivery service Cocktail Courier has actually teamed up with celeb pastry chef and television personality Zac Young to curate a kit with all the fixings you'll need to make his "Apple of My Chai" cocktail, including Baileys apple pie cookies, an apron, and full-sized bottle of the new liqueur.
Sign up here for our daily Thrillist email and subscribe here for our YouTube channel to get your fix of the best in food/drink/fun.
Megan Schaltegger is a staff writer at Thrillist.