People Are Documenting Their Embarrassing Baking Blunders on Twitter
Everyone can relate to these hilarious failed baking attempts.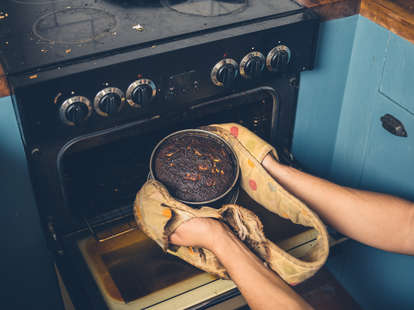 Shutterstock
Shutterstock
We aren't all blessed with natural baking abilities. In fact, some of us know our way around the Postmates app better than our own kitchen. But that doesn't mean we can't break out the whisk and give it the old college try. Our attempts just might end up more closely resembling something destined for the trash rather than the pastry case.
Earlier this week, a string of wannabe Betty Crockers took to social media with an important lesson: not everyone can conquer sourdough while in self-isolation. The trend all started after Twitter user Hend Amry, aka @LibyaLiberty, shared her own cooking confession.
"i've just made, what might possibly be, the world's most failed banana bread," she wrote on April 12. "if i had feral goats living in my backyard, i would hesitate to feed it to them. i will not be taking any questions at this time. thank you for respecting my privacy."
She followed up the baking flub with evidence:
Others quickly joined in to share their own failed baking attempts, with muffins, cookies, and braided bread that should only be described as...inedible.
Here's a bunch of baked goods you absolutelywon't wanna eat:
We're not all destined to join the Great British Bake Off, but some of us are headed toward Nailed It! stardom.
Sign up here for our daily Thrillist email and subscribe here for our YouTube channel to get your fix of the best in food/drink/fun.
Megan Schaltegger is a staff writer at Thrillist.