This Burger Is the Ultimate Tribute to Gene Wilder and Willy Wonka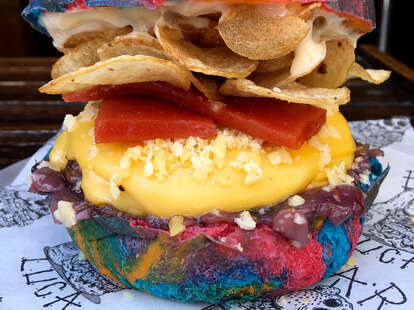 There have been a host of tributes to the recently departed Gene Wilder, many of which focus on his great roles. None of those seminal roles are more beloved than Willy Wonka, and Bar Luca in Sydney, Australia may have just put together the best tribute of them all. Or maybe it's just the most delicious tribute around.
It's called the Beauregard Burger and its love of Willy Wonka & the Chocolate Factory runs deep. Bar Luca's Sarah Robbins tells Thrillist, "We wanted to recreate the three-course bubblegum from the movie." And they have just that with no small amount of creativity.
As you no doubt remember, the three-course bubblegum included tomato soup, roast beef, and blueberry pie. While the rainbow bun is flashy, the ingredients really do recreate that experience with a BL beef patty, popping cheese ("sprinkled with popping candy!"), tomato soup jelly, blueberry and onion jam, and Bar Luca's special Wonka sauce. They don't list potato chips among the ingredients. However, it looks to the untrained but famished eye that there may be some chips involved in this beautiful culinary construction.
Additionally, the restaurant will be giving out a golden ticket in one burger every day that earns the winner some kind of prize from the restaurant. That's a wonderful surprise for anyone ordering a burger, but the best part might be that the burger doesn't appear to end in you inflating like a disgusting mylar balloon and getting rolled out of the restaurant by a crew monotone Oompa Loompas.
Be envious, and get a good look at the burger below.
Sign up here for our daily Thrillist email, and get your fix of the best in food/drink/fun.
Dustin Nelson is a News Writer with Thrillist. He holds a Guinness World Record, but has never met the fingernail lady. He's written for Sports Illustrated, Men's Journal, The Rumpus, and other digital wonderlands. Follow him @dlukenelson.