Barbie's Malibu Dreamhouse Is on Airbnb for $60, So Come on Barbie, Let's Go Party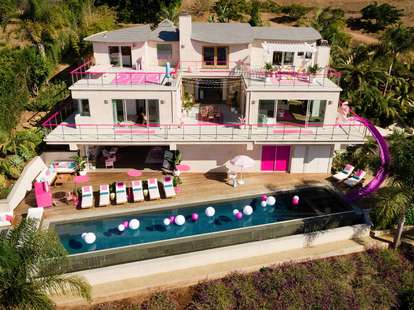 Airbnb
Airbnb
This one's for the kids who learned what love is by smashed plastic faces together, who argued with friends over whose doll gets the fur-lined denim jacket, who swore allegiance to the Barbie brand by talking crap about Bratz dolls: Soon you can rent the Malibu Dreamhome for just $60 a night on Airbnb.
Sorry Bratz fans, but you never stood a chance. Barbie is an empire. Grown women are riding around in pink Barbie Jeeps meant for children, for Ken's sake. And now Barbie fans everywhere can Jeep-drift a whopping 2.5mph towards an actual Dreamhouse in Malibu. The place is available for up to four people, for a one-time, two-night stay. This is all to celebrate the 60th anniversary of the toy brand.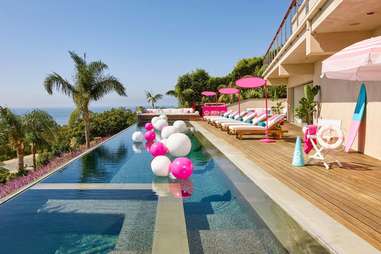 Booking opens at 11am PDT on October 23, and the stay must be from Sunday, October 27 to Tuesday, October 29.
"My Dreamhouse has three floors with ocean views and open spaces for friends and family to hang," Barbie said in the listing. "My pool is the perfect place to cool off from the California sun, but I never travel without my waterslide, so I'll be taking that with me." I, too, bring my waterslide when I, for example, visit family for Thanksgiving.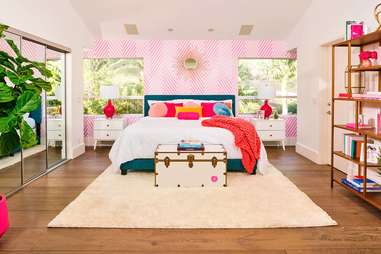 Barbie also mentions enjoying an outdoor movie, watching a movie in her personal cinema, or making s'mores under the stars. That's not gonna get you a 2:1 Barbie hip to waist ratio though. (Just kidding. Don't diet, ladies, it's bad.)
The place comes with a patio and balcony, as well as two bedrooms (one king, one queen). You'll be joined by a team of incredible women, there to make your stay authentically dreamy. You can get one-on-one fencing lessons from world-class fencing champion Ibtihaj Muhammad, a tour of the Columbia Memorial Space Center from aerospace engineer Jill Meyers, a hands-on cooking lesson from Malibu Seaside Chef founder Gina Clarke-Helm, and a makeover from celebrity hairstylist Jen Atkin, known for her work with the likes of Kim, Khloe, and Kourtney Kardashian.
With your purchase, Airbnb will make a donation to one of the charities involved in The Barbie Dream Gap Project, a movement dedicated to empowering young women. Life in plastic, it's fantastic.
Sign up here for our daily Thrillist email and subscribe here for our YouTube channel to get your fix of the best in food/drink/fun.