Barbra Streisand Revealed She Has 2 Cloned Dogs & Twitter Can't Handle It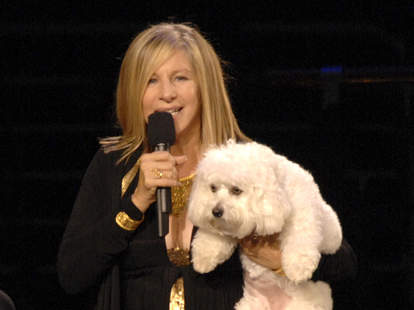 KMazur/WireImage/Getty Images
Being a very rich and somewhat powerful entertainment icon, Barbra Streisand can do things that other people can't. She can hit the high notes. She can call herself Babs. She can even watch an episode of South Park in which she takes the form of a giant robot hellbent on destroying humanity. But another glaring indication that everyone else in this world is nothing like Streisand surfaced on Tuesday: According to an interview the singer gave to Variety, Barbra Streisand has two cloned dogs. 
Yes, Streisand has entered the strange and scientific world of animal cloning and she is enjoying its fruits. Streisand explained to Variety that two of her dogs, Miss Violet and Miss Scarlett, are clones of her previous dog, a Coton du Tulear named Samantha, which passed away last year at the ripe age of 14.
The photo you are bearing witness to below shows Streisand's three current dogs, two of which are the cloned pooches, Miss Violet and Miss Scarlett. The third dog sits closer to Streisand's feet in the photo. The cloned dogs appear to be getting preferential treatment from the singer, because they are literal mirror images of the great Coton du Tulear Samantha. Which was a dog.
Twitter caught wind of this batsh*t news and promptly lost its mind.
Canceled my day because I won't be able to get over Barbara Streisand cloning her dead dog.

— Jackie Carbajal (@jackiecarbajal) February 27, 2018
Barbara Streisand:

🎶If we had the chance to do it all again
Tell me, would we? Could we?

Barbara Streisand's dog:

Hold my beer...

— Boyd's Backyard™ (@TheBoydP) February 27, 2018
Listen, a lot of people have a lot of things to say about Barbara Streisand, but if you gave me the option to clone my childhood dog Patches so I could spend even one more minute with her, I'd have a hundred dogs right now.

— Jocelyn Geddie (@jocelyngeddie) February 27, 2018
Barbara Streisand cloning her dog is my ONLY mood until further notice

— Grace Victoria Cox (@gracevcox) February 27, 2018
It is hard letting go of a beloved animal. But let this be a reminder that when you're Barbra Streisand, you can just clone your dog, and not worry about ever saying goodbye.
Sign up here for our daily Thrillist email and subscribe here for our YouTube channel to get your fix of the best in food/drink/fun.
 
Sam Blum is a News Staff Writer for Thrillist. He's also a martial arts and music nerd who appreciates a fine sandwich and cute dogs. Find his clips in The Guardian, Rolling Stone, The A.V. Club and Esquire. He's on Twitter @Blumnessmonster.