Analyst: Whole Foods Is 'Significantly Overpriced'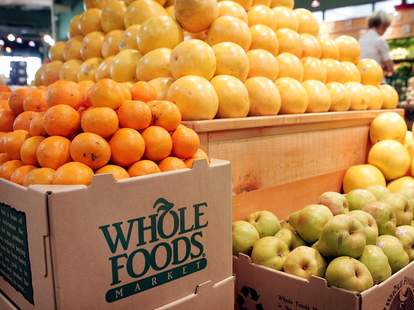 Although Whole Foods has launched a chain of smaller, slightly cheaper grocery stores, it's safe to say the organic grocer has more work to do to shake off its longtime "Whole Paycheck" nickname. In a recent report, however, a financial analyst offers some blunt advice to the company: just lower your damn prices.
As explained in a report by The Street, Barclays looked at the cost of groceries ordered from Whole Foods via online delivery service Instacart versus the cost of an identical order from an online-only grocery retailer called Thrive. The analysts found that even considering Thrive's $60 annual membership fee and Instacart's $6 delivery fee, Whole Foods will set you back 29% more, according to the report. This is an increasingly important comparison, considering the growing market for grocery delivery services.
"Whole Foods Market is significantly overpriced in the commoditized center store and frozen foods categories relative to Kroger and Thrive," Barclays analyst Karen Short said, per the report. "Whole Foods will continue to lose share in these departments until prices are lowered."
As Barron's Next points out, it's worth noting that Whole Foods offers significantly more products and faster delivery than Thrive, which ultimately makes it more convenient and likely worthy of a slightly higher price. Of course, Whole Foods prices at its brick-and-mortar stores are a whole separate story, which the company appears to be combatting with the launch of its 365 by Whole Foods Market brand that now includes three stores on the West Coast. Many more 365 locations are expected to pop up across the country. 
All said, if Whole Foods wants to make its investors and customers happy, it should offer more competitive prices, according to the reports. Maybe some day it'll be "Half Paycheck," instead, although it admittedly lacks the same ring to it. Whatever, we'll take it.
Sign up here for our daily Thrillist email, and get your fix of the best in food/drink/fun.
Tony Merevick is Cities News Editor at Thrillist and still likes to drop into a Whole Foods every once in a while. Send news tips to news@thrillist.com and follow him on Twitter @tonymerevick.