Courtesy of Nikolas Bentel Studio
During what he describes to Thrillist as the "worst of the pandemic," New York-based artist Nikolas Bentel found inspiration in an unlikely source: the same blue Barilla pasta box that stared back at him day and day out from his kitchen cupboard, transforming it into a satirical style moment.
Bentel, who's known specifically for his humorous projects, created a specialty leather handbag that looks exactly like a penne box—just with a stitched leather handle, gold chain shoulder strap, and you know, no actual pasta. It even features the Barilla logo, nutrition facts, and cooking instructions.
"In order to make the bag, I started with talking with the bag and leather experts who knew what materials and manufacturing [process] I should use," Bentel tells Thrillist. "I went to a number of bag makers to collect samples. The final step was to commission a bag maker with the full order. The UV printing process was key to making the bag look as realistic as possible."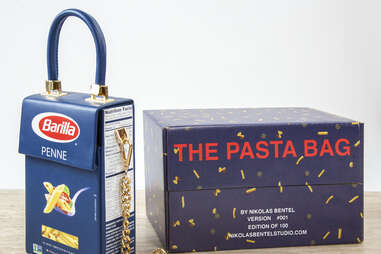 The UV printer layered the ink, which is bathed in UV light according to Bentel, to create long lasting pigment on the leather.
The best part, though? You can actually get it. The Barilla-inspired bag will go live on Nikola's site Wednesday, August 11 at 10, am EST. You will have to act fast, however, with only 100 bags available. They'll sell for $199 each.
"The bag is an irreverent take on the past year of staying inside," Bentel said in a statement. "Using the mundane objects we had lying around during the pandemic and turning them into something a little more thrilling for our post-pandemic world. The goal of the bag is to inspire a little bit of thought and reflection on being able to create something exciting from the mundane."
Megan Schaltegger is a staff writer at Thrillist.