There's a Growing Petition to Make Batman, Turkey's Borders Look Like the Batman Logo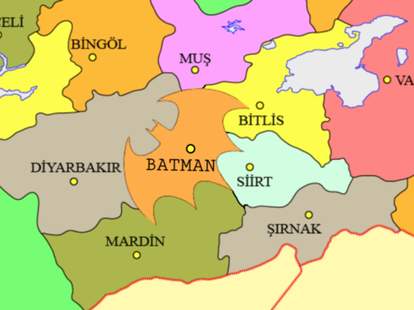 Batman, Turkey, a province that shares an unfortunate association with Ben Affleck and Comic Con, has been getting a lot attention online the past couple of weeks. Since the Turkish province, which is also a city, both share a name with the caped crusader, a petition has appeared on Change.org to alter the borders of Batman to make it appear like the Batman logo on a map.
The initiative now has 23,000 signatures. Its momentum is very real.
First spotted by BuzzFeed News, the petition was started by Kemal Atakan Kırca, who's lobbying Batman's governor via the internet to change the municipality's borders.
If the hypothetical plan were to actually work, Batman would go from looking like this: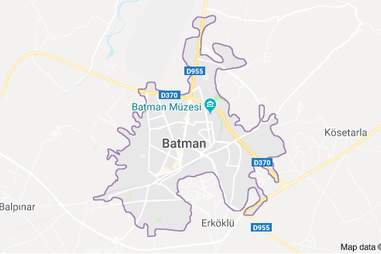 Google Maps
Change.org
"Batman needs some change! We can start with the border. By changing the border, we can make it more realistic," Kirca wrote on the petition's description. Since changing the province's borders would involve carving up those of its neighbors, the plan isn't likely to work. Although the fandom has a right to dream of reshaping Batman in the superhero's image.
Batman is located in the Southeastern Anatolia Region of Turkey, and has a population of nearly half a million. It owes its name to an old Turkish unit of measurement. There's a decent amount of Instagram activity there, largely owing to its natural beauty. It's pronounced "Baht-Man," and has never quite escaped its association with the DC Comics hero, who has inevitably loomed large over the province for years. 
In 2008, the then-mayor of Batman sued Warner Bros. and The Dark Knight director Christopher Nolan for using its name without permission in films and other promotional materials. Huseyin Kalkan said at the time, "There is only one Batman in the world. The American producers used the name of our city without informing us."
The Dark Knight was a box office monster, accruing over $1 billion worldwide. Batman, Turkey, much to the dismay of its elected officials, was cut out from the windfall. 
Sign up here for our daily Thrillist email and subscribe here for our YouTube channel to get your fix of the best in food/drink/fun.
 
Sam Blum is a News Staff Writer for Thrillist. He's also a martial arts and music nerd who appreciates a fine sandwich and cute dogs. Find his clips in The Guardian, Rolling Stone, The A.V. Club and Esquire. He's on Twitter @Blumnessmonster.