This House Is Shaped Like a Beagle & You Can Spend The Night Through Airbnb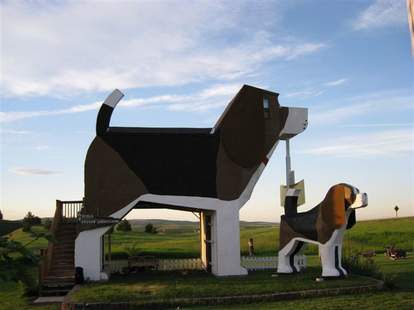 If you like to travel with your animal friend, you don't have to worry about asking if dogs are welcome at this bed and breakfast. Pups are clearly welcome in this giant house shaped like a beagle.
It's called the Dog Bark Park Inn B&B, which is totally not a mouthful. The two-bedroom house is dog-themed outside and inside, and you can stay there through Airbnb if you happen to be swinging through Cottonwood, Idaho. (Maybe you just spent the night inside that giant potato on Airbnb.)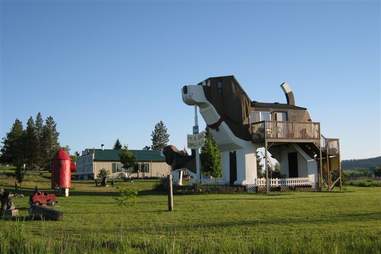 Courtesy of Airbnb
Frances and Dennis, the Airbnb's hosts, write that this is one place "where being in this doghouse is a GOOD thing." But it's not just a dog-shaped house in a field. There's a smaller dog and a fire hydrant nearby.
It's near the Hells Canyon National Recreation Area and not really all that far from Boise, which is cooler than you think. From the giant beagle, you'll get "expansive views of prairie grain fields and surrounding mountains." There's a second story deck that's a nice stargazing perch, and you can stop by the Dog Bark Park visitor center and gift shop where Dennis and Frances make canine carvings with a chainsaw. (You'll see them all over the house as well.)
Courtesy of Airbnb
You can book the Dog Bark Park Inn B&B on Airbnb for as little as $132 per night.
Courtesy of Airbnb
Sign up here for our daily Thrillist email and subscribe here for our YouTube channel to get your fix of the best in food/drink/fun.