A few people are going to disagree, and that's fine, but it's not often enough that breakfast food and beer collide to reveal the glory of pairing bacon and brew. (Of course, a good bloody mary garnished with bacon, accompanied by a beer back will absolutely do the trick.) Fortunately for lovers of beer and bacon, there's a touring festival dedicated to the grandeur of this pairing.
The Bacon and Beer Classic is back in 2019 with stops planned in cities across the United States. The seven-city run is scaled back from the eight it hit last year. The fest, which will be making its sixth annual appearance in San Jose and New York, brings in local craft breweries and restaurants at each stop to present a comprehensive smorgasbord of local offerings. That means bacon mac and cheese, pork banh mi, bacon sliders and breweries like Elysian, Ninkasi, Rogue, Red Hook, Lagunitas, Deschutes, 10 Barrel, and many others competing to be a dancing partner for your taste buds.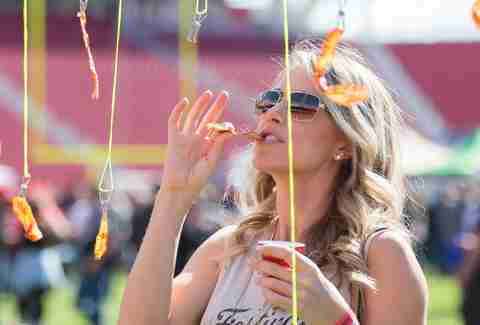 Additionally, there will be games, music, and a bacon eating contest with the grand prize of... [drumroll] ...more bacon.
The ticket price varies by city but falls between $59 and $125. The organizers promise that the ticket will give you access to more than 100 beers and more than 30 food vendors in each city. 
A general admission ticket gets you three hours of unlimited bacon and beer. There's also a ticket level that adds a "Power Hour" to that GA ticket. You'll be admitted to the fest an hour earlier than everyone else, which means shorter lines and an extra hour to test your body's metabolism. A VIP ticket gets you exclusive dishes not available to anyone else and the extra hour, among a few other perks. 
Here are the dates and locations where you'll find the Bacon and Beer Classic in 2019.
Santa Clara, April 13
Seattle, May 4
Denver, May 11
New York City, June 8
Twin Cities, July 20
Chicago, October 12
San Francisco, TBD
Sign up here for our daily Thrillist email and subscribe here for our YouTube channel to get your fix of the best in food/drink/fun.