Here's How Much a Beer Costs In Cities Around the World
As you're planning your next globetrotting adventure, it's always nice to know what your expenses will look like when you land. Is eating out crazy expensive? What's the best way to get around town? How much does a beer cost?
The map below can help out with one of those questions. Visual Capitalist has collected data from Deutsche Bank's 2018 "Mapping the Worldʹs Prices" report to show the average price of a pint of beer at a bar in cities around the globe. It's difficult to pin down an average when there are so many variables involved. But the study gives a sense of what you're likely to face as a traveler because it focused on the more touristy areas of each city. "While that's not a perfect picture of prices in a city, it does allow for a more consistent comparison of wildly differing markets," Visual Capitalist additionally notes. 
Broadly speaking, higher beer prices are found in cities with a higher cost of living. However, Dubai is the most expensive city for a beer of the 48 cited by Visual Capitalist. That's partly because, for the most part, drinking is only allowed for expats and non-Muslim residents of the city. Regulations and scarceness of beer help drive up the cost there.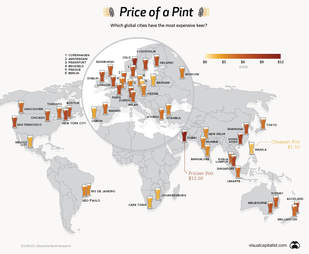 Click to expand.

| Visual Capitalist
Here are the 10 most expensive cities. 
10. London, UK ($7.20)
9. Stockholm, Sweden ($7.30)
8. Paris, France ($7.30)
7. San Francisco, United States ($7.70)
6. New York City, United States ($7.70)
5. Zurich Switzerland ($7.70)
4. Singapore, Singapore ($8.30)
3. Hong Kong, China ($8.90)
2. Oslo, Norway ($10.30)
1. Dubai, United Arab Emirates ($12)
Here are the 10 cheapest cities on the list. 
10. New Delhi, India ($3.40)
9. Bangalore, India ($3.20)
8. Rio de Janeiro, Brazil ($3.20)
7. Lisbon, Portugal ($2.80)
6. Warsaw, Poland ($2.60)
5. Cape Town, South Africa ($2.60)
4. Mexico City, Mexico ($2.40)
3. Johannesburg, South Africa ($2.20)
2. Prague, Czech Republic ($1.60)
1. Manila, Philippines ($1.50)
 
Sign up here for our daily Thrillist email and subscribe here for our YouTube channel to get your fix of the best in food/drink/fun.

Dustin Nelson is a News Writer with Thrillist. He holds a Guinness World Record but has never met the fingernail lady. Follow him @dlukenelson.