Belize Is Giving Away Free All-Inclusive Trips for an Epic, Nationwide Game of Hide & Seek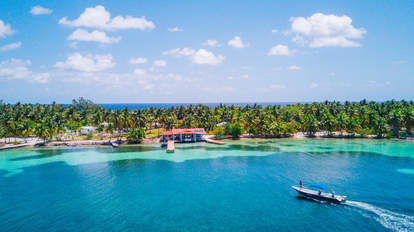 If you consider yourself to be preternaturally skilled at hide and seek and have always dreamed of exploring the natural beauty of Central America, you may have a unique opportunity at your fingertips. That's because the Belize Tourism Board just announced it will be giving away free trips there to a handful of a lucky people so that they can participate in the world's first nationwide game of hide and seek. 
This fall, Belize plans to conduct the world's first-ever countrywide game of hide and seek, and it's looking for five people to take them up on the offer for an all expenses paid trip to be a part of it. Specifically, it's looking for four "hiders" who'll decamp to various relaxing locations around the country, and one "seeker" who'll team up with a local guide to try and track down the others around the country. It's more or less exactly the same as the game you played as a kid, only on a much larger scale and with a free trip to a tropical country worth $5,000.
The trip and game will last for a week, and will span the country from corner to corner -- from the countryside to the jungle to the beach (though not all participants will necessarily get to see or explore every part). Each person selected to go on the adventure will also have to to comply with the rules, which among other things, may require you to be featured on Belize Tourism Board's social channels, wear branded Hide & Seek merch, and otherwise adhere to whatever itinerary your particular trip involves. Still, you'll be flown to stay, eat, and explore a wildly beautiful country with a tropical climate for free, so that's not a lot to ask.
To get in on the action, all you have to do is shoot an email to hideandseekbelize@gmail.com with "Hider" or "Seeker" in the subject line by October 8, and explain why you should be chosen. They'll then randomly select five participants, and get them all prepped for their trips.
Unfortunately, there's nothing you can really do to give yourself a leg-up on the competition since the only qualifications are that you be at least 18 years-old, a U.S. resident, and available to travel between November 12 through 18. Though even if you don't end up on the receiving end of a gratis getaway, you could still presumably skip town to somewhere a bit warmer this fall for cheaper than you think.
Sign up here for our daily Thrillist email and subscribe here for our YouTube channel to get your fix of the best in food/drink/fun.