A Brand-New Ben & Jerry's Flavor Is Hitting Shelves Soon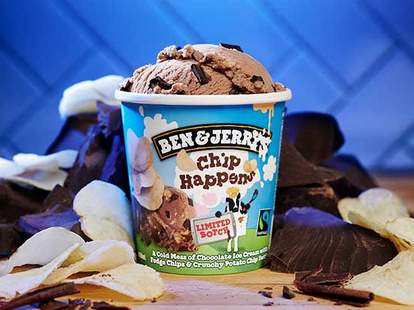 Courtesy of Ben & Jerry's
In this new age of social distancing, the couch has become your office, the bar where you drink one too many margs, and the Michelin-starred restaurant you've always wanted to try. But just because your trusty, worn-in sofa has taken on new responsibility while we do our part to flatten the curve doesn't mean we can't plop down and inhale a pint of Ben & Jerry's like the good old days.
Especially now that "Vermont's Finest" is dropping a brand-new flavor: a sweet and savory chocolate creation brimming with fudge and potato chips. The pint debut, Chip Happens, which was inspired by Netflix's original series Nailed It!, features chocolate ice cream base with fudge chips and potato chip swirls.
"The bake-off competition show celebrates the fun of watching amateur bakers try to recreate edible masterpieces -- that often end up as delicious but hilarious baking fails," a rep for Ben & Jerry's told Thrillist. "The flavor name is a playful pun on the popular saying... well, you know what the saying is."
Potato chips might not seem like the most obvious ingredient for ice cream, but it's tried and true for Ben & Jerry's. The purveyor of inventive pints has featured chocolate covered potato chips in one of its most iconic creations: Jimmy Fallon's The Tonight Dough.
Though the Chip Happens is set to make its official debut in the coming weeks, Delish reports some have already spotted pints at Walmart. If you want to be really sure you don't miss out, you can sign up for Ben & Jerry's mailing list to get more info on when it's hitting stores near you. Might be the move considering this limited batch flavor isn't sticking around permanently.
Sign up here for our daily Thrillist email and subscribe here for our YouTube channel to get your fix of the best in food/drink/fun.
Megan Schaltegger is a staff writer at Thrillist.