You Can Get a Totally Free Pint of Ben & Jerry's Any Day This Week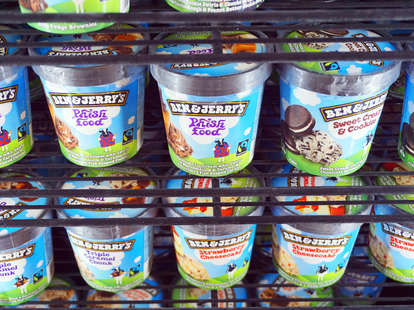 Shutterstock.com
Shutterstock.com
Don't get too lost in the Valentine's Day fervor. Ads will tell you that the most important thing you do this week will be giving something to someone else. But you can also choose to take care of number one instead. You know, put the mask over your face before you help out the people around you. Do things like take a bath, go to bed early, or eat a pint of ice cream standing up in the kitchen over the sink.
For Valentine's Day, Postmates will help you get to that exact spot. The one where you've got sticky fingers and are considering drinking the little bit of melted ice cream at the bottom of the pint. February 10-16, Postmates will be giving away free pints of Ben & Jerry's ice cream when you place an order of any size at 7-Eleven and use the code "happyvday."
There's no order minimum required. You just have to place an order of any size at 7-Eleven through Postmates, and the app will prompt you to choose your favorite pint of ice cream. A Postmates representative tells Thrillist that the available flavors will vary from location to location.
Whatever flavor is available, any order sounds better with a pint of ice cream. Ordering pizza for lunch? Pizza and ice cream is a full meal. Grabbing your morning coffee? Start the day with coffee and ice cream. The world is your oyster.
Sign up here for our daily Thrillist email and subscribe here for our YouTube channel to get your fix of the best in food/drink/fun.