Ben & Jerry's Is Unleashing Bags of the Cookie Dough Chunks from Its Ice Cream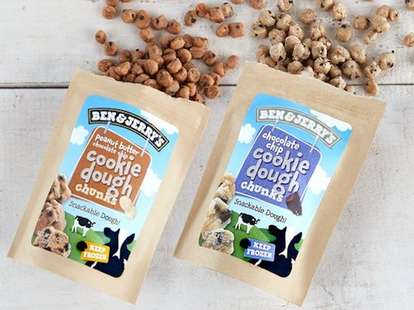 Courtesy of Ben & Jerry's
Courtesy of Ben & Jerry's
While ice cream has near-endless merits, cookie dough ice cream is too often just a pretense for consuming cookie dough in a socially acceptable fashion. But it's 2018, folks. It's time to be honest with ourselves about our desire to eat cookie fetuses.
Leading this charge is Ben & Jerry's, which just delivered unto us Cookie Dough Chunks. What are Cookie Dough Chunks you ask? Well, chunks of cookie dough as they naturally occur, without putting on any ice-cream airs.
The dough will come in a 1/2 pound bag containing 8 servings of the chunks. It'll be "the exact same dough" you know and love from the ice cream and will be safe to eat because Ben & Jerry's is using "pasteurized eggs and heat-treated flour." It'll also come in both chocolate chip and peanut butter flavors.
"Fans have been asking for 'just the chunks' for a while now," Ben & Jerry's Innovation Manager Jody Eley said in a statement. "We're bringing cookie dough to our Vermont shops to start. If it does well, it may be available online and in other distribution channels later this year."
Yes, unfortunately, this snack is only available in Vermont for the time being as part of a market test. For now.
So, uh, don't mess this up Vermont.
Sign up here for our daily Thrillist email and subscribe here for our YouTube channel to get your fix of the best in food/drink/fun.