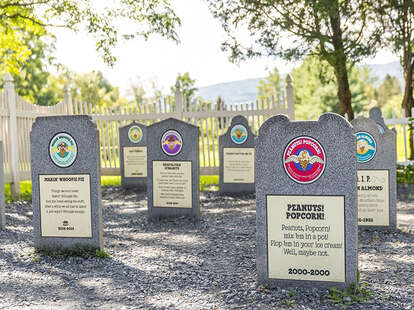 Courtesy of Ben & Jerry's
Ben & Jerry's famously maintains a Flavor Graveyard—with actual tombstones!—that honors discontinued ice cream flavors. Some stay there forever. Others get another chance and are, as the company puts it, "rein-cone-nated." Get it? Anyway, the ice cream maker announced Thursday that it's officially bringing a once-beloved flavor back from the dead: Dublin Mudslide.
The flavor features Irish cream ice cream with chocolate chocolate chip cookies and coffee fudge swirls. In its new, resurrected form, Dublin Mudslide is made with a new, first-of-its-kind spirit that's made from whey and has been heralded as a cross between vodka and sake, according to a press release. Ben & Jerry's is sourcing the unique liquor from a company called Wheyward Spirit.
"Aside from being uniquely delicious, using excess whey as the base for our spirit helps us prevent food waste and creates a more sustainable model of spirit production," Emily Darchuk, founder and CEO of Wheyward Spirit, said in a statement. "I am thrilled to partner with Ben & Jerry's to bring back a fan favorite with the same taste and less waste, using our signature spirit."
The OG Dublin Smash was introduced to fans 18 years ago, back in 2004. Although the flavor quickly became a favorite, it was yanked off of shelves in 2007. The reinvented flavor is popping up on grocery shelves nationwide right now and is priced starting at $5.19.
Janae Price is a News Staff Writer at Thrillist. She's a native New Yorker and loves all things cheese, K-pop, and culture. Follow her on Instagram and Twitter @janae_larie.