Ben & Jerry's New Bob Marley-Inspired Flavor Is Filled with Chocolate Peace Signs
Courtesy of Ben & Jerry's
Ben & Jerry's has long mixed philanthropy, progressive causes, and indulgent ice cream with flavors like Empower Mint, Save Our Swirled, and Phish Food, among others. The social-conscious pint purveyor's latest flavor is no exception. 
On Thursday, Ben & Jerry's announced the release of One Love, a new ice cream flavor inspired by iconic reggae artist Bob Marley that will benefit Jamaica's One Love Youth Camp in partnership with Marley's family. The company said the flavor "pays homage to the legendary performer and his vision for a better world" and describes it as an "enchanting harmony" of banana-flavored ice cream, cookie and caramel swirls, and, of course, chocolate peace signs. One Love is now available in stores across the US after first launching in the UK last year.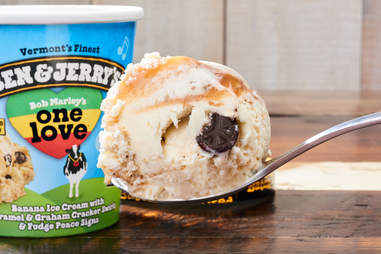 Courtesy of Ben & Jerry's
The launch of the new ice cream flavor comes on the 36th anniversary of Bob Marley's death on May 11, 1981. Ben & Jerry's pledged to donate a portion of the sales of the new flavor to Jamaica's One Love Youth Camp, which is run by The Bob Marley Foundation and Partners for Youth Empowerment, according to a press release. The organization provides young people in Kingston and St. Ann, Jamaica with a place for creative expression through music, dance, visual arts, and writing.
In a statement, Ben & Jerry's Co-Founder Jerry Greenfield said the company is "happy to play a small role in supporting Marley's vision for a sweeter world."
Sign up here for our daily Thrillist email, and get your fix of the best in food/drink/fun.
Tony Merevick is Cities News Editor at Thrillist and has seen a startling uptick in his personal ice cream consumption lately. Send news tips to news@thrillist.com and follow him on Twitter @tonymerevick.