Ben & Jerry's New Bourbon Ice Cream Is Officially Hitting Stores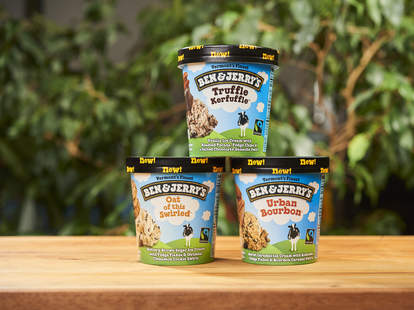 Courtesy of Ben & Jerry's
Although Ben & Jerry's wouldn't confirm it at the time, evidence of its plans to launch an all-new bourbon-flavored ice cream leaked earlier this month, suggesting there's indeed hope for 2017. Well, it turns out the rumors were true: Ben & Jerry's has officially revealed the bold, brown, and boozy new flavor, along with two others that'll hit your local frozen food section next month.
Ben & Jerry's announced the new pint lineup on Wednesday, saying the new flavors -- Oat of this Swirled, Truffle Kerfuffle, and the aforementioned Urban Bourbon -- are inspired by recent food trends, oh, and probably a certain age group's fondness of brown liquor in the case of the latter. All three will arrive in stores sometime in mid-February, according to a press release, which means you might just have a brand new flavor to sob into this Valentine's Day. 
Here's how Ben & Jerry's describes each of the new flavors:
Urban Bourbon: This flavor includes Burnt Caramel Ice Cream with Almonds, Fudge Flakes & Bourbon Caramel Swirls. If you enjoy tipping back smooth brown spirits, you can leave your rocks glass at the bar and grab a spoon!
Oat of this Swirled: Buttery Brown Sugar Ice Cream with Fudge Flakes & Oatmeal Cinnamon Cookie Swirls. One bite of this flavor and you'll be transported back to your grandma's kitchen, inhaling wafts of warm oatmeal cookies.
Truffle Kerfuffle: This flavor includes Vanilla Ice Cream with Roasted Pecans, Fudge Flakes & a Salted Chocolate Ganache Swirl. A spoonful of this chocolatey-nut-filled flavor is like sinking your teeth into a decadent truffle.
As Ben & Jerry's put it in a press release, they are "not fudging around" with this stuff. We'll just go ahead and pardon the pun, you know, on the account that there's Ben & Jerry's bourbon ice cream now.
Sign up here for our daily Thrillist email, and get your fix of the best in food/drink/fun.
Tony Merevick is Cities News Editor at Thrillist and wants the bourbon ice cream on waffles, but a waffle cone will probably do. Send news tips to news@thrillist.com and follow him on Twitter @tonymerevick.