The World's Best Chef's Alleged Suicide Points to a Bigger Problem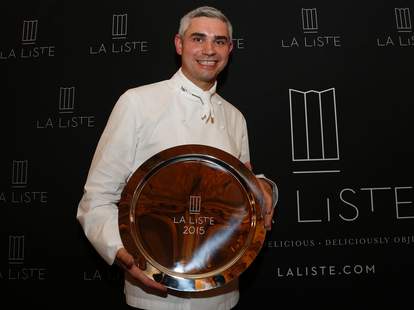 Michelin, the preeminent name in rating high-end restaurants, just released its 2016 France guidebook, and with it, the little red book's star ratings. The loss or gain of a star (out of three) can make a world or break a world for any recognized kitchen talent.
But the real news from the culinary world comes from the apparent suicide of chef Benoit Violier, who was recently dubbed "The World's Best Chef" after his Restaurant de l'Hotel de Ville in Crissier, Switzerland, was named No. 1 out of 1,000 restaurants ranked in 48 countries by France's La Liste. In 2013, Violier was named chef of the year by the Gault et Millau guide, generally known right behind Michelin in French cuisine rankings.
Violier, 44, died Sunday of shotgun wounds believed to be self-inflicted, according to The Guardian. He'd been in great spirits since his restaurant's big recognition, per a Telegraph report, but someone close to the famous chef said something happened last Tuesday that left Violier "troubled ever since" and that he "was not the same man." 
"I feel a heavy responsibility to be named number one," Violier told the New York Times shortly after his restaurant's achievement.
The French-Swiss chef's alleged suicide is not the first documented case of a world-famous chef taking his own life, either, as Violier's death has drawn immediate comparisons to the suicide of Bernard Loiseau, who shot and killed himself in 2003 after losing points in the Gault&Millau guide and amid speculation he'd lose one of his Michelin stars. In fact, Loiseau's restaurant, Relais Bernard Loiseau, lost that third star this week, to which his widow expressed "shock."
The deaths of these two chefs cannot be immediately linked, but they bring to light the intense pressure on chefs, both in running their businesses and in the anxiety leading up to their ratings from various outlets. While stars such as Gordon Ramsay gain fame from their verbal abuses, in 2014, a collection of French chefs aligned to "'lift the lid on the law of silence' over physical violence, sexual harassment and hazing prevalent in some of the country's finest eateries," according to a report by The Telegraph.
Uneasy lies the head that wears the toque, for certain, but the culture perpetuates as chefs rise through the ranks and absorb verbal and physical abuse. It would be irresponsible to speculate that mounting pressure alone led to Violier's alleged decision to take his own life -- but it's difficult to imagine how it didn't factor into the choice.
This marks a sad day in the culinary world, even as many celebrate earning their stars.

Sign up here for our daily Thrillist email, and get your fix of the best in food/drink/fun.
Ryan Craggs is Thrillist's Senior News Editor. He's could never imagine being a chef. Writing this article really bummed him out. Follow him @ryanrcraggs.