The Best Airbnbs in and Around New England to Soak Up the Foliage This Fall
We independently source all of the awesome products and experiences that we feature on Thrillist. If you buy or book from the links on our site, we may receive an affiliate commission — which in turn supports our work.
For most of the year, spending a weekend gazing at trees sounds about as exciting as watching paint dry, but for a few choice weeks during the fall in certain parts of the country, it's legitimately cool. Leaf-peeping season is not only a chance to watch nature shift in real time, but also a perfect excuse to plan a getaway to the country.
New England and its surrounds are famously some of the best locales to take in the foliage -- particularly if you hit particular locales during their peak color-changing period -- but figuring out where to stay in those regions isn't always easy. Don't fret, though, we've pulled together 10 choice Airbnbs nestled in the thick of leaf-peeping territory with views that'll make taking it all in as easy as looking out the window.  
Airbnb
A "fortress" in the mountains
Vershire, Vermont
2 guests, $104 per night
Look out over the White Mountains in neighboring New Hampshire from the wall-to-wall windows in this rustic-yet-modern open-concept spread in Vershire. When you're not relaxing inside the home's giant Great Room (which has been described as "a comic book villain's hideaway lair"), the house sits on a 6-acre property where you can explore the neighboring woods. If you're lucky, the nighttime views may even one-up those during daylight since the Milky Way frequently makes an appearance. 
What guests say: "This is a little piece of heaven. Stylish, clean, sleek uncluttered lines but with just about everything you need. The main attraction for us was the peace and quiet and getting off signal. The only sounds we heard were the birds, amorous frogs and the horses next door."
Airbnb
A rustic retreat in the Berkshires
Lee, Massachusetts
8 guests, $255 per night
As if plucked from the pages of Architectural Digest, this stylish retreat is centrally located in the Berkshires between the towns of Stockbridge, Lenox, and Lee, serving as an ideal home base for a chill weekend away in the thick of leaf-peeping madness. With enough room to sleep eight, it's can likely accommodate your whole crew, but still feels cozy thanks to quaint touches like natural wood paneling and an indoor fireplace. When you feel like exploring, you've got plenty of options thanks to some standout nearby restaurants and hiking trails, plus museums like the Clark Art Institute and MASSMoca that are less than an hour's drive north.
What guests say: "An interior designers dream home well equipped with everything you could possibly need for your stay. Great location close to all the local townships whilst offering complete peace and tranquility."
Airbnb
A silo cottage in the country
Tyringham, Massachusetts
2 guests, $225 per night
If a traditional home doesn't quite fit the bill for your dream weekend away, consider decamping to this one-bedroom "silo" in the Berkshires, which sits on the grounds of one of the most uniquely designed estates in the area. The space, which once served as a studio for the renowned sculptor Henry Hudson Kitson, features a canopied bed situated beneath a 35-foot high conical ceiling with "mill windows" looking out at the surrounding trees, gardens, and lily pond. 
What guests say: "A truly magical place. Well preserved buildings, lush landscaped gardens, fireflies, amazing soundscapes, and a bedroom unlike any other."
Airbnb
Treetop views in the Vermont National Forest
Rochester, Vermont
9 guests, $205 per night
If you're looking for seclusion in the mountains, this spacious three bedroom retreat has you covered. It sits on two acres in the hills and features a huge deck that stretches the length of the entire home, providing a stunning 180-degree view of the Green Mountains (which flourish with color in September and October). Although the built-in stone wood-burning fireplace will make it hard to want to leave its confines at all, if you do feel like exploring, the quaint downtown of Rochester is just a few minutes quite literally down the road. 
What guests say: "This home is absolutely incredible. Truly the middle of nowhere and so unbelievably gorgeous. Sweeping mountain views, a very well equipped kitchen, and multiple bathrooms - could we ask for anything more?"
Airbnb
An upscale escape in Maine
Pownal, Maine
4 guests, $199 per night
Although you don't need any excuse to visit Portland in the fall (it's particularly great just after peak tourist season), this modern post-and-beam cottage is itself worth the trip. Situated about 20 minutes from the tiny coastal city, you're close enough to the top-notch restaurants, breweries, and other fun sites in the Old Port to be convenient, but secluded enough to enjoy the tranquility of being tucked away amongst the colorful changing trees. The rustic home -- which has been described by some guests as the "perfect oasis" -- also boasts a couple standout touches like a lofted bedroom and wood stove.
What guests say: "'Can we just stay here forever?' That thought ran through my mind countless times whilst staying at the cottage. I have enjoyed many vacations and yet this little 2 day getaway in the cottage tops them all. We will be back soon enough and would one million percent recommend to anyone looking for a place to stay in the area!"
Airbnb
A glass-walled cabin in the Hudson Valley
Hudson, New York
4 guests, $350 per night
Be at one with nature in this stunner of a cabin in the Hudson Valley, which is designed with nearly wall-to-wall windows and sliding glass doors on two sides. The two-bedroom minimalist home is shrouded in the woods up a long winding driveway, and enjoys sweeping western views -- which should pop with color if you hit the region at the right time. Although the whole place is meant to serve as an extension of its surroundings, the interior is worthy of plenty attention on its own thanks to its mid-century modern decor. If you feel like scoping out the area, it's steps from popular hiking trails and also not far from charming nearby towns like Hudson, New York and Lenox, Massachusetts.
What guests say: "The Glass Cabin is of a dream. Beautiful, other-worldly, peaceful. One of the best experiences I've had."
Airbnb
A historic schoolhouse perched in the Green Mountains
Bennington, Vermont
6 guests, $188 per night
Looking out over a sprawling fourth-generation organic farm, this newly renovated 800 square foot two bedroom schoolhouse gets insane views of the Green Mountains from literally every direction. Take in the vista from the deck with your morning coffee, or sit by the fire pit and watch the sun go down. If you feel upping the relaxation ante, there's also an adjacent deck equipped with both an on-site sauna and hot tub, either of which makes for a spectacular star-gazing spot at night.
What guests say: "Amazing place -- book it now and however amount of time you are pondering about staying -- add at least one more day! They have put a lot of thought and work into making this home truly feel like a home away from home for guests -- many thoughtful touches and the views are divine."
Airbnb
An award-winning countryside bungalow
Phoenicia, New York
2 guests, $100 per night
For those prioritizing peace and quiet over space, set your sights on this modest outpost in the Catskills. The cozy bungalow sits on a leafy hillside surrounded by rural farmland where you're likely to spot baby goats, cows, and horses milling about. There are countless hiking and walking trails nearby to take in the views, and a charming fire pit to wind down near after a long day of glorious fresh air.
What guests say: "The house itself is truly picture perfect and was very well appointed for our weekend stay. I'll definitely miss my new friends, the cows and goats, who were super friendly and curious. The locations is great--a five minute walk into town and maybe half an hour to surrounding hikes/towns/mountains."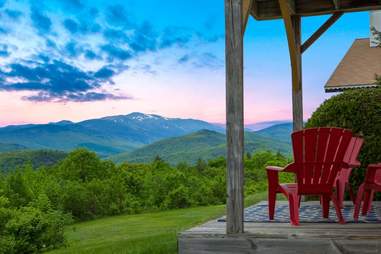 Airbnb
A chalet in the sky overlooking Mt. Washington
Bartlett, New Hampshire
8 guests, $103 per night
Step out onto the back patio of this mountainside condo and you'll come face to face with a jaw-dropping view of nearby Mount Washington (the highest peak in the northeastern US) jutting out above rolling hills that appear sprinkled with burnt oranges and reds during peak foliage season. It's also a good spot for groups, accommodating up to eight guests who are free to use the nearby clubhouse to play tennis, hit the jacuzzi, or swim in the indoor/outdoor pool. 
What guests say: "When entering Chalet in the Sky you feel as if you're in the clouds. The view is spectacular and having all the big windows allows you to truly enjoy your surroundings."
Airbnb
A modern cabin in the Catskills
Kerhonkson, New York
4 guests, $215 per night
Described as "small but efficient," it'd be tough to feel cooped up in this quiet cabin considering its sweeping Catskill views and a deck that essentially functions as a second living room (just imagine sipping your morning coffee or winding down with some wine out there). It's a cozy spot that pairs country charm with modern amenities (indoor/outdoor Sonos speakers and a Nest thermostat-controlled fireplace), and also has everything you need to cook up a storm, including a grill. Plus, if you're in the mood to get up close and personal with the outdoors, it's only a short drive to popular hiking spots like Vernooy Kill Falls. 
What guests say: "This is a wonderful little hide-away, perfect for a 'time out,' away from everything. It's exactly as described, very stylish, in the middle of beautiful nature with gorgeous views and with complete silence (apart from the bird song)."