A New 'Best Airline' in the World Has Been Crowned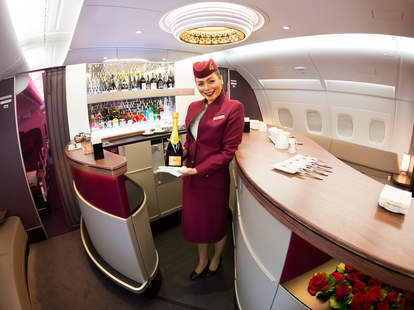 It feels like most airlines prioritize shrinking leg room, removing meals, and cutting space in overhead bins. But that's not how every airline works. That's why consumer-aviation website Skytrax annually doles out awards for the airlines that have done the opposite of dragging customers from their seat.
This year, there's a brand new airline at the top of the list. Qatar Airways has been named the world's best airline at Tuesday's World Airline Awards, despite the region's diplomatic crisis. This is the fourth time in the last 10 years Qatar Airways has topped the list. It previously won in 2011, 2012, and 2015. The 2016 award went to Emirates, which fell to fourth this year. 
Here's the full top 10 with last year's rank in parentheses.
1. Qatar Airways (2)
2. Singapore Airlines (3)
3. ANA All Nippon Airways (5)
4. Emirates (1)
5. Cathay Pacific (4)
6. EVA Air (8)
7. Lufthansa (10)
8. Etihad Airways (6)
9. Hainan Airlines (12)
10. Garuda Indonesia (11)
Other significant awards include AirAsia being named the world's best low-cost airline and Etihad getting honored for having the best first-class service.
American readers have undoubtedly noticed something. There hasn't been a single mention of a U.S. airline. That might not surprise you if you're familiar with United's series of disasters or even the comparatively lesser bad press for Delta (depending on your perspective that may include that impromptu Kenny G performance). 
You actually won't find a North American-based carrier until 29th overall when Air Canada pops up. Next in line is Delta at 32. Elsewhere, you'll find Alaskan Airlines ranked fourth for World's Best Regional Airlines.
Since you're asking, United wound up ranked 79th in the top 100 list. 
Sign up here for our daily Thrillist email, and get your fix of the best in food/drink/fun.
Dustin Nelson is a News Writer with Thrillist. He holds a Guinness World Record but has never met the fingernail lady. Follow him @dlukenelson.