These Are the Best Airlines in the U.S. for Families Right Now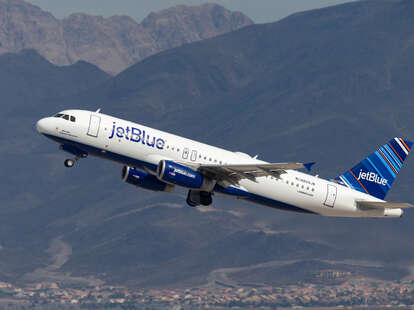 There's a lot of reasons to love JetBlue. The snacks are unlimited and plentiful, the WiFi is free, the entertainment selection is vast, and the airline has the most legroom in coach class of any other airlines. In addition to all of that, JetBlue is also considered to be the best airline for families in 2019, according to a new ranking.
The ranking, released by travel site The Points Guy on Monday, was based on several factors, from kid-friendly food options to services for unaccompanied minors to early boarding procedures included for families. In addition to the aforementioned perks, JetBlue takes top marks for having a system that allows families to pool their points and complimentary seat assignments, bumping Southwest Airlines from its number one spot last year.
"Many families, especially young families, have a lot of anxiety or even dread when it comes to flying," Summer Hull, director of travel for The Points Guy, said in a press release. "It can be hard to meet the needs of your kids while in a small tube flying miles above the sky without bringing the whole house with you, but while parents need to prepared for the flight, some airlines actually make the entire experience easier, from getting seats together to staying full and entertained throughout the flight."
Here's the rest of the ranking, per The Points Guy:
10. Allegiant Air
9. Spirit Airlines
8. Frontier Airlines
7. American Airlines
6. United Airlines
5. Delta Air Lines
4. Alaska Airlines
3. Hawaiian Airlines
2. Southwest Airlines
1. JetBlue Airways
Hull believes the rankings provide airlines with an opportunity to reevaluate how they appeal to families and how they can improve their services: "We'd love for this report to not only be viewed as a guide for families looking to choose which airline to book on their next vacation, but also for airlines to see how they could improve the experience for those who fly with kids... some that carry with them very little cost."
Allegiant, Spirit, and Frontier definitely need to step their game up if they want to wrangle in the family vacation demographic -- low budget isn't everything. The only thing JetBlue really needs to work on, it appears, is its water quality.
Sign up here for our daily Thrillist email and subscribe here for our YouTube channel to get your fix of the best in food/drink/fun.
Kat Thompson is a staff writer at Thrillist. Follow her on Twitter @katthompsonn.