Flying has been generally chaotic since travel's return to pre-pandemic levels of demand, but some companies have gone above and beyond to ensure that even when delays and cancellations occur, passengers would still feel like they were taking a trip somewhere enjoyable. But depending on who you ask, which of the world's airlines are the best and which are the worst varies considerably.
This month, luggage storage company Bounce released its 2023 Airline Index, which includes a ranking of the best and worst airlines in the world. According to this analysis, based on factors like each airline's number of on-time arrivals, customer complaints, in-flight amenities, and baggage policies, Japan Airlines came in at number one, followed closely behind by Singapore Airlines and Qatar Airways in the second and third spots.
The list differs from the annual Skytrax World Airline Awards, which were announced earlier this year. Each ranking claims to definitively name the world's best airlines with presumable authority. The resulting Skytrax ranking named the best 100 airlines in the world, with Singapore Airlines eeking it to the top of the list over Qatar Airways and ANA All Nippon Airways. Only one American airline made the top 20 in Skytrax ranking, with Delta Air Lines coming in at the 20th spot. Japan Airlines, Bounce's top airline, came in fifth here.
The Skytrax and Bounce rankings also differ considerably from the latest ranking released by AirlineRatings.com, which named Air New Zealand the best airline in 2023. Qatar Airways still came second on this list, but Japan Airlines was all the way down in the nineteenth spot. Etihad Airways took third in this ranking.
One thing that all three airline rankings have in common is that no American airlines made it to the top 10. At least we have some general consensus there.
Check out the world's top 10 airlines according to Bounce below: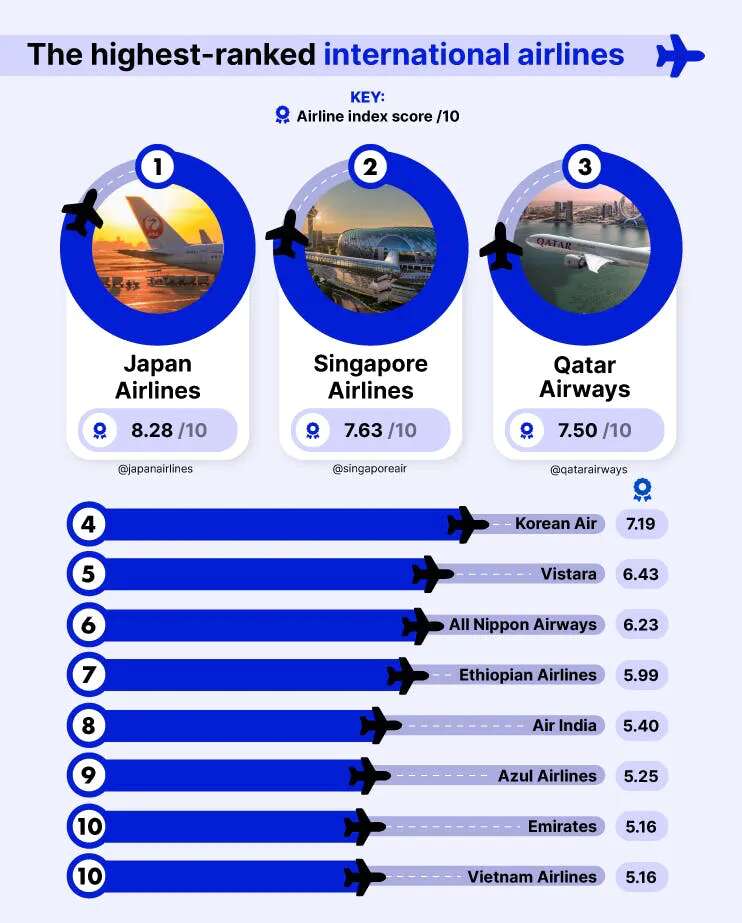 "We wanted to recreate our annual Airline Index for 2023 with the latest and most up-to-date data. 52 airlines were included in our international comparison, including the top 50 airlines by number of flights and two airlines that made the top three in our 2022 edition, while the domestic airline section includes 10 of the largest airlines in the United States," Bounce shared of its methodology.
Domestic airlines weren't completely forgotten. Bounce also named the five best and worst domestic airlines in a separate ranking. Here, Delta, Southwest, and Hawaiian Airlines took top spots. On the flip side of the equation were Allegiant, Frontier, and Spirit.