The Best and Most Ridiculous April Fool's Day Jokes You Missed This Year
Pretty much everyone agrees April Fool's Day is terrible. It's an absurd excuse for bad jokes and even worse PR stunts.
However, a good one slips through every now and then. Here are a few of the jokes that are actually entertaining (and maybe some that are so groan-inducing they're entertaining).
Netflix
In honor of the long-running bad joke holiday, Netflix "acquired" Seth Rogen, "world-renowned Canadian person, prolific marijuana-doer, and winner of the 2015 MTV Movie Award for 'Best Kiss.'" The company didn't mean a deal like Adam Sandler's. Rogen had to "transfer full ownership of his personal autonomy to Netflix, Inc." It's essentially an ad for his Netflix stand-up special that's coming out April 6.
BritBox
The British video service announced a one-day-only service called "Interp-Brit." It allows US viewers to toggle between a British and American accent on shows they're watching. The video is weird and entertaining.
Chuck E. Cheese
In response to reports that every Chuck E. Cheese animatronic band is getting the ax, which is only partially true, Munch's Make Believe Band is having a farewell tour. The rodent-themed pizza hub teased the farewell tour a few days before April Fool's Day and then revealed that the animatronic band isn't going anywhere.
The animatronics have been retired at some locations, "where it was necessary" according to a release. However, Munch and his furry ensemble will continue to play weird songs for kids. Your childhood isn't dead. (Okay, it's a little dead.)
Roku
Okay. Roku's joke isn't that great. However, these are a great idea. Why can't we control the TV with our feet? This is an idea that's every bit as good as a pet rock. The press release says they retail for .01 bitcoins.
23andMe/Lexus
The brands teamed up to put you in "the car of your genes." They joke they'll genetically match you with the perfect car for your personality. It'd be funny if it wasn't a little too close to something that could actually happen. This is the uncanny valley of April Fool's Day jokes.
Amazon Publishing
Order a book on Amazon, and you could be reading it before you know it. Order an author on Amazon, and they'll do their best to do the same.
Jeff Vandermeer
The author of the Southern Reach Trilogy -- Annihilation (recently adapted into a movie), Authority, and Acceptance -- tweeted that the very weird series has been adapted into kid-friendly versions. He also tweeted that he's not yet allowed to talk about the musical adaptation, but did share a taste of the lyrics. "Saw a dolphin with a human eye/Oh no I'm going to die./And I'll never know why."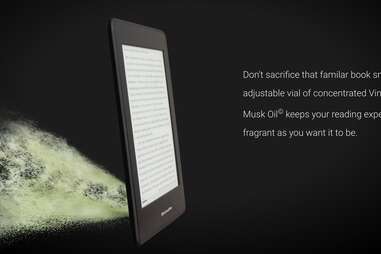 Strand Books
The New York bookstore announced its new e-reader Sunday. On the back of the device, it "automatically displays the title of a very impressive and grown-up book whether you're actually reading it or not." It also sprays vintage book musk oil (seen above) from the back, so you keep that classic book smell without the musty old book. It'll be perfect for when you're reading the new children's version of the Southern Reach Trilogy.
Think Geek
Think Geek has made a habit of inventing alluring fake products on April Fool's Day. This year's best idea may be the Klingon alphabet fridge magnets. They're probably going to have to make these now because people are going to want them for real.
Shazam!
Lights Out director David F. Sandberg is currently filming DC Comic's Shazam! adaptation. Comic book lovers are twiddling their thumbs waiting for the first trailer to drop. Sandberg pranked fans with this trailer instead of giving them what they want.
The Room: The Musical
Lin-Manuel Miranda and TheaterMania combined forces to prank cult-movie and theater lovers with a musical adaptation of The Room. It's not really happening, but would you be surprised if it was?
Dairyland
Sparkling milk. Gross.
The Halal Guys
The Halal Guys white sauce as toothpaste? You'd probably try it at least once. Right?
Sign up here for our daily Thrillist email, and get your fix of the best in food/drink/fun.
Dustin Nelson is a News Writer with Thrillist. He holds a Guinness World Record but has never met the fingernail lady. Follow him @dlukenelson.