The 20 Most Popular Craft Beers From a Beer Delivery Service in 2020
You can try them, too. Even if they're not available locally.
Eviaphoto/Shutterstock
Eviaphoto/Shutterstock
A lot of ink is about to be spilled over 2020. It wasn't a banner year. It was a year when we really needed someone to drop a load of beer on the doorstep. One itsy-bitsy bright spot might be that it's never been easier to make that happen. Almost anywhere in the country, you can get excellent beers from a locally-owned craft brewery on your doorstep without having to go anywhere. It's beautiful.
Yes, local breweries have started deliveries just to stay afloat, and services like Drizly have helped make it easier for some people. (Though, it's always worth buying straight from the brewery if you want to help them ford the river of 2020.) Another option that has brought exciting cans to the homes of beer nerds across the US is Tavour. It allows you to get beer from breweries all over the country, even if they don't normally distribute in your area. (Sometimes, that's just a maddeningly arbitrary situation, like living a few miles from the Wisconsin border and not being able to get New Glarus.)
Tavour has opened a new avenue to sell beer and a new way to find beer for the adventurous drinker. The service has shared its highest-rated beers of the year, providing a fun glimpse at what people are having mailed to them all over the nation. (And, of course, what you can get your hands on as well by mail when you might not usually be able to find it at the local liquor store.)
Here are the top-20 beers of 2020 as rated by drinkers on Tavour.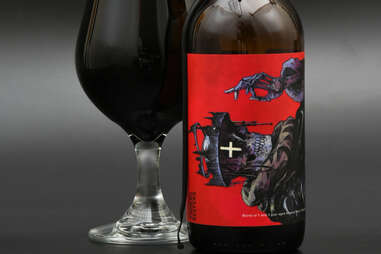 20. WeldWerks Brewing (Greeley, Colorado)
Juicy Bits IPA - Rated 4.30
19. Varietal Brewing x Skookum Brewery (Sunnyside, Washington and Arlington, Washington)
Sovereign of Nockmaar BA Barleywine - Rated 4.32
18. Cycle Brewing (St. Petersburg, Florida)
Rare Dos 1 Barrel Aged Stout - Rated 4.32
17. White Elm Brewing (Lincoln, Nebraska)
BBA Champurrado BA Stout - Rated 4.33
16. Untitled Art Brewing x Eighth State Brewing (Waunakee, Wisconsin and Greenville, South Carolina)
Macadamia White Chocolate Stout - Rated 4.34
15. Casey Brewing & Blending (Glenwood Springs, Colorado)
Funky Blender Preserves: Nectarine Sour Ale - Rated 4.35
14. Parish Brewing x Great Notion Brewery (Broussard, Louisiana and Portland, Oregon)
Blueberry Mochi Berliner Weisse - Rated 4.36
13. River North Brewery (Denver, Colorado)
Barrel Aged Double Avarice (2020) Stout - Rated 4.38
12. Prairie Artisan Ales (Tulsa, Oklahoma)
Weekend Imperial Stout - Rated 4.42
11. Westbrook Brewing (Pleasant, South Carolina)
Gates of S'mordor (Booker's Bourbon Barrel Aged) (2020) Stout - Rated 4.43
10. 903 Brewers (Sherman, Texas)
Hurricane Slushy Fruited Sour - Rated 4.46
9. Adroit Theory Brewing (Purcellville, Virginia)
Demons Surround Me Russian Imperial Stout - Rated 4.47
8. Mikkeller Brewing (Copenhagen, Denmark)
Beer Geek Vanilla Shake Barrel-Aged Bourbon Stout - Rated 4.47
7. Jester King Brewing (Austin, Texas)
Das Uberkind! Blend #6 Saison - Rated 4.49
6. Dewey Brewing (Dewey Beach, Delaware)
Secret Machine Double Raspberry Double Blackberry Fruited Sour - Rated 4.49
5. The Brewing Projekt (Eau Claire, Wisconsin)
Puff Tart XL Raspberry Rhubarb Guava Fruited Sour - Rated 4.50
4. Brouwerij 3 Fonteinen (Beersel, Belgium)
Oude Geuze (season 18|19) Blend No. 62 Lambic - Rated 4.58
3. Drekker Brewing (Fargo, North Dakota)
Braaaaaaaains Blueberry & Raspberry Fruited Sour - Rated 4.64
2. Evil Twin Brewing x The Veil Brewing (Ridgewood, New York and Richmond, Virginia)
Luxurious Luxury Volume 3 Fruited Gose - Rated 4.76
1. Anchorage Brewing (Anchorage, Alaska)
Blessed Imperial Stout - Rated 4.80
It's not an unbiased "best of the year" list, of course. It is solely based on the limited selection of beer available through Tavour. Still, there are some outstanding breweries working with Tavour, and there are enviable beers on that list, however you manage to get your hands on them.
Sign up here for our daily Thrillist email and subscribe here for our YouTube channel to get your fix of the best in food/drink/fun.