Here Are the Best TV Deals for Black Friday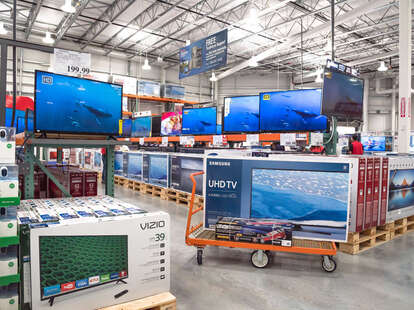 Trong Nguyen/Shutterstock
On the hunt for more Black Friday deals? Check out our running lists of the best sales at Walmart and GameStop as well as the best travel deals. And if you're hungry from all the shopping, we've got you covered with deals on pizza and tons of free food from your favorite chains. Best of luck out there!
Thanksgiving traditions vary from family to family, but the gist is all the same. You eat your weight in mashed potatoes, gush about the year's good fortune (or gripe about the bad), and roll yourself to Target to brawl with strangers over the last giant Vizio TV in stock before you've fully digested that second slice of pumpkin pie. Black Friday deals -- especially Black Friday deals on TVs -- are often worth making it a tradition out of it.
Of course, the best post-holiday prices span departments, but why drop a small fortune on the unnecessary junk? That Fitbit won't transform your waist overnight and the 23andMe kit is just going to tell you your grandpa might have elaborated key parts of his grand family story. Heed my advice and save your cash for what really matters -- like a 60" TV for binge-watching the last five seasons of Black Mirror.
To save you the time, trouble, and buyer's remorse, we've rounded up the best Black Friday TV deals from the major retailers you care about. Here's where to shop:
Best TV deals at Walmart
Best TV deals on Amazon
Best TV deals at Target
Best TV deals at Best Buy
Sign up here for our daily Thrillist email and subscribe here for our YouTube channel to get your fix of the best in food/drink/fun.
Megan Schaltegger is a staff writer at Thrillist. Follow her @MegSchaltegger.