Best Buy Is Taking on Amazon With New Next-Day Shipping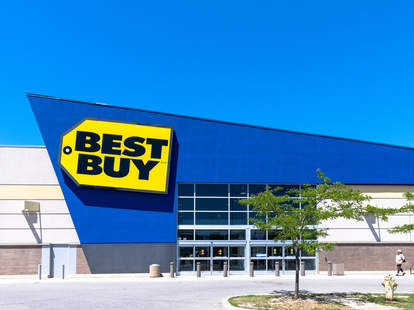 BobNoah / Shutterstock.com
Yes, Amazon's extensive marketplace -- they have everything -- is an obvious draw, but let's get real: Amazon Prime's free two-day shipping is the reason we keep on coming back. But maybe not for long. Best Buy is taking on the online retail giant with free next-day deliveries.
The company announced the move on Tuesday and, according to a press release, 99% of shoppers will have access to the free and speedy shipping service. Just in time for the holidays, you will receive the next-day shipping on thousands of products, including tablets, headphones, espresso machines, and more. However, bigger ticket items, like the big-screen TV you've been eyeing, are excluded. At least, for now.
"Our customers want and deserve convenient, fast options to receive our great products," head of supply chain, Rob Bass, told analysts last month during an investor meeting, the Star Tribune reports. "And they want it on their terms." 
But if you're anything like me (i.e. too impatient for your own good) then they've got an even quicker method, too. Store pickup will have your last-minute present -- or that new phone you just can't wait another second for -- ready in one hour.
"Given 70% of Americans live within 10 miles of a Best Buy store, it will take most customers longer to wrap their gifts than to pick them up," Best Buy said in a statement. "This option is just as popular as it is convenient, since about 40% of online sales are picked up in stores."
h/t Engadget
Sign up here for our daily Thrillist email and subscribe here for our YouTube channel to get your fix of the best in food/drink/fun.
Megan Schaltegger is a staff writer at Thrillist. Follow her @MegSchaltegger.