Everyone's Posting Wild Photos of Themselves Looking Old. Here Are the Best Ones.
If you've spent much time browsing Instagram or Twitter in the last few days, you've almost certainly seen a steady stream posts from people sharing photos of themselves aged by decades...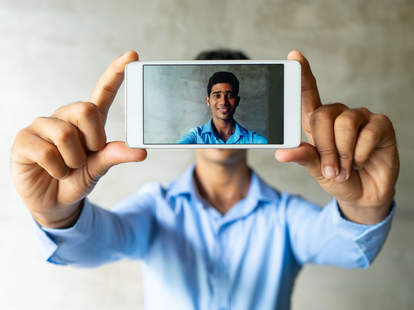 If you've been on Instagram or Twitter the last few days, you've almost certainly seen a steady stream of photos from people showing themselves aged by decades. The viral FaceApp Challenge has taken social media by storm in the last week or so, with countless people sharing unsettlingly realistic "old" pics of themselves using the FaceApp app's special filter, which harnesses the power of artificial intelligent tech to scan and render your visage into its potential elderly version. 
Naturally, the app's surge in popularity has also raised the question of privacy and how peoples' photos are being collected, so you may understandably be a bit concerned to use it yourself. That doesn't mean you can't enjoy the hilarity second-hand, courtesy of familiar faces that have Benjamin Buttoned themselves online.
We've pulled together some of our favorite posts so far from celebrities and other notable folks, including everyone from the Jonas Brothers to Kevin Hart, showing off what they might actually look like decades from now.
Please enjoy, and remember to moisturize.
Drake weighed in and even offered to give some free tickets to his music festival to whoever comes up with the best caption.
Sam Smith provided a hilarious peek at his tiara-wearing future.
The Jonas Brothers showed what they may look like during their reunion tour in 50 years.
Kevin Hart seemed pretty comfortable with how his future self is looking.
Gordon Ramsay looks at home in the kitchen even in his twilight years.
Even Sophia the creepy robot got in on the action. Presumably, though, her face will be swapped out with a fresh one if it ever starts sagging.
YouTube star Hannah Hart seems pretty comfortable with her future face.
Diplo was one of many who cracked the same joke.
Sorry in advance, Harry Potter fans.
Like all good viral challenges, this one will eventually peter out, but we're hoping it keeps going for a while. It's just too good.
Sign up here for our daily Thrillist email and subscribe here for our YouTube channel to get your fix of the best in food/drink/fun.