These Are the Best Cities for College Grads Right Now
The timing is not ideal, but these cities certainly are.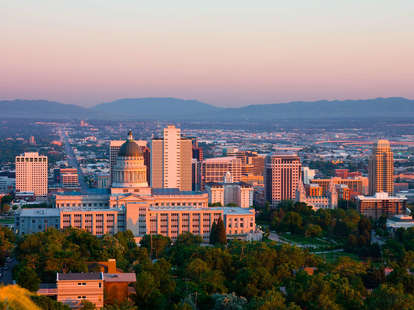 ANDREW ZARIVNY/SHUTTERSTOCK
Last year we introduced "best cities for grads" data by saying that we understood how hard it was to break into your career, find a place to live, and pay off your student loans. But, to tell you the truth, we didn't really feel that bad for 2019 grads. Join the club, we thought. But this year is different. We're really, really sorry about the timing, y'all. But the future's not all bad -- I promise.
Just ask the rental website Zumper, which went ahead and created a list of the best cities for grads to move to in 2020. In order to determine the ideal spots, Zumper analyzed data from the top 100 US cities on seven key metrics: The unemployment rate (as of March 2020), the price of a one-bedroom rental, the population of folks ages 20 to 34, the population of 25 year-olds with a Bachelor's degree, the median income of those 25 years and younger, the non-married population, and restaurants per 100k people. Here's what they came up with:
1. Salt Lake City, UT
2. Raleigh, NC
3. San Francisco, CA
4. Columbus, OH
5. Nashville, TN
6. Minneapolis, MN
7. Boston, MA
8. Lincoln, NE
9. Norfolk, VA
10. Madison, WI
First off, even though all of this data was from before lockdown, the cities are kind of ideal for the circumstances, anyway. You'll note that none of these cities are massively condensed, nor do they rely as heavily on public transportation as, say, New York City, where most of my non-athletic friends have crashed their newly purchased COVID-19 bikes already.
(There is also a noticeable shift away from the coasts, and an even more noticeable absence of Austin, Texas, which is apparently not weird enough for the kids anymore.)
Now let's break this down a little bit: The winner here, Salt Lake City, earned its top spot due to having a high concentration of young people and the fifth largest single population, so it seems like the place to go to take gorgeous hikes with new lovers. You're also more likely to get a job here, in part due to its bustling tech scene.
Raleigh, at a surprising no. 2 in the ranking, earned its spot for being well-rounded -- it was in the upper half for all categories. No. 3, San Fran, had the highest median income in the nation for young folks, plus a fairly low unemployment rate, though this has obviously changed. Other standouts are Columbus, for its restaurants, Boston, for its density of single people, and Lincoln, for affordable rent. You can find all the details here on the website's blog post.
Again, we're really sorry about these graduate circumstances. If you can't move this year, at least go and get as much free and cheap food as you possibly can from these sympathetic companies.
Sign up here for our daily Thrillist email and subscribe here for our YouTube channel to get your fix of the best in food/drink/fun.
Ruby Anderson is a News Writer at Thrillist. Send your tips to randerson@thrillist.com.