It's no secret that simply living in some of the most popular cities in the US has become nearly impossible, thanks in large part to a crappy combo of stagnating wages and ever-rising real estate prices. For folks in creative fields that don't typically pay well, it's a reality that hits particularly hard. The good news, though, is there are a number of hotspots around the country where people pursuing more creative endeavors can still thrive, and now we have a pretty good idea where they are thanks to this new list of the top places for creative professionals in 2019.
This new ranking of creative-friendly cities comes from the intrepid research team at financial site SmartAsset, who looked at a glut of data to make their determination. Specifically, they looked at 181 metro areas around the country and considered two distinct metrics -- cost of living and concentration of creative jobs -- then ranked them accordingly. Of course, creative pursuits fall into all kinds of industries, so they narrowed the scope by considering 28 specific job categories ranging from art directors, architects, and editors to actors, musicians, and interior designers. 
Topping the list as the most suitable city for creative professionals right now is Savannah, Georgia, followed by Provo, Utah, with the Nashville metro area rounding out the top three. Here's what the full list of the top 25 looks like.
Top 25 Cities for Creative Professionals in 2019
25. Raleigh, NC
24. Rochester, NY
23. Fayetteville, AR
22. Lincoln, NE
21. Orlando, FL
20. Des Moines, IA
19. Springfield, MO
18. Fort Wayne, IN
17. Green Bay, WI
16. Omaha, NE
15. St. Louis, MO
14. Austin, TX
13. Tampa, FL
12. Milwaukee, WI
11. Detroit, MI
10. Kansas City, MO
9. Durham, NC
8. Minneapolis/St. Paul, MN
7. Atlanta, GA
6. Salt Lake City, UT
5. South Bend, IN
4. Los Angeles, CA
3. Nashville, TN
2. Provo, UT
1. Savannah, GA
Recommended Video
Please Don't Hang Up: The Best Things to See, Eat, and Do in Milwaukee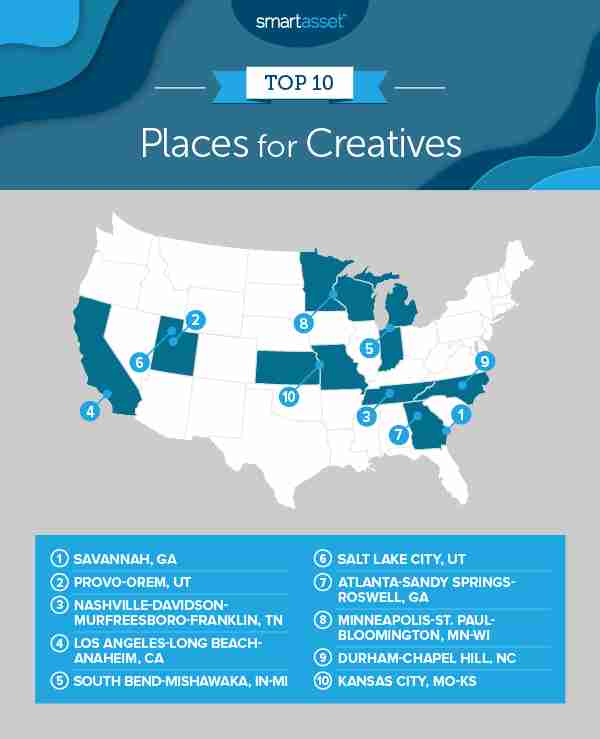 You'll notice the bulk of the places in the top 25 are scattered across the South and Midwest, and that not a lot of "major" cities made the cut. That's largely because cost of living in most of them far exceeded the threshold SmartAsset set. And while it may be surprising to see a famously pricey place like Los Angeles on here, the disproportionate number of creative opportunities there weighed heavily in its consideration. 
Overall, it seems that if you're on the hunt for a home somewhere that'll allow you to flourish is a less-than-lucrative industry, it pays to think small.
Sign up here for our daily Thrillist email and subscribe here for our YouTube channel to get your fix of the best in food/drink/fun.