These Are the Best Cities for First-Time Homebuyers
Buying your first house is terrifying. Or, at least that's what the ever-slimming number of young folks who can afford to do so say...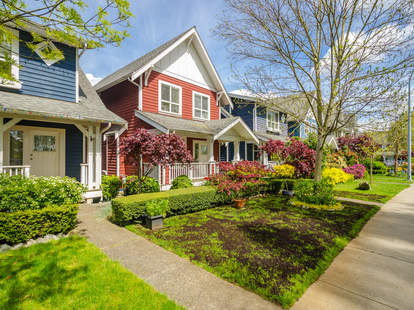 Buying your first house is terrifying. Or, at least that's what the ever-decreasing number of young folks who can afford to do so say. Though the whole process can actually be easier and more affordable in certain parts of the country, and that's all a bit clearer now that a new list has revealed the best cities for first-time homebuyers in the United States.
Put together by the financial technology company SmartAsset, this list of the most friendly cities for first-time homebuyers in 2019 shines a light on locales around the country where making the jump into homeownership is relatively less daunting. It's the result of an exhaustive look into data from all angles, including everything from the price and affordability of property to the market volatility and number of approved mortgage lenders in a specific city.
The SmartAsset team crunched the numbers for all 66 US cities with a population of at least 300,000, and determined that Fort Worth, Texas is the most ideal for first-time buyers. Oklahoma City, Oklahoma took the number two spot, while Arlington, Texas rounded out the top three. This is what the ranking of the top 25 cities looks like.
25. Chicago, IL
24. Philadelphia, PA
23. Tampa, FL
22. San Antonio, TX
21. Atlanta, GA
20. Wichita, KS
19. Tulsa, OK
18. Denver, CO
17. Memphis, TN
16. Nashville, TN
15. St. Louis, MO
14. Louisville, KY
13. Charlotte, NC
12. Phoenix, AZ
11. Houston, TX
10. Pittsburgh, PA
9. Raleigh, NC
8. Tucson, AZ
7. Columbus, OH
6. Dallas, TX
5. Omaha, NE
4. Cincinnati, OH
3. Arlington, TX
2. Oklahoma City, OK
1. Fort Worth, TX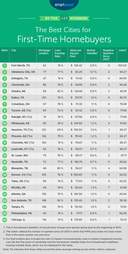 SmartAsset
You'll notice that most of the cities that made the cut aren't located on either of the coasts, which SmartAsset attributes to the fact that most coastal cities have higher costs of living, and thus a tougher housing market. Still, there are plenty of standout cities on this list, including many in states that have been deemed particularly great for millennials.
Though if you're really on the hunt for a place where first-time home-buying is allegedly easy-breezy (all things considered), it looks like Texas may be the place to start.

Sign up here for our daily Thrillist email and subscribe here for our YouTube channel to get your fix of the best in food/drink/fun.