Here Are the Best Cities to See the Total Solar Eclipse in 2024
The total solar eclipse on April 8, 2024 is fast approaching.
It's officially here—or actually, it's almost here, so close you can almost "smell it." After seven years since the last time one was viewable from the United States, a total solar eclipse is coming back to keep us with our noses lifted up toward the sky in 2024.
If you haven't heard already, you'd better save the date. The next total solar eclipse is happening on April 8, 2024, and space enthusiasts around the world are already making plans to be in the best spot possible to marvel at the unique phenomenon. The travel industry is on top of it, too, and there are already plenty of cruises organized around the event. If watching the eclipse from the ocean is something that piques your interest, you should definitely check out this Thrillist guide, where we rounded up the best ones on the market.
If being at sea is not, however, your top priority, you can safely catch the eclipse from the comfort of the very ground you stand on—but there are some places that are better than other for that. The "path of totality" is what will help you make this decision, as it outlines the areas that will provide ideal viewing conditions. The good news is that the path in 2024 will make its way through North America, from Mexico to Maine, so your odds to find a good spot are actually pretty high. Specifically, some of the main cities included in the path for this eclipse are:
San Antonio, Texas
Austin, Texas
Dallas, Texas
Little Rock, Arkansas
Carbondale, Illinois
Indianapolis, Indiana
Toledo, Ohio
Cleveland, Ohio
Akron, Ohio
Buffalo, New York
Rochester, New York
Montpelier, Vermont
Montreal, Quebec, Canada

This detailed map from NASA also provides a detailed view of the 2024 eclipse's path of totality: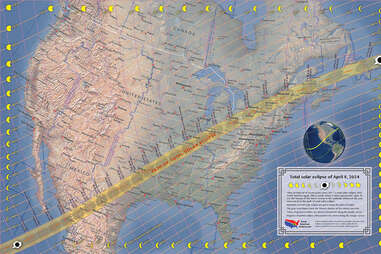 In other words, now is a good time to start planning your trips and ingratiating yourselves to friends in Rochester or Austin. You don't want to get stuck home waving a spaghetti colander over the ground when it's time to look up again.
Keep in mind that you'll also might find luck outside major cities. The website GreatAmericanEclipse.com has published detailed regional maps of the 2024 eclipse's path of totality that you can use and blow up to high-resolution to plan your route a bit more.
If you're based in the US, to better help you plan your eclipse trip, below you can find a selection of US cities on the path of totality divided by state.
Texas
San Antonio
Junction
Austin
Temple
Waco
Fort Worth
Dallas
Paris
Oklahoma
Arkansas
Arkadelphia
Hot Springs
Little Rock
Russellville
Mountain Home
Jonesboro
Missouri
West Plains
Poplar Bluff
Farmington
Kentucky
Illinois
Carbondale
Mt. Vernon
Olney
Indiana
Evansville
Vincennes
Bloomington
Bedford
Indianapolis
Richmond
Ohio
Hamilton
Dayton
Lima
Toledo
Akron
Cleveland
Pennsylvania
New York
Dunkirk
Buffalo
Niagara Falls
Rochester
Geneva
Syracuse
Oswego
Watertown
Tupper Lake
Lake Placid
Malone
Plattsburgh
Vermont
Burlington
Montpelier
St. Albans City
Maine
Jackman
Greenville
Oakfield
Monticello
Houlton