These Companies Have the Happiest Employees in the U.S.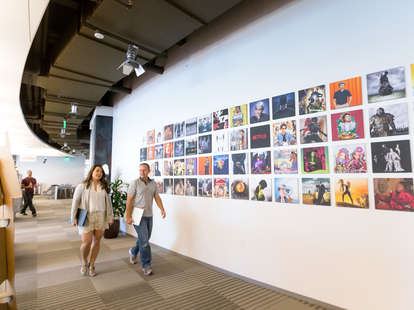 Courtesy of Netflix
Courtesy of Netflix
There's a lot to consider when switching jobs, like pay, health benefits, whether there's an office beer keg (can't say that wasn't a deciding factor for me ¯\_(ツ)_/¯). But what lures you in isn't always enough to sustain longterm fulfillment. On the job drinking is great and all, but so is career growth and, according to a recent survey, Netflix, Bloomberg, and Google have some of the happiest employees because of that.
Anonymous professional network Blind polled more than 10,000 work-email verified users and found that only 51% of employees were happy in their workplace -- with an obvious link between growth opportunity and overall satisfaction.
"Blind found that employees who felt they had significant growth were also the happiest and, as self-reported employee growth declined, so did happiness," co-Founder Kyum Kim said in a statement. "Nearly 80% of employees who reported they had significant personal growth also reported they were happy in their current role."
Top 15 companies for growth opportunity:
1. Bloomberg
2. JUUL
3. Cruise Automation
4. Facebook
5. Spotify
6. Wayfair
7. Google
8. Lyft
9. Walmart
10. Uber
11. Tableau Software
12. Splunk
13. Capital One
14. LinkedIn
15. Netflix
Top 15 companies with the happiest employees:
1. Netflix
2. Bloomberg
3. ServiceNow
4. Google
5. Tesla
6. PayPal
7. Pinterest
8. Facebook
9. Lyft
10. LinkedIn
11. Spotify
12. T-Mobile
13. VMware
14. Indeed.com
15. Cisco
"However, among employees who reported they had only moderate growth, only slightly more than half said they are happy," Kim added. "Happiness drops notably again among employees who reported they had no growth, with only 16% saying they are happy in their role."
Sign up here for our daily Thrillist email and subscribe here for our YouTube channel to get your fix of the best in food/drink/fun.
Megan Schaltegger is a staff writer at Thrillist. Follow her @MegSchaltegger.