Here Are the Best Companies for Tech Jobs in 9 U.S. Cities
shutterstock
shutterstock
While the economy is a living, breathing juggernaut that can very well throw your life into oblivion or make you a millionaire overnight, it's no secret that deciding on a job and career might very well dictate where you live. So if you've been looking at a spinning globe and fixating on where to pay your taxes, the career match-making site Hired.com has some useful data on which employers garner the most praise from rank and file workers in cities across the country.
Surveying its users and compiling the data in a report, Hired.com queried "qualified technical talent in software engineering, product management, design, and data science to determine which companies interest them most." Unsurprisingly, big tech companies that can afford paying interns pretty lavishly dot the cities of Los Angeles, San Francisco, Seattle, Denver, Austin, Chicago, Washington DC, Boston and New York. To differentiate between employers, Hired.com gave each company a "brand positivity score," with 100 being the highest.
In a surprise to no one with an actual pulse or segway scooter, the most praiseworthy employers in California are either focused on building internet or rocket ships, as Google wins in the Bay Area, as does SpaceX in Los Angeles.
Chicago and Austin, Texas sees some insurgent startups come into the picture, in an effort to unseat Jeff Bezos' biceps.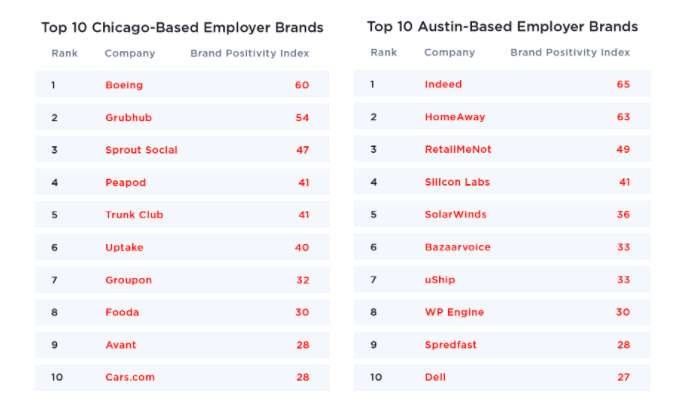 Denver is pretty similar to Chicago and Austin in that lesser known companies feature across the list. According to the report, the city was "one of the most popular destinations for tech candidates in other location(s) to consider moving," which is probably because skiing is better than your cubicle.
In New York, media empires appear to be interrupting the flow of things, as they often do: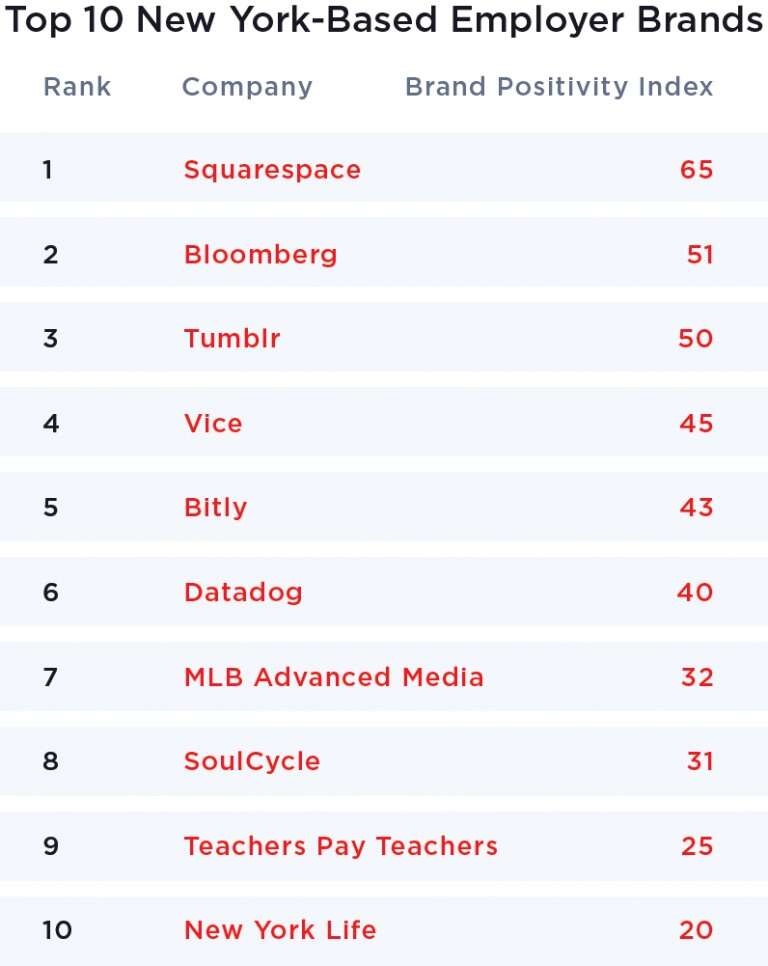 Boston and Washington, DC offer their own respective hodgepodges that largely reflect the dominant industries in those cities. You'll find defense contractors and a notable weapon-maker in the nation's capital, because that's where the United States decides to invade other countries.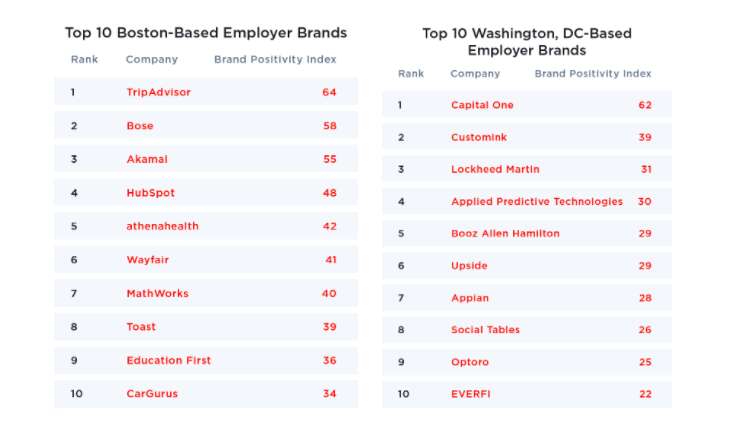 Perhaps the least surprising find comes when viewing the national landscape in one solid map format. The most worker positivity was found in Los Angeles and the Bay Area, and most other cities didn't even come close. We suspect that might have something to do with the abundant sunshine and something called "manifest destiny." But we'll get to that later.
Sign up here for our daily Thrillist email and subscribe here for our YouTube channel to get your fix of the best in food/drink/fun.

Sam Blum is a News Staff Writer for Thrillist. He's also a martial arts and music nerd who appreciates a fine sandwich and cute dogs. Find his clips in The Guardian, Rolling Stone, The A.V. Club and Esquire. He's on Twitter @Blumnessmonster.