These Are the Best Day After Christmas Deals You Can Get Right Now
Courtesy of The Container Store
Finally, the month-plus of non-stop shopping and commercials about how you should shop is over. You should celebrate. Let's see... what's going down on December 26? Oh yeah. More shopping. Retailers are hosting Day After Christmas sales and there are tons of deals to be had.
If you're looking for a deal on something you almost bought for yourself over the last few weeks or are pretending that you bought someone a present but you didn't, Day After Christmas sales are here to save the day. Whether or not this is strictly true, the idea is that stores stock up for Christmas because people buy things like crazy and as soon as the day passes, there's a bunch of stuff they want to get rid of, and you can get it for cheap. Again, it may not work exactly like that, but whatever, there are a bunch of sales from stores you already go to anyway.
Here's our running list of are the best Day After Christmas sale deals you're liable to find this very fine day after Christmas:
Day After Christmas Sales on Amazon
Get $50 off Sony's 10-inch Digital Paper or $100 off the $13-inch version. (You can also find this deal at B&H Photo.) - [Get it]
Amazon launched a "Year-End Deals" page with tons of discounts on items in categories like Amazon Devices, Home, Toys & Games, Top Brands, Fashion & Shoes, Computers & Accessories, and more.
Day After Christmas Sales at GameStop
You can snag a Sony PS4 1TB System Bundle with God of War, Horizon Zero Dawn, and The Last of Us Remastered for $249.99 ($50 off) through December 28. - [Get it]
GameStop is offering the Xbox One X Console Limited Edition 1TB Bundle with NBA 2K20 for $349.99 ($150 off) through December 29. Those are the only two video game console deals available at the gaming retailer this year. - [Get it]
As for game deals, GameStop is highlight deals like NBA2K20 for $29.99, Ghost Recon Breakpoint for $19.99 (66% off), and Overwatch Legendary Edition (Switch only) for $24.99. - [Get it]
You can also score all pre-owned games for buy two, get two free until December 29. - [Get it]
You'll get $10 off PlayStation Dualshock 4 controllers and other accessories deals as well. - [Get it]
Day After Christmas Sales at Target
Day After Christmas Clothing Sales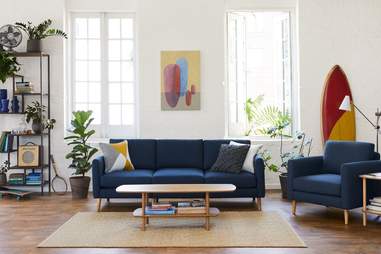 Courtesy of Burrow
Day After Christmas Home and Appliance Sales
Day After Christmas Electronics Sale
Master & Dynamic: The code "Boxing19" will get you 50% off "select sound tools" on December 26. - [Get it]
Day After Christmas Travel Sales
Frontier Airlines: Through midnight on December 27, Frontier is running a sale that features one-way flights for as little as $29 or $20 if you're a Discount Den member. - [Get it]
Day After Christmas Media & Hobby Sales
Sign up here for our daily Thrillist email and subscribe here for our YouTube channel to get your fix of the best in food/drink/fun.