Europe's 11 Best Countries for Eating, Drinking, and General Debauchery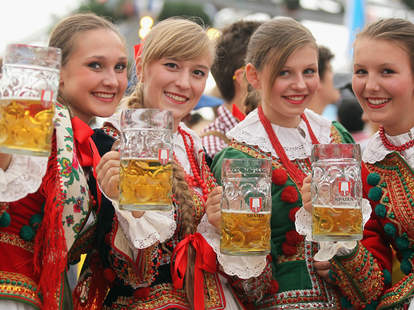 Everybody loves rankings, because they immediately offer a talking point. Plenty of people love Europe. An plenty more even enjoy partying. Thus, when a ranking of the best and worst places to party (for all intents and purposes) in Europe comes out, it's only natural to talk about it. Here we are.
According to the inaugural Nanny State Index, the Czech Republic is the best country in the European Union for partying. For perspective, the Czech Republic scored a study-low 8.8, while the worst place in the EU, Finland, scored a 53.7, making it the "least free" country, per the qualifications. Coming in second best: Germany, which scored a 9, while Luxembourg landed in third, scoring a 10.6.
Otherwise, in the distinct categories, Spain ranked tops as freest for alcohol (botellón experiences can confirm), while 13 countries tied for freest in food. Not to be confused with free food, in general.
Published by the European Policy Information Center, an initiative of six think tanks, the Nanny State Index rates EU countries based on "the worst places in the European Union to eat, drink, smoke and vape," according to taxes, laws and regulations put in place by each nation. As the study points out, most of the "nanny state" practices have been enacted on the grounds of public health.
But interestingly, the Nanny State Index analysis points out there's no correlation between heavy alcohol regulation and lower rates of alcohol consumption, and no correlation between anti-smoking policies and lower smoking rates. Food and soft drink analysis wasn't possible, as few nations have enacted firm regulations on these goods.
Somewhere, Michael Bloomberg is crying.
Regardless, the ranking provides an interesting take on where to spend your time and money while traveling in Europe -- based on how indulgent you're looking to get. Check out the top 10 below, and head over to the Nanny State Index page to see the entire list -- ranked from worst to best.
1. Czech Republic
2. Germany
3. Luxembourg
4. Netherlands
5. Slovakia
6. Austria
7. Bulgaria
8. Spain
9 (tie). Portugal
9 (tie). Romania
9 (tie). Cyprus 
Sign up here for our daily Thrillist email, and get your fix of the best in food/drink/fun.
Ryan Craggs is Thrillist's Senior News Editor. He suddenly realizes the folly in his travels, having never spent time in the Czech Republic or Luxembourg. Follow him @ryanrcraggs.