Illustration by Maggie Rossetti for Thrillist
Thanks to the many major fast food chains and their higher-end fast casual cousins available today, it's stupidly easy to get your hands on a good cheeseburger almost whenever and wherever you want one. Getting your hands on a great cheeseburger, on the other hand, is another story. Of course, it's still easy enough, but it requires a little extra effort—effort we're more than willing to put in for the greater good.
We've already established who makes the best fast food cheeseburger, so now we're focusing our attention—and hunger—on burgers from fast casual chains like Shake Shack, Five Guys, Steak 'n Shake, and many more. Everyone has their favorite and these allegiances run deep, so we definitely felt the pressure when setting out on this burger-eating quest. To our surprise, it didn't take long before the top burgers became clear.
To find the absolute best, we dispatched our fast casual experts from around the country to hit each major chain. To avoid apples-to-oranges comparisons, we stuck with the most basic, single-patty cheeseburger on each chain's menu whenever possible and avoided special, limited-time-only offerings. Each burger was ordered exactly as the chain intended, though some required build-your-own customizations. And, of course, we steered away from secret menu hacks; we can rank those some other time. All of the burgers were judged based on their ingredients, freshness, aesthetics, and overall deliciousness.
Here's how they stacked up.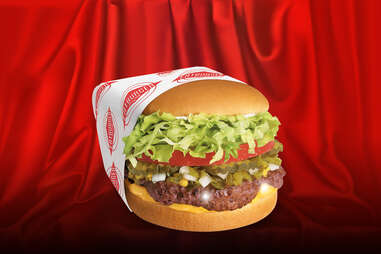 The build: A larger-than-expected-but-still-bland burger patty, cheese, shredded lettuce, thick slice of tomato, onion, pickles, relish, mustard, and mayo on a toasted sponge-dough bun
If this ranking were determined by looks alone, the burger that made Fatburger famous might have placed higher. But one bite into into the Beverly Hills-based chain's third-pound beef patty and you're met with meat that puzzlingly tastes both under and overcooked with a grey-ish interior and not a glint of moisture in sight. Piled high with "The Works" (shredded lettuce, tomato, onions, pickles, relish, mustard, and mayo), you might expect some flavor to hit your tongue at some point in the journey of consuming this burger. If so, you'll be disappointed, your tastebuds fumbling in the dark cavern of your mouth for some hint of promised mayo or mustard to offset the dryness of the "sponge-dough" bun that holds these toppings hostage. Verdict: Fatburger needs another claim to fame.
The build: Leaf lettuce, tomato slice, oblong pickle slices and onion bits on a thin burger patty with melted cheese, plus mayo, ketchup, and mustard on the underside of the top bun
Steak 'n Shake calls its signature savory a "steakburger," then defines that as "100% beef, including steak" on its website. Including. So, uh, what's the rest? We don't taste much steak or anything else overly cow-ish, except in the mildest way. Cooks take these semi-steak patties, place them on a flat griddle, then smush, smush, and smush again with a spatula until the never-frozen ground meat is pancake-flat and heated through. The result, for the Single Steakburger with Cheese, is a thin, well-done disc of unexciting yet inoffensive burger. Pickles save the day. They're two oblong slices of fresh, delightful pickled cukes that resemble NYC half-sours. Those sit triumphantly atop the disc and a slice of melted American cheese. Above the pickle, the sandwich has wisps of onion, a wide slice of tomato, and a single whole leaf of lettuce (ours had black spots on it here and there). The bun bottom seems buttered. The bun top has generous squirts of mayonnaise, ketchup, and mustard—so essentially that thin bit of beef is not where this sandwich gets its flavor.
The build: Cooked-to-order beef patty, yellow American cheese, lettuce, meh tomatoes, pickles, red onions, ketchup, and a ton of mustard
Note that Wayback's Classic cheeseburger comes with two beef patties standard, but we ordered the available single patty option for consistency across this ranking. That may have been a mistake.
The toppings on this burger distract from the flavor of the meat, rather than enhance it. The single patty is no match for the red onions in particular, resulting in overwhelmingly onion-y bites. The tomatoes, too, direct your attention away from the beef, not because they pack powerful flavor, but because they're about the same level of quality you'd get from a fast food chain rather than the higher quality you'd expect from a fast casual joint (and for a higher price at that). The biggest offender, though, is the borderline-obscene amount of mustard on this thing—enough to drip onto your lap if you're not careful. No burger needs this much mustard, especially one with a beefy patty that lacks enough flavor of its own to hold up against the toppings. Mustard lovers will rejoice eating this cheeseburger, but if you're looking for more than just toppings, keep reading.
The build: Lettuce, tomato slices, thick onion slices, melted cheese, and pickles topping one beef patty
Fuddruckers' burger is good. Like, let's-go-back-tomorrow good. Turns out the chain's tagline, "World's Greatest Hamburgers®," isn't as laughable as a burger snob would think. We chose the smallest option, a 1/3 pound of meat. The toppings bar is temporarily closed in some markets, and the cashier said no toppings are standard. What a nice surprise then to receive a grilled-to-order patty sandwiched with large leaves of tender lettuce, fresh slabs of tomato, firm rings of crisp raw onion, and four crinkle-cut slices of dill pickle. And that burger? Cooked rare, medium or well, as requested. As for cheese, Fuddruckers has five choices: We chose cheddar, which arrived beautifully melted, but could have opted for American, blue, pepperjack or Swiss. The sesame-topped buns are baked on the premises and, toasted, they're just right for this attractive sandwich: Not too thick or thin, and small and soft enough to fit into your mouth for a decent bite, yet solid enough to not fall apart before you're done eating. The beef tastes fresh, and it is; in fact, it's USDA premium American beef, with no fillers.
The build: Salty Angus Beef, a slice of American, lettuce, tomatoes, red onions, pickles, ketchup, and a toasted bun smeared with Smash Sauce
Order a Classic Smash Burger and you'll find that it indeed lives up to its name. It features all of the qualities of the ideal classic cheeseburger and, yes, the burger patties are smashed flat on the grill for delicious char. Beyond that, this burger offers the goods: fresh toppings that you can tell are of high-quality, a soft toasted bun, and perhaps most importantly, a grass-fed, antibiotic- and hormone-free beef patty with great grilled flavor that melds with the creaminess of the melty American cheese.
There's just one very forgivable con to note: it's super salty. Then again, it's a cheeseburger served by a fast casual chain. Saltiness should be expected. We're willing to look past this minor fault because it doesn't detract from the other, delicious flavors found in this top five finalist.
The build: Angus beef, American cheese, lettuce, tomato, and BurgerFi sauce on a branded bun
The takeout presentation's nice (if unnecessarily wasteful for the sake of branding) with each burger arriving wrapped in paper, then nestled inside its own box. However, from the first bite, we immediately saw and tasted the quality of the 100% natural Angus beef free of steroids, antibiotics, and growth hormones—qualities you'd expect from a fast casual burger. The patty is topped with American cheese, leaf lettuce, tomato, and the chain's thousand-island-style BurgerFi sauce make for a big burger, but one that's still fit-in-your-mouthable. The logo branded into the bun's a fun touch, too, and even though we thought it might add a charred flavor to the bread, it didn't alter the taste whatsoever. This burger is a clear step up from what you'd get from a fast food chain and, as you can see, some of BurgerFi's competitors.
The build: A steakburger patty, cheese, onions, long pickle slices, and mustard on a toasted bun
Purists should love this burger for its simplicity and the freshness from being made to order. It starts with a very thin, smashed-on-the-griddle beef patty dressed up with mustard, American cheese, pickles, and rings of fresh onion on a butter-toasted bun. The thinness of the patty delivers a scrumptious balance of char and crispiness around the edges for a burger that's loaded with textures and flavors. We tried it with and without add-ons of iceberg lettuce and tomato and prefer the added freshness that comes from the supplemental vegetables. We especially loved that they use pickles cut lengthwise for a vinegary kick in every bite from just two slices. Other chains should steal that move ASAP.
The build: Great freshly grilled beef patty, American cheese, lettuce, tomato, onion, ketchup, and mustard
Five Guys lets you customize every burger order, so you can get it custom-built to satisfy your every lunchtime whim. For consistency, we dressed it up like you'd expect a standard cheeseburger to come at any fast casual restaurant. Even setting aside the appeal of customization—which lets you get grilled onions and mushrooms—Five Guys is a top burger. The smashed burger patty tastes fresh with a nice charred crunch on the outside and a juicy interior. When you taste how good the chain's burgers are you understand why it has earned its simplified menu. If you're dropping in, you just need a burger. You don't need them coming up with a new concoction or stunt sandwich every month. Nothing can top this remarkably great burger. Except for one.
The build: Pasture-raised Angus beef patty, American cheese, lettuce, tomato, and ShackSauce on a lovely Martin's Potato Roll
If you've ever experienced the delights of a ShackBurger, then, yeah, you probably saw this coming. It's no secret that Shake Shack's simple cheeseburger is transcendent. And because it's so good, we have absolutely no problem expounding exactly why we love it so much. It's kind of a long list, so we'll bullet it for the sake of everyone's sanity:
The beef patty is the freshest we tasted, with a perfect (relatively intense) salt flavor and gorgeous crispy, caramelized meat laces around the edges.
The fresh toppings are vivid and crisp, as if they were picked today. This is a big deal because fast casual chains absolutely must offer fresher, tastier vegetables than the limp approximations often served by cheaper fast food joints. Shake Shack, on the other hand, will always put a bright red, juicy slice of tomato on your burger.
Like with any great cheeseburger, the slice of American on the ShackBurger basically melts right into the meat, forming a single beefy-creamy layer that melts away as you chew.
You get a healthy smear of ShackSauce on each ShackBurger and it hits all the right notes, removing the need to manually add additional ketchup or mustard.
The Martin's Potato Roll. You cannot beat a Martin's Potato Roll.
Honestly, we tried really hard to find something to dislike about this burger and the only thing we could come up with is that it doesn't include pickles by default. It doesn't need pickles to beat every other burger in the game, though. The gorgeous ShackBurger has everything you want and need in a cheeseburger.