The 9 Best Fast Casual Fried Chicken Sandwiches, Ranked
Popeyes may dominate in the fast food arena. But what about fast casual?
Image by Maitane Romagosa and Chineme Elobuike for Thrillist
Image by Maitane Romagosa and Chineme Elobuike for Thrillist
Welcome to The Fasties, Thrillist's third-annual fast food awards! The awards feature more than a dozen categories celebrating all the best foods that came out of drive-thru windows over the past year—from the Best Coffee Nuggets to the Best Spicy Chicken Sandwich, and many more. Check out the full list of categories and winners.
Not that we're complaining or anything, but the chicken sandwich war is still going—albeit not as intensely as before—almost two years after Popeyes ignited the poultry powder keg. The crispy chicken competition has even spread from the fast food arena into the world of fast casual chains, a whole other league of chicken sandwich to consider and, as we are wont to do, rank.
We all know who makes the best fried chicken sandwich in fast food. Now, we're turning our attention to all of the delicious offerings from major fast casual chains such as Shake Shack, BurgerFi, Zaxby's, and many more. Yes, this is a daunting task, considering these chains' cult followings and the generally high level at which these chains operate. But we'll never pass up a challenge that involves eating every fried chicken sandwich we can get our hands on.
To determine the absolute best fast casual fried chicken sandwich, we activated our fast casual experts around the country to hit each major chain. Whenever possible, we stuck with the most basic fried chicken sandwich on each chain's menu to avoid uneven comparisons. We also steered clear of menu hacks and limited-time-only specials. Each sandwich was ordered as intended by each chain, though a couple required build-your-own customizations. All were judged based on key criteria: overall quality, juiciness of the chicken, chicken breading flavor and crispiness, sauce flavor and distribution, and overall construction. Clear leaders quickly emerged.
The Build: Cage-free chicken breast, Honey Mustard BBQ Sauce (allegedly), lettuce, tomato, pickle chips
In the increasingly competitive chicken sandwich wars, this one looked like a real contender once we opened the box to reveal a plump, golden-brown fried chicken breast poking through the rest of the ingredients. Though perfectly cooked and delightfully juicy, it was ultimately underwhelming. Especially at nearly $3 more than some of the much-better fast food chicken sandwiches out there. We were most excited about the allure of Honey Mustard BBQ Sauce, but we couldn't taste it one bit. The lettuce and tomato were scarce, and the pickles (though crunchy and fresher tasting than most) didn't do enough to elevate the overall experience. In fact the entire composition lacked flavor. At least the chicken led a cage-free life prior to this depressing epilogue.
The Build: Crispy chicken breast, lettuce, tomato, red onions, and mayo on a toasted bun
As the fried chicken sandwich competition increases, every chain needs a take on the classic that stands out from the rest. Smashburger's stands out, but maybe not for the best reasons.
Let's start with the good: the chicken breast tastes fresh and sports a crispy crust and the toppings are of the high quality you'd expect from a fast casual burger chain. There are just two cons that stand out to us: 1) the inclusion of red onion on a chicken sandwich is a strange choice, and 2) like Smashburger's cheeseburger, this sandwich is just a tad too salty for our liking, though that's not a deal breaker by any means.
The Build: Leaf lettuce, tomato slices, thick onion slices, and pickles topping a large battered-and-fried slab of chicken breast
Shortly after Fuddruckers served its first burger, McDonald's introduced Chicken McNuggets—forever lowering Americans' expectations of what to expect in a fried chicken product. What a glorious surprise, then, to discover a large intact piece of chicken breast within the Crispy Chicken Sandwich—nothing pulverized and re-formed. This is pure hunka hunka clucker. What's more, every bite of this stunningly white breast—thick parts and thin—was tender and uniform, a feat no home cook has ever managed. The breading itself arrived golden and sizzling hot but, honestly, a little lame. Despite an ultra-attractive presentation with lettuce leaves flowing over the sides and thick-cut tomato and onion and dill pickles above that, we pined for a bigger batter. The coating has a nice peppery bite, for sure, but a low crust-to-bird ratio—the downside of a hefty portion. Together with the toasted bun that's baked on the premises, we'd still eat this sandwich again. If only there were a way to popcorn-chicken-up that thinnish exterior. Then again, you can pile on sautéed mushrooms, bacon, grilled onions, and other extras for no extra fee.
The Build: Crispy chicken filet, lettuce, tomato, mayo, on a soft bun
If you want a fried chicken sandwich that tastes and feels like it's not an over-the-top stack of unhealthy ingredients, this is the one. It trades decadence for clean, humble chicken sandwich flavors. Really. The thick chicken filet boasts a delicate poultry taste that's not overwhelmed by a thick layer of greasy breading. This sandwich's breading adds the bare minimum crunch and is actually hard to detect in some bites. Meanwhile, crisp lettuce, fresh tomato, and a light touch of mayo pile onto the overall sense of lightness you feel while eating it. It's super confusing. On the one hand, you want a fried chicken sandwich to feel like a downright indulgence. On the other, we can't help but enjoy one that somehow (we're scratching our heads here) doesn't make us feel as guilty.
The Build: Crispy chicken breast, shredded lettuce, tomato, and mayo on a toasted sponge-dough bun
Here it is: our official petition to rebrand the iconic Fatburger to Fatchickensandwich (don't worry, we're not married to the name). This California-based regional chain's version of a crispy chicken sandwich places a sizable chicken breast—complete with a crunchy breading that gives way to a plump and juicy interior—on a sponge-dough buns, plus shredded lettuce, tomato, and mayo. While the lack of additional condiments and toppings could result in blandness, instead it allows the chicken to truly shine as the star ingredient. The only area for improvement is perhaps in the breading recipe, which, while it provides the perfect amount of crispness without overpowering the chicken itself, is a little lacking in flavor.
The Build: Golden chicken breast fillet and delightfully long cuts of crunchy pickles on a toasted bun
It's pretty clear where the Freddy's team got the idea for a nothing-but-fried-poultry-and-pickles chicken sandwich. You won't find any sauce or vegetables, but what you're left with still impresses. The chicken has a remarkably flavorful, extra-crunchy batter that keeps the hefty, well-seasoned breast moist and delicious and the two lengthwise-sliced crinkle-cut pickles deliver a punch of flavor in every bite. If you're not eating it right away, however, request the pickles on the side so they don't make the chicken breast soggy. For such a simple version, the price clocks in higher than the Chick-fil-A sammie it mimics and the superior version at Popeye's, but it's damn-near must-eat territory as far as fast casual chicken sandwiches go.
The Build: Hand-breaded chicken filet, lettuce, pickles, and buttermilk herb mayo on a Martin's Potato Roll.
When Shack Shack introduced its first-ever fried chicken sandwich at selection locations in NYC back in July of 2015, we were literally first in line to try it at the chain's Downtown Brooklyn location. Perhaps in part due to our breathless reporting on it at the time, there was quite a bit of hype surrounding its debut and Shake Shack, being Shake Shack, delivered on it with the glorious Chick'n Shack.
Six years later, the Chick'n Shack has long since earned a secure position among the top fried chicken sandwiches available from a chain restaurant, fast casual or otherwise. In fact, we find it hard to believe that Shake Shack hasn't been selling 'em since day one, all those years ago in Madison Square Park. It'll always be an integral part of our Shake Shack experience.
If offers a lot to love: a hefty piece of hand-breaded fried chicken, crisp lettuce that's shredded to help avoid the sandwich sliding apart, and spectacular pickles that add even more crunch and an acidity that cuts through the relatively fatty poultry flavor. Two additional elements help propel this sandwich to (almost) the top of our list: the buttermilk herb mayo, which serves as flavorful glue, and the Martin's Potato Roll, which you simply can't beat as far as we're concerned. Thanks to the Chick'n Shack, your go-to burger order is often in question. That is, unless you order both. Yeah, do that.
The Build: A chicken breast brined with habanero, crispy breading, smothered in Fuku mayo, and some crisp pickles on a Martin's potato roll.
When David Chang's Fuku first rolled into the chicken sandwich space, there were few comparable competitors. The cultural moment of the chicken sandwich was still far off, and so the spicy fried chicken sandwich Fuku offered up existed in a league of its own. Fast forward to 2022, and there's now so many options we at Thrillist have had to divide our Fasties ranking into fast food and fast casual chicken sandwiches.
And even with the passage of time and the entry of so many other chicken sandwiches—few can stand up to Fuku's O.G. Sando. The Martin's potato bun that encases a large, juicy chicken breast that's habanero brined, breaded, and fried. The potato bun does a lot of heavy lifting in this sandwich, as it's really the only part that doesn't carry a spicy kick.
The chicken is not only juicy, but flavorful, and the breading acts as a delicious vessel for the Fuku mayo, which is equal parts creamy and spicy. The Fuku mayo and crisp pickles make this hearty sandwich taste fresh. The sandwich definitely makes itself stand out with the heat level. More than once, we reached over for our drink and found ourselves panting a little. But if a sandwich doesn't leave you breathless, was it even worth it?
Like many of the fast casual entries, you can't get your hands on a Fuku sandwich everywhere. The chain operates in New York, Los Angeles, and Lexington, Kentucky.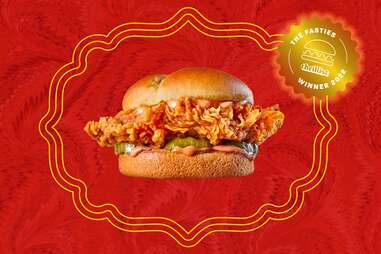 The Build: White meat breast filet that's double hand-breaded, three award-winning pickles, and Zax Sauce on a toasted potato bun
Look out, Popeyes. Zaxby's, of course, falls in the fast casual league, so we're not here to compare it with offerings from fast food chains, but... look out, Popeyes. This sandwich is the real deal.
Let's start with the bread, a split-top potato bun that's the right balance of dense and tender. The chicken itself is huge and actually tastes like real, juicy chicken. Meanwhile, the breading is crispy but not too thick, making it easy to bite through. The Zax Sauce is tangy and spread out under the chicken, although it's a little bit messy (so have napkins on hand). Finally, the pickles add a nice crunch factor. You will not be hungry for a while after this one. It's the exact opposite of Wayback's fried chicken sandwich—a downright decadent experience from bun to bun. You may even feel a little dirty after eating it. In a good way!
It's a shame that you can't get this sandwich everywhere (Popeyes, you can breathe easy for now) because Zaxby's locations are primarily limited to the South. Then again, it's another delicious experience to look forward to the next time you find yourself in a southern state, if not required eating.
Fast Casual Chicken Sandwich FAQ
Does Shake Shack serve a buffalo chicken sandwich?
Shake Shack does serve a buffalo chicken sandwich, which was introduced to the menu in January 2022.
What are the best toppings for fried chicken sandwiches?
This is an incredibly subjective question to answer, especially considering all the ways different chains top their sandwiches. Based on all of the sandwiches we've tried though, some crispy pickles, a creamy sauce, and a little bit of lettuce seems the best way to go. You'll definitely want something crispy, something fresh, and something that will complement the spicy flavor.
When is National Fried Chicken Sandwich Day in 2022?
National Fried Chicken Day 2022 is on November 9.
Which fast food chain has the best fried chicken sandwich?
At this point, it seems like just about every major fast food chain has released new and improved fried chicken sandwiches to better compete against that of Popeyes. We're not complaining. The more chicken sandwiches out there, the better. But which one's the best in all of fast food? We went there—and settled the fast food chicken wars—in our ranking of the best fast food fried chicken sandwiches.
Which fast food chain has the best spicy chicken sandwich?
Having a great fried chicken sandwich is one thing. Having a great spicy fried chicken sandwich is a whole other. They're in different leagues. Putting, say, Burger King's Ch'King up against Popeyes' Spicy Chicken Sandwich just isn't a fair match. Thankfully, there are plenty of spicy chicken sandwiches out there to put to the test, and we found the absolute best one in our ranking of the best spicy chicken sandwiches.