We Ranked the Most Delicious Breakfast Sandwiches in Fast Food
Emily Carpenter/Thrillist
Emily Carpenter/Thrillist
The humble fast food breakfast sandwich is among the most convenient ways to get your hands on greasy proteins, fluffy eggs, and gooey cheese in a portable package designed for munching on your morning commute. Sure, breakfast sandwiches don't tend to be as "healthy" as, say, a smoothie bowl or mason jar full of overnight oats. But has anyone ever really eaten a BEC and despaired? The answer is no.
Though fast food breakfast sandwiches aren't quite as satisfying as the hangover miracle cures served at your corner bodega or bagel shop, they are a convenient, accessible, and cheap enough method to start your day. Not all breakfast sandwiches handed out through drive-thru windows are created equal, however. Some are dry, some are horrifically slick with oil, and some are sodium bombs (EDITOR'S NOTE: Most are sodium bombs).
For the purpose of this ranking, we tried what we consider to be the ultimate breakfast sandwich at popular chains. This means Breakfast Crunchwraps, sandwiches made with croissant buns, and even Wendy's breakfast sandwich-burger hybrid, the Breakfast Baconator. From there, we ranked all the sandwiches, judging the offerings based on their taste and the way they made us feel at the beginning of a new day. Here are our findings:
8. Jack in the Box: Supreme Croissant
Price: $4.49
Build: Buttery croissant buns, shriveled strips of bacon, fried egg, thin slice of ham, cheese
I had great expectations for Jack in the Box's Supreme Croissant. I mean, it has supreme in its name. Unfortunately, it was anything but. The croissant was buttery, but not flaky; there was no crust. Instead of the delicate layers you'd expect from a traditional croissant, this one was dense and soft all over. I get that it's a mass-produced croissant, so I shouldn't expect the same level I'd get at a bakery. But the croissant wasn't even the bad part. The eggs were cooked so hard that the yolks were gray and powdery, like biting into dust. The bacon strips were skinny and shriveled. The slice of ham was akin to lunch meat: thin and floppy.
7. Burger King: Fully Loaded Croissan'wich
Price: $5.29
Build: Croissant bun, sliced black forest ham, sheet of scrambled eggs, bacon, sausage patty, and cheese
While Burger King's Croissan'wich is supposed to be "fully loaded" and "piled high" with three different types of breakfast meats, the one I received was flat both in appearance and flavor. The only thing I could really taste was an overwhelming amount of salt with the occasional richness of the buttery croissant bun. The croissant itself didn't really feel like a croissant, but rather a more fragrant and rich bun. It wasn't bad, but it just lacked the finesse a genuine croissant has. But that's fine! It's a mass-produced breakfast sandwich. Oh, and it's clear now why you should either pick between sausage, bacon, or ham; it'll be too salty otherwise.
Finally, a word of advice: Never opt for ham from a fast food restaurant. It will only disappoint you.
6. White Castle: Belgian Waffle Slider
Price: $2.29
Build: Fresh fried egg, bacon, and American cheese between two tiny Belgian Waffles
What this breakfast slider lacks in size, it barely makes up for it in flavor. But let's start with the positives: the eggs are freshly cracked and fried (as opposed to a reheated), the waffles were fluffy and slightly buttery, and the low price more or less lined up with the total amount of food received. However, the little Belgian Waffles used as the bun lacked the pearl sugar you'd expect from a waffle of this style (even though other fast food chains have managed to do it), the little bit of bacon included was merely alright, and if not for a generous amount of melted American cheese, the whole thing would be borderline too dry to eat. Next time you end up eating breakfast at your local slider citadel, maybe just order a big sack of Hash Brown Nibblers with your coffee and call it a morning.
5. Wendy's: Breakfast Baconator
Price: $3.99
Build: Plush bun, fresh cracked eggs, bacon, grilled sausage, cheese, and more bacon -- all doused in Swiss cheese sauce
Wendy's really knows how to commit to bacon, and I like its style. This indulgent breakfast burger, which is utterly filled with Swiss cheese sauce as well as melted slices of cheese, is as delectable as it is heavy. I appreciate the use of fresh fried eggs rather than scrambled eggs because it just tastes better. The bun on my sandwich was soft and yet it held up, even with all the runniness from the cheese. I will say that about halfway through the Breakfast Baconator, it does start to feel a little bit too salty and too cheesy. If you're fully prepared to start the day loaded with breakfast meats and cheese, more power to you. The sandwich, along with Wendy's full breakfast menu, arrives nationwide on March 2.
4. Subway: Bacon, Egg, and Cheese
Price: $5.15
Build: Six inches of Italian Herbs and Cheese bread, egg whites, strips of bacon, and American cheese
It felt very sacrilegious going to a Subway in New York City and ordering a bacon, egg, and cheese sandwich. The reality, though, is that Subway's breakfast sandwich -- inspired by the greasy BECs you can get at a corner bodega -- is refreshingly good. The egg whites were light, the strips of bacon crisped up in the oven, and the American cheese was well toasted inside the Italian Herbs and Cheese bread. I was later told that flatbread is the typical, traditional Subway breakfast carb but, hey, seasoned Italian bread never disappoints. Thanks to Subway's customizable sandwiches, I also added spinach and pickles for some greens. It's pleasant to have a breakfast sandwich that isn't so over-the-top greasy every once in a while. Subway's, to me, was nourishing and energizing.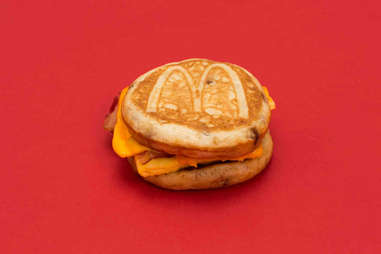 3. McDonald's: Bacon, Egg, and Cheese McGriddle
Price: $4.49
Build: McDonald's signature pancake bread, fluffy scrambled eggs, bacon, cold square of American cheese
Ah, the McGriddle. It's a classic McDonald's breakfast choice and has stood the test of time. The pancake bread, filled with pockets of sticky syrup, is divine. It's fluffy, chewy, and sweet against the salt of bacon and cheese. The eggs are relatively fluffy -- or as fluffy as you can expect from a fast food joint -- and although the bacon is flat and not entirely appealing, it's still bacon and therefore still welcomed. All in all, it's not the best breakfast sandwich I've had, but it's still stupidly good and I would never turn one down.
2. Taco Bell: Breakfast Bacon Crunchwrap
Price: $3.89
Build: Grilled flour tortilla, scrambled eggs with bacon bits, crispy hash brown, and cheese
To be clear, the Breakfast Bacon Crunchwrap isn't technically a sandwich, but it's everything I want a breakfast sandwich to be: greasy, crispy, spicy, fluffy, and just overall wonderful.
For starters, the flour tortilla that wraps the Crunchwrap is pressed and grilled, ensuring this non-sandwich is hot externally and internally and has that golden brown color you want to see on a quesadilla. The filling contains every texture from a diner plate -- crispy, oily hash browns; melted, oozy cheese; and soft scrambled eggs. I'd prefer if the bacon in this Crunchwrap came in strips rather than bits, but I can live with that. Now imagine if Taco Bell included a pancake or sweet component, like with the McDonald's McGriddle… then it'd truly be a diner breakfast platter wrapped to go.
1. Chick-fil-A: Chicken Biscuit
Price: $3.79
Build: Juicy, hand-breaded boneless chicken breast on a buttermilk biscuit
Less can definitely be more. Chick-fil-A's breakfast chicken biscuit should we served all day because, wow, it's transcendent. The chicken is hand-breaded and fried in peanut oil with only a simple, light layer of batter. For breakfast, I prefer fried chicken like this -- one that hasn't absorbed too much oil and doesn't contain a heavily dredged and bread-y crust.
After biting into this sandwich, the chicken glistened with its natural juices, creating a nice balance with the crumbly biscuit. And speaking of the buttermilk biscuit, it wasn't as dry as some biscuits tend to be. It was fluffy and buttery and made for a perfect canvas for a seductive drizzle of honey. This was my first time eating Chick-fil-A for breakfast and I'm excited to go back for seconds. And thirds. And, seriously, serve this thing all day, you monsters.
Introducing The Fasties, Thrillist's first fast food awards. Think glitzy TV and movie award show, but to honor the best things that came out of fast food restaurants in 2019. We rolled out the ketchup carpet for fast food's biggest names and handed out golden burger trophies in 16 categories. Watch the full awards show and check out the winners here.
Sign up here for our daily Thrillist email and subscribe here for our YouTube channel to get your fix of the best in food/drink/fun.
Kat Thompson is a staff writer at Thrillist. Follow her on Twitter @katthompsonn.