Image by Maitane Romagosa and Chineme Elobuike for Thrillist
Image by Maitane Romagosa and Chineme Elobuike for Thrillist
Welcome to The Fasties, Thrillist's third-annual fast food awards! The awards feature more than a dozen categories celebrating all the best foods that came out of drive-thru windows over the past year—from the Best Coffee Nuggets to the Best Spicy Chicken Sandwich, and many more. Check out the full list of categories and winners.
The fried chicken sandwich had its moment, and it wasn't a short one. The craze lasted for a solid two years or so after the debut of Popeyes' sensational sandwich. While we're obviously not complaining—keep the fried chicken sandwiches coming!—we feel that it's finally time for fish sandwiches to shine.
In case you've already forgotten, there's a whole other category of fast food greatness that deserves our respect: the fish sandwich. Lucky for you, now's a great time to dive into the world of greasy, fried seafood sandwiches. There are players like the Popeyes Flounder Sandwich and nostalgia-inducing classics like the McDonald's Filet-O-Fish. Some are worthy of ordering over standard fast food options like burgers and chicken sandwiches, while others are best reserved for those brief times when you've given up eating other meats for one reason or another.
Ordering a fish sandwich can be a bit of an occasion, so we want to ensure that it's always a good one. With that in mind, we set out to find the best of the best from major fast food chains across the country, considering key criteria such as the fish's flavor and freshness, its crispiness, and the sauces and toppings that round out the sandwich.
11. Carl's Jr./Hardee's: Beer Battered Fish Sandwich
When fast food joints bring back beloved menu items, it's usually a cause for celebration (and a lot of commercials, if you're Taco Bell and those Nacho Fries). But when Carl's Jr./Hardee's announced in February 2021 that the beer-battered fish sandwich was coming back, we're not sure anyone had a reason to be excited. And that's because the sandwich tastes like it's been sitting in the back of a freezer from the last time the chain served it. Needless to say, the fish doesn't taste fresh, and both the patty and the tartar sauce taste so salty, you're gonna need to chug a large Powerade to quench your thirst by the time you're done. Throw it back into the water.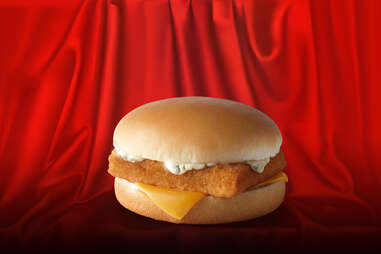 10. McDonald's: Filet-O-Fish
McDonald's Filet-O-Fish is the quintessential fast food fish sandwich. It's an icon. A classic. It's also kind of disappointing, given its status as a fast food staple.
While it's definitely kind of weird, we're not totally against throwing some cheese on a fish sandwich. In the case of the Filet-O-Fish, however, the slice of American is overpowering in a way that makes us wonder if McDonald's is simply using it to cover up the flavor of the fish. To be clear, the fish itself is good—fresh and light, when you can taste it through the cheese—though still reminiscent of a high school cafeteria fish sandwich, thanks to its unnaturally square shape. That's forgivable. After all, we're talking about fast food fish sandwiches. But what really sinks this ship is the breading's lack of crispiness. There's nothing on this sandwich that provides a nice crunch.
Order it for the nostalgia. Order it to taste a fast food classic. Order it out of necessity. But don't order it if you're looking for a truly great fish sandwich.
9. Burger King: Big Fish Sandwich
We've said it before and we'll say it again: Pickles can make or break a sandwich. In the case of Burger King's Big Fish Sandwich, the pickles certainly score some points. The sandwich sandwich features a breaded White Alaskan Pollock filet that's topped with tartar sauce, tangy crinkle-cut pickles, and a little lettuce on a toasted brioche bun.
These toppings bring BK's seafood offering up a notch. We particularly enjoy the King's generous smear of tartar sauce, which hits all of the right notes in the bites with the pickles, and of course, the buttery brioche bun. Unfortunately, the fish is on the thin side and lacks crispiness and flavor. No wonder the chain includes pickles on this sandwich. They're a crutch.
8. White Castle: Panko Breaded Fish Slider
If you want to scratch an itch for fried fish without committing to a whole sandwich, then White Castle's got you covered with its Panko Breaded Breaded Fish Slider. It's the smallest and simplest fish sandwich on our list—consisting of only a slider-sized square of panko-breaded Alaskan Pollock, a slice of American cheese, and a steamed bun. That's it. Even the tartar sauce, which is standard on most fish sandwiches, comes in a packet on the side (so make sure they provide a packet or two with your order).
The fish flavor is completely inoffensive, largely thanks to the crispiness of the panko breading. The American cheese adds needed saltiness. The simplicity of this slider is probably a big plus for some eaters, but we couldn't help but think of it as bland.
7. Checkers: Crispy Fish Sandwich
Like with a lot of the items on Checkers' menu, its Crispy Fish Sandwich is a safe bet. While it doesn't possess that extra something to crack the top five of this ranking, it does have everything you want in a fish sandwich that you can get quickly and cheaply: a crispy, delightfully greasy piece of fried fish with a delicate fish flavor that's sure to please everyone and plenty of tartar sauce to make for perfectly balanced bites from beginning to end. Checkers achieves what a lot of other chains just can't seem to pull off while remaining among the little fish in a big pond.
6. Culver's: North Atlantic Cod Filet Sandwich
Lobsters: You don't order them at diners. Culver's doesn't serve lobster either, but it does have an enormous menu for a fast food place, and they do serve butterfly jumbo shrimp. This is a fast food spot that at its core specializes in burgers and shakes, but is still confident enough to pull off cheese curds and jumbo shrimp. If you've ever been to a Culver's, you know for a fact that the chain pulls it off confidently.
The weakest part of the cod filet sandwich is the hoagie bun. In theory, having a bun that can fit the length of a long filet should be a huge win. Instead, it's a bit of a slog eating your way through what feels like an entire loaf of bread. The rest of the sandwich fares significantly better, with a sizable piece of fresh, crispy, light cod you'd never mistake for a fast food-style fish patty. It's dressed with tartar sauce that has actual flavor beyond boring old dill (capers! olives!), and a hint of creaminess courtesy of its shredded cheese. It's no surprise that Culver's can nail a fried fish sandwich. It's only surprising there's no lobster dinner on the menu.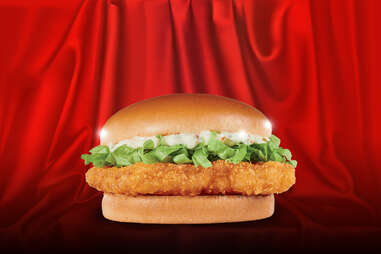 5. Jack in the Box: Fish Sandwich
Jack in the Box loves to push the envelope, what with menu items like Sauced and Loaded Fries—food that asks the question, "What if someone made poutine, but replaced gravy and cheese curds with multiple cheese sauces, bacon, jalapeño and absolutely no shame?" So, you'd expect a fish sandwich from Jack in the Box to have wild ingredients like pepper jack tartar sauce or CBD-infused pollock or something (FYI: these items are not real… yet.) Somehow, the plainly dressed (and generically named) Fish Sandwich made it on the menu. An even bigger surprise is how delicious it is.
Fast food chains don't typically advertise their food with regards to sustainability, as it's often not sustainable. But if you pull up to a Jack in the Box, you may notice a poster proclaiming that the fish sandwich is 100% wild Alaskan Pollock. And that's great to see. But even better is that it's a fantastic fish sandwich. The super crispy patty is part of a well-constructed sandwich. First, the bun is the same as the top notch Breakfast Jack and there's a decent amount of tartar sauce that doesn't overwhelm the flavors from the fried pollock. We'll give the wilted shredded lettuce a pass because fast food doesn't exactly have a good track record when it comes to fresh veggies. Regardless, the star of the show is the pollock—there's plenty of high-quality fish that's designed to fill you up, and the breading dutifully covers the Alaskan gold without making you feel like chain is skimping on fish. It's so simple and delicious, you won't even need to cover it in 14 cheese sauces to enjoy it.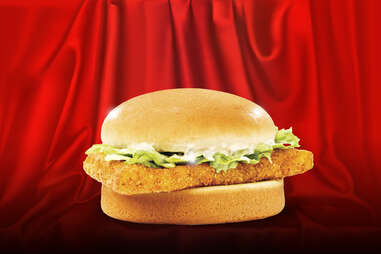 4. Whataburger: Whatacatch
We have a recurring nightmare where we visit a fast food establishment and the only thing on the menu's a fish sandwich. Seriously, does anyone really seek out a slab of fried Nemo on a bun unless it's Lent, they've been dared by a friend, or the sandwich ended up in the bag by accident? Well, the Whatacatch sandwich has definitely changed our opinion (slightly) for handheld seafood meals. It all begins with a Whataburger Jr. bun (sub brioche if you're feelin' fancy) on which they stack a crispy fried filet of Alaskan Pollock, lettuce, tomato, and a generous slathering of tartar sauce. The fish itself has a tender juiciness, a nice flake to it, and the right amount of seasoning in the crunchy, corn-wheat-and-rice-flour batter, plus a freeform shape that appears a tad more naturally-occurring than those perfectly square filets at other spots. Plus, the freshness of the lettuce and tomato elevate the whole endeavor to something we actually might order on purpose next time.
3. Long John Silver's: Wild Alaska Pollock Sandwich
How is it possible that a national fast food chain has less than 10,000 Instagram followers? It probably makes more sense when you know that that chain is Long John Silver's. After the Yum! Brands family (Taco Bell/Pizza Hut/KFC) sold it in 2011 to an investment group, its prospects to remain a viable brand weren't strong. But since then, things have been looking up, with remodeled stores and increasing sales. This ain't your daddy's Long John Silver's. Seriously, the menu's changing, with grilled salmon and shrimp joining the usual assortment of fried fish, like the Wild Alaska Pollock Sandwich.
The first thing you notice when you hold this sandwich in your hand is that it's not a Filet-O-Fish-style patty, it's an actual piece of fish. The other elements of the sandwich are worth noting: a fluffy bun, tangy crinkle-cut pickles for a bit of added crunch, and a heaping amount of tartar sauce for an added, welcome layer of flavor. But the star of the show is the pollock—a delectable fried fish that's light and crispy, and even tastes like it's been kissed with a lemon squeeze. While wild pollock is also available at Jack in the Box, the breading here isn't the typical panko or breadcrumbs—it's a flour batter more commonly found in an order of fish and chips. In fact, if you took the pollock out of the sandwich and threw it into a fish and chips meal, it wouldn't be out of place. Hell, it's so tasty, it almost feels out of place at a fast food joint.
2. Arby's: King's Hawaiian Fish Deluxe Sandwich
When you think of Arby's, a few things likely come to mind—stacked roast beef sandwiches, Jon Stewart, and curly fries. Fish, however, probably isn't one of them. The chain just isn't known for its seafood offerings. Frankly, that should change. Like right now.
Seriously, the fish on this sandwich is the cleanest, freshest tasting fish we tasted throughout this crispy seafood odyssey. It's the epitome of an innocuous flakey piece of crispy fish designed to please the masses. We challenge even the pickiest of fish eaters to find a flaw—it's that good. The toppings don't miss either. The melty cheese checks the nostalgic fish sandwich box. The tartar sauce adds a nice and necessary tang that complements the fish. The lettuce and tomato add a fresh crisp. But it's the bun that seals the deal for us.
Arby's wisely chose a King's Hawaiian Roll to complete its deluxe fish offering. As you'd expect, the roll is sturdy, pillowy soft, and blessed with that subtle sweetness that's characteristic of the brand's breads. It's an absolute triumph. And so is this fish sandwich. It's a limited time offering, so don't miss it.
1. Popeyes: Classic Flounder Fish Sandwich
Whether Popeyes likes it or not, its new and future menu offerings will forever be measured against the golden-brown standard set by the sensational Popeyes Chicken Sandwich. When the Louisiana-style chain introduced its first fish sandwich, the Flounder Sandwich, in early 2021, it was understandably greeted with high expectations. Even though chicken and fish are in entirely different leagues, we admittedly went into tasting it wondering if it would be as good as the chicken sandwich. Of course, the fish sandwich isn't nearly as a good as the chicken sandwich, but you know what? It's a mighty fine fish sandwich. In our not-so-humble opinion, it's the best you can get from a fast food chain.
It's not surprising why. The Cajun Flounder Sandwich actually shares two things that make the Popeyes Chicken Sandwich great: the toasted and buttered brioche bun and the thick-cut, category leading pickles. Popeyes smartly set itself up for success by utilizing those ingredients for this sandwich, and thankfully, they don't need to carry the rest of it. As we noted in our initial review, the sizable portion of flounder on the sandwich is mild, delicate, and flakes nicely for a pleasant sandwich-eating experience. It's a crowd-pleasing choice of fish on its own for sure, but the chain takes it to the next level with a crispy breading that's packed with spices and seasonings. You get a consistent level of flavor in every bite. The requisite tartar sauce, meanwhile, joins the pickles in providing tang and acid to help balance out the fattiness of the fish.
Unlike some of the others that came before it, the Cajun Flounder Sandwich gives fast food fish sandwiches a good name. You can order it without hesitation. And that's especially true if you're avoiding other meats. It's almost unfair that the Flounder Fish Sandwich will forever live in the shadow of the Popeyes Chicken Sandwich, but if not for the latter, it probably wouldn't exist.
Fast Food Fish Sandwich FAQ
Why do so many fast food restaurants serve fish sandwiches?
It has to do with the Lenten Season. During that period of time, Catholics observing Lent avoid eating meat in preparation for Easter. While it's less common now, when McDonald's introduced the Filet-O-Fish in 1962, it was a serious practice among Catholics.
Does Popeyes have a spicy fish sandwich?
It sure does. In 2022, Popeyes introduced a spicy version of its flounder fish sandwich. It's called the Spicy Flounder Fish Sandwich.
Does Burger King still have The Whaler?
No. Sadly, The Whaler was discontinued, but Burger King still offers the Big Fish, a fish sandwich featuring 100% white Alaskan pollock.