The Best Fried Chicken Sandwiches in Fast Food, Ranked
We all know Popeyes' sandwich is great, but what about the rest?
Chicken sandwiches can be a touchy topic. What type of batter works better—tight coats of seasoning and flour that shatter into oily little flecks, or popcorn-like blossoms of crackle and crunch? Does a chicken sandwich need pickles, or do tomatoes and lettuce suffice? Most importantly, which fast food chain makes the chicken sandwich to rule them all?
These are the questions that weighed on me as I set out on a quest to find the best chicken sandwich in fast food, a journey of self-discovery through crispy chicken and lots of pickles. I got my hands on chicken sandwiches from nearly a dozen popular chains across the country—from Carl's Jr. to Culver's. My rules were simple: The chicken sandwich had to be fried. It had to be similar in shape; only round buns, not squares of sliced bread or subs, were allowed. Finally, the sandwich had to have similar components to its competitors, meaning I didn't go around comparing spicy sandwiches to regular ones or value menu offerings to those higher up the pecking order.
After devouring every chicken sandwich I could find at major fast food chains (sorry, Shake Shack, you're fast casual)—and definitely feeling some sodium-induced bloat in my stomach—I can officially proclaim a winner and some runner ups, including a few that may surprise you.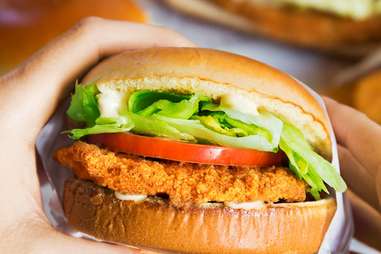 13. Burger King: Crispy Chicken Sandwich
Price: $5.99
The Build: Potato bun, white meat chicken fillet, tomato, lettuce, not enough mayonnaise
For the sake of keeping this ranking relatively consistent, I ordered Burger King's Crispy Chicken Sandwich rather than its long, sub-like Original Chicken Sandwich. Maybe that is where I went wrong because this wasn't the interpretation of the classic chicken sandwich I was expected from the royal burger chain.
Obviously, fried chicken is liberally seasoned and a salty patty is to be expected from a fast food joint, but the King's relatively thin fried patty left my mouth on the dry side. The tomatoes and lettuce, which both lacked any crispness, didn't provide much relief. A heavy smear of mayo might have been able to save the day, but I couldn't detect any even though the sandwich is meant to sport some. The mayo was missing.
Thankfully, Burger King has new and improved fried chicken sandwiches in the works.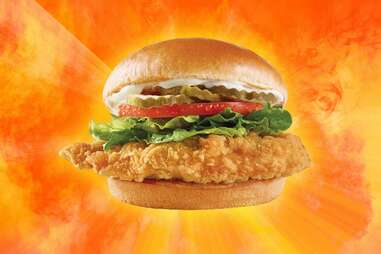 12. Wendy's: Classic Chicken Sandwich
Price: $5.19
The Build: Toasted bun, dry chicken breast, lettuce, tomato, pickles, mayonnaise
Wendy's. I'm not angry, I'm disappointed. Your prior contender, the Homestyle Chicken Sandwich, was a tragedy. I thought you may have learned from your previous fumbles but the new Classic Chicken Sandwich is equally as bad. The chicken is still bone dry, with a batter that's completely forgettable. The only redeeming qualities were the addition of tart pickle chips and the same crisp lettuce that once graced the retired Homestyle sandwich. I tried to give you the benefit of the doubt by sampling the new Spicy Chicken Sandwich as well; surely, I just received a wonky entree? But the spicy version was a meager step up with slightly more flavor. At $5.19 a sandwich, the whole thing feels absurd. I don't know if I would reorder this off the value menu.
11. Checkers/Rally's: Mother Cruncher Sandwich
Price: $3.99
The Build: Toasted bun, battered chicken breast, tomato, lettuce, meh pickles, and new Squawk Sauce
With a name like Mother Cruncher, I was really hoping for a life-altering bite. Checkers and Rally's new chicken sandwich, however, was average at best. The alleged "mega crunch" wasn't all that crunchy, the chicken breast itself was okay but slightly flavorless, the pickles were standard fast food pickles—puckery but slightly shriveled, and the tomato and lettuce did not add nor detract from the overall experience. I will add that its new Squawk Sauce, which comes on the Mother Cruncher, is creamy and delicious. But the sandwich itself falls flat. The main redeeming part of my meal was the order of incredible battered fries I got with my sandwich; unfortunately, those aren't what we're ranking here.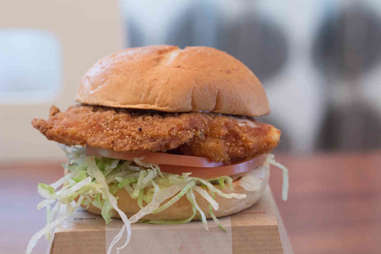 10. Arby's: Crispy Chicken Sandwich
Price: $4.99
The Build: Star cut bun, buttermilk breaded chicken fillet, tomatoes, shredded lettuce, mayonnaise
From here on out, I want to make it clear I enjoyed all these chicken sandwiches. Some were just better than others, and that was the case for Arby's.
Arby's Crispy Chicken Sandwich isn't a revelation, but it is a solid attempt. The chicken patty was juicy and had a nice pepperiness to it, while the fresh tomatoes were plentiful and succulent. Meanwhile, the iceberg lettuce didn't provide much of anything for the sandwich, other than a slight crunch. My main reason for ranking this sandwich so low is the lack of sauce or mayonnaise. Though the chicken patty itself wasn't dry, the sandwich as a whole was.
I also think this Crispy Chicken Sandwich could be improved with some pickles. A nice tang could really tie the entire sandwich together and make it feel whole. And, of course, not as dry. Again, it's a tasty sandwich—just don't expect it to leave you fist-pumping with joy at your desk or dinner table. That'd be kinda weird anyway.
9. Culver's: Crispy Chicken Sandwich
Price: $4.29
The Build: Kaiser bun, crispy chicken patty, lettuce, tomato
Culver's Crispy Chicken Sandwich has some good things going for it. The batter is crispy and well-seasoned, the interior of the chicken is juicy, the pickle chips are tangy, and the Kaiser bun is fluffy. But all of this is lost beneath mealy slices of tomatoes and limp lettuce. That's excusable, but a complete lack of sauce—not even a smidge of mayonnaise—renders the sandwich completely dry and lackluster. If there was a melted slice of cheese, a squeeze of mayonnaise, or a pat of butter as Culver's is famous for, maybe this sandwich would be bumped up a few notches.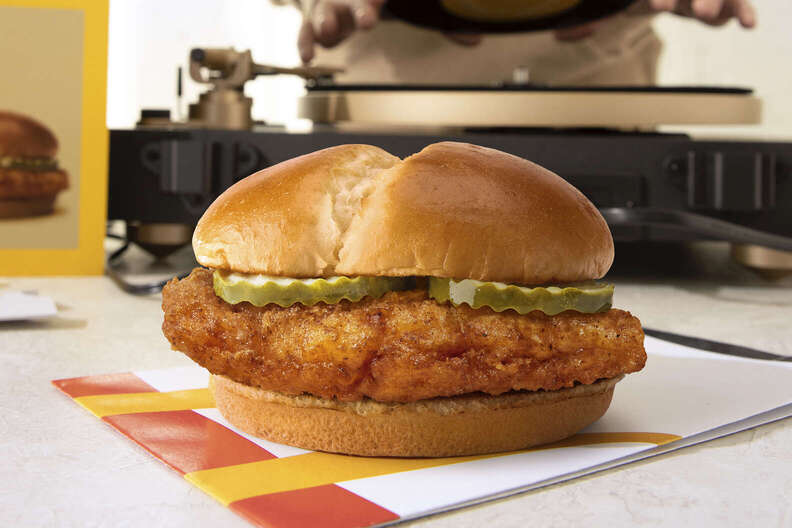 8. McDonald's: Crispy Chicken Sandwich
Price: $3.89
The Build: Potato roll, crispy chicken fillet, pickles, salted butter instead of sauce
I was wondering why this sandwich didn't have any sauce on it. Turns out, McDonald's new Crispy Chicken Sandwich is served with a pat of butter—though all of it had melted and seeped into the squishy, rather flavorless potato roll McDonald's selected for this sandwich by the time I had my first bite. Even with the butter, I feel like the sandwich overall was spectacularly dry. I'd prefer a spread of mayonnaise or some form of aioli. I can appreciate simplicity, but I'd prefer the added flavor and juiciness a sauce could add here.
The chicken fillet doesn't measure up to that of other contenders in the chicken sandwich arena, especially Popeyes'. Literally. It's much smaller and thinner, though I found it to be well-seasoned. The batter wasn't anything memorable and certainly didn't taste as if it were dipped and fried in-house like Popeyes or Church's.
7. Jollibee: Chicken Sandwich Classic
Price: $4.49
The Build: Soft bun, peppery chicken patty, crunchy lettuce, tomato, and mayo
Bless Jollibee for this tender, juicy, and well-seasoned chicken patty with all the right fixings. The mayonnaise is generous and keeps the chicken from feeling too dry, the lettuce is crunchy and provides additional crunch, and the entire sandwich is well-seasoned—salty in some bites, refreshing in others. I do wish the mayonnaise had a twist to it; perhaps some herbs or spices would liven it up. It's a well-made sandwich, but Jollibee's buckets of fried chicken are even better.
6. KFC: Chicken Sandwich
Price: $3.99
The Build: Brioche bun, fried chicken breast, pickles, mayonnaise
The KFC chicken sandwich already had a solid foundation on which it could build. The Crispy Colonel I sampled last year had a generous slather of mayonnaise, an abundance of piquant pickles, and a huge fried chicken breast that was well-seasoned. The new sandwich is more or less the same in all those regards, but the bun is much-improved: You get a subtly sweet brioche that holds the piece of chicken well and works in tandem with the flavors of the chicken and the toppings.
KFC's Chicken Sandwich, however new and improved, is plagued by the same downfall as the previous iteration: the whole thing is overly salty. That being said, it's a solid offering and can definitely secure its place in the middle of this ranking.
5. Jack in the Box: Cluck Sandwich
Price: $4.79
The Build: Brioche bun, white meat chicken fillet, a single pickle (but I hear it's meant to be two), mystery sauce
The first thing I noticed when I pulled Jack in the Box's new Cluck Sandwich out of its heat-preserving bag (yes, it comes in one of those thermal insulated paper bags like Chick-fil-A) is how perfect the brioche bun looked. It honestly felt like something out of a cartoon: glossy, perfectly toasted, yet still spectacularly soft. If we were ranking on buns alone, this would take the cake. Alas, chicken is the star of the show—but the Cluck Sandwich also shouldn't be overlooked in this department. The chicken was well battered without being too greasy, giving way to a pleasant crunch. Inside, the breast meat was shockingly juicy. The patty marries well with the "mystery" sauce, which tastes like the love child of honey mustard, barbecue sauce, and mayonnaise.
The downsides: the Cluck is a bit small—and pricier—than its competitors. And in my entire sandwich, I only received one measly pickle chip.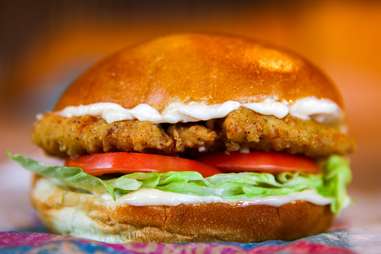 4. Carl's Jr: Big Fillet Chicken Sandwich
Price: $6.89
The Build: Premium bun, chicken fillet with "southern spices," lettuce, tomato, and mayo
The price of Carl's Jr.'s chicken sandwich is a little bit surprising, but the flavor is well-worth the cost. The Big Fillet Chicken Sandwich comes together thanks to white meat chicken covered in a well-seasoned, herbaceous batter. And just as its name suggests, this sandwich is actually pretty big.
The bun is soft and the mayonnaise creamy and generous. The only downsides of this chicken sandwich? The massive head of lettuce Carl's wanted to include in the one I ordered, which was watery and unevenly distributed, and tomatoes that were average but not memorable. Sure, I'd get this sandwich again and recommend it to others.
3. Chick-fil-A: Original Chicken Sandwich
Price: $4.99
The Build: Buttered bun, boneless chicken breast, two very small pickles
I want to understand the cult of Chick-fil-A. I really do. But why has every visit to Chick-fil-A I've ever had left me in minor disappointment?
When Chick-fil-A first landed in California, back when I was still in high school, the promise of the best chicken sandwich in existence finally felt within reach. And here's the good: The chicken itself is gloriously juicy, with a light, well-seasoned batter. I like the idea of customizing this no-frills chicken sandwich with the myriad of sauces offered—and Chick-fil-A sauce is undoubtedly delicious. The two pickle chips pressed between the chicken and bottom bun provide some appreciated acidity.
But here's the bad: The chicken batter is almost always soggy, as is the bun. The sandwich steams within the confines of its foil bag, rendering it soft all over. Without a dousing of the aforementioned sauce, this sandwich is sadly dry. And while the flavor of the pickles are respectable, they were the smallest pickle chips of any of the sandwiches—easily devoured within a bite and a half.
If this were purely a judgment based on the piece of fried chicken alone, then perhaps Chick-fil-A could have gone for the silver. But since we're discussing chicken sandwiches, I have to note that not all the components worked. I don't think I'll ever be a part of Chick-fil-A's rabid fandom, and I'm perfectly okay with that.
2. Church's Chicken: Chicken Sandwich
Price: $3.99
The Build: Honey butter-brushed brioche bun, fried chicken breast, pickles, mayonnaise
Finally, a mighty contender has arrived to take on Popeyes' reign as the supreme chicken sandwich. Is it better than Popeyes? Not quite—but it's very, very close. The subtly sweet brioche bun, brushed with a layer of Church's beloved honey butter and featuring an X design reminiscent of hot cross buns, is the perfect foil to the seasoned batter and tart pickle chips. A generous spread of cool mayonnaise is also there to tie it all together. The batter, garlicky and peppery, shatters upon your initial bite, revealing tender and juicy chicken breast.
Honestly, it's so, so good. If you don't have a Popeyes nearby, the Church's Chicken Sandwich is a mere half-step behind. I'd say Popeyes wins out on the overall size, and its chicken sandwich feels less greasy. But something about Church's honey butter tastes like magic—or as magical as a chicken sandwich can be (which, in our book, is pretty magical).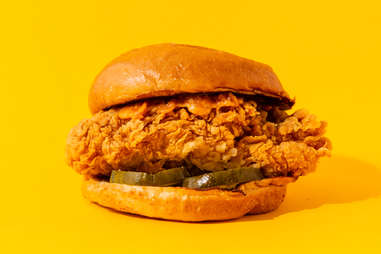 1. Popeyes: Chicken Sandwich
Price: $3.99
The Build: Brioche bun, a hefty piece of buttermilk battered chicken, huge pickles, mayonnaise
This is it. The preeminent fast food chicken sandwich. I hinted that this could be the best chicken sandwich in fast food in my initial review when the sandwich debuted in August of 2019, and well, my initial reactions have been confirmed after eating dozens and dozens of chicken sandwiches from other chains. Popeyes' chicken sandwich is flawless.
The glorious reigning champ has everything you'd want and expect from a classic fried chicken sandwich, and at one of the lowest prices in the pack. The sandwich's balance of crunchy buttermilk batter; cloud-like and sweet brioche buns; and crisp, tangy pickles come together like a symphony of fat, salt, and zest. The mayonnaise is velvety, while the two sizable pickles filled the surface area of the bottom bun, ensuring a kick of vinegar in every bite. The glorious chicken breast—the center of it all—has the perfect amount of salt, spice, and seasonings in the crunchiest batter of all the chicken sandwiches I ate, while still maintaining a juicy, succulent interior.
Popeyes upended the fast food fried chicken sandwich game. It's an awe-inspiring chicken sandwich, so it's no wonder it has held its position at the top of the pack for this long. Believe the hype people. There's a reason why Popeyes was selling out of the sandwich left and right at first. It's truly the best fried chicken sandwich in fast food and there's no indication that will change any time soon.
Sign up here for our daily Thrillist email and subscribe here for our YouTube channel to get your fix of the best in food/drink/fun.
Kat Thompson writes about food for Thrillist. Follow her on Twitter @katthompsonn.