Chicken sandwiches are a touchy topic these days. What type of batter works better -- tight coats of seasoning and flour that shatter into oily little flecks, or popcorn-like blossoms of crackle and crunch? Does a chicken sandwich need pickles, or do tomatoes and lettuce suffice? Most importantly, which fast food chain makes the chicken sandwich to rule them all?
These are the questions that weighed on me as I set out on what I've dubbed "chicken quest 2k19," a journey of self-discovery through fried chicken sandwiches. Over the course of just three days, I pranced across New York City and ate eight different sandwiches from nationwide fast food chains to discover which sandwich slinger makes the best fast food fried chicken sandwich out there. My criteria were simple: The chicken sandwich had to be fried. It had to be similar in shape; only round buns, not squares of sliced bread or elongated tubes of subs, were allowed. The sandwich had to have similar components to its competitors, meaning I didn't go around comparing value menu sandwiches to those higher up the pecking order.
After eating eight chicken sandwiches over the course of three days -- and definitely feeling some sodium-induced bloat in my stomach -- I can officially proclaim a winner and some runner ups, some of which may just surprise you. From worst to best, here is my official ranking of fast food chicken sandwiches:
Recommended Video
These Tacos Are Made for Dunking
8. Burger King: Crispy Chicken Sandwich
Price: $5.99
Sandwich build: Potato bun, white meat chicken filet, tomato, lettuce, mayonnaise
For the sake of keeping this ranking relatively consistent, I ordered Burger King's Crispy Chicken Sandwich rather than its long, sub-like Original Chicken Sandwich. Maybe that is where I went wrong because this wasn't the interpretation of the classic chicken sandwich I was expected from the royal burger chain.
Obviously, fried chicken is liberally seasoned and a salty patty is to be expected from a fast food joint, but the King's relatively thin fried patty left my mouth on the dry side. The tomatoes and lettuce, which both lacked any crispness, didn't provide much relief. A heavy smear of mayo might have been able to save the day, but I couldn't detect any even though the sandwich is meant to sport some mayonnaise. The mayo was missing.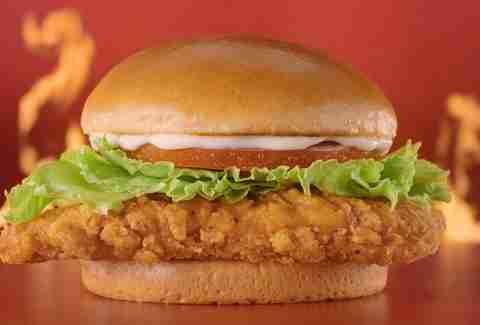 7. Wendy's: Homestyle Chicken Sandwich
Price: $5.79
Sandwich build: Toasted bun, chicken breast, tomato, lettuce, mayonnaise
Wendy's has a lot of nerve. The pigtailed chain recently claimed on Twitter that it has the best fried chicken sandwich, and that its competitors are just "fighting for second best." But in reality, its Homestyle Chicken Sandwich leaves a bit to be desired; namely, juiciness and seasoning other than salt. 
Look, there's nothing wrong with making a sandwich easier to eat, but this white meat patty was pounded too thin and ended up feeling dry. The tomatoes added a layer to the sandwich, but not a layer of deliciousness. However, the lettuce managed to provide a fresh crunch. Wendy's beats out Burger King mainly because the mayonnaise was present and added moisture to the sandwich. 
6. Arby's: Crispy Chicken Sandwich
Price: $4.99
Sandwich build: Star cut bun, buttermilk breaded chicken filet, tomatoes, shredded lettuce, mayonnaise
From here on out, I want to make it clear I enjoyed all these chicken sandwiches. Some were just better than others, and that was the case for Arby's.
Arby's crispy chicken sandwich isn't a revelation, but it is a solid attempt. The chicken patty was juicy and had a nice pepperiness to it, while the fresh tomatoes were plentiful and succulent. Meanwhile, the iceberg lettuce didn't provide much of anything for the sandwich, other than a slight crunch. My main reason for ranking this sandwich so low is the lack of sauce or mayonnaise. Though the chicken patty itself wasn't dry, the sandwich as a whole was. 
I also think this Crispy Chicken Sandwich could be improved with some pickles. A nice tang could really tie the entire sandwich together and make it feel whole. And, of course, not as dry. Again, it's a tasty sandwich -- just don't expect it to leave you fist-pumping with joy at your desk or dinner table. That'd be kinda weird anyway.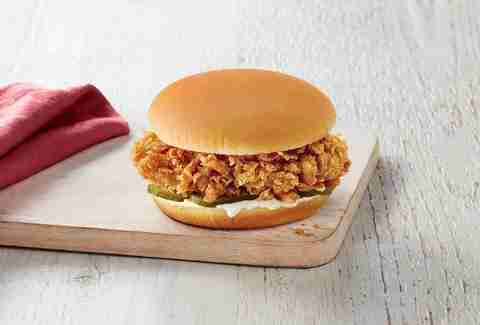 5. KFC: Crispy Colonel Sandwich
Price: $5.49 
Sandwich build: Toasted bun, one absolutely huge piece of crispy chicken, pickles, mayonnaise
As an actual fried chicken chain, it'd be a bit embarrassing if KFC couldn't pull off a simple chicken sandwich. But they can!
Let's dig in. The chicken had a satisfyingly crunchy batter -- rigid like mountain peaks -- that gave way to a glistening, moisture-packed piece of chicken. And the chicken was huge, the biggest piece of all eight sandwiches I tried. In fact, everything about the crispy colonel was generous: the mayonnaise was creamy and plentiful, while I counted four piquant pickles that easily cut through the heavy fat of the sandwich.
The chicken sandwich, of course, isn't without its flaws. The bun was too greasy (so greasy, in fact, it seeped through the foil wrapping that safely cradled the chicken), the batter seemed slightly undercooked in the center of the sandwich, and the saltiness from the chicken itself did leave me thirstier than any other sandwich. I'd love to return and try the other variations of the Crispy Colonel -- there's a Nashville hot sandwich, a barbecue-flavored version, and one dubbed the "Georgia Gold."
4. Chick-fil-A: Original Chicken Sandwich
Price: $4.99
Sandwich build: Buttered bun, boneless chicken breast, two very small pickles
I want to understand the cult of Chick-fil-A. I really do. While the company's track record on LGBTQ issues isn't appetizing, I am willing to (briefly) set aside my politics in the name of fried chicken sandwich journalism. But why has every visit I've ever had to Chick-fil-A left me in minor disappointment?
When Chick-fil-A first landed in California, back when I was still in high school, the promise of the best chicken sandwich in existence finally felt within reach. And here's the good: The chicken itself is gloriously juicy, with a light, well-seasoned batter. I like the idea of customizing this no-frills chicken sandwich with the myriad of sauces offered -- and Chick-fil-A sauce is undoubtedly delicious. The two pickle chips pressed between the chicken and bottom bun provide some appreciated acidity.
But here's the bad: The chicken batter is almost always soggy, as is the bun. The sandwich steams within the confines of its locked foil bag, rendering it soft all over. Without a dousing of the aforementioned sauce, this sandwich is sadly dry. And while the flavor of the pickles are respectable, they were the smallest pickle chips of any of the sandwiches -- easily devoured within a bite and a half.
If this were purely a judgment based on the piece of fried chicken alone, then perhaps Chick-fil-A could have gone for the bronze. But since we're discussing chicken sandwiches, I have to note that not all the components worked. I don't think I'll ever be a part of Chick-fil-A's rabid fandom, and I'm perfectly OK with that.
3. Shake Shack: Chick'n Shack
Price: $7.09
Sandwich build: Potato bun, chicken breast, shredded lettuce, pickles, buttermilk herb mayonnaise
At a whopping $7, the priciest of all the chicken sandwiches, I was expecting to be completely blown away by Shake Shack's crack at the crispy chicken sandwich. I wasn't knocked off my feet, but I was moved.
The Chick'n Shack had a lot of positives. The batter was herby and flavorful, reminiscent of the crispy crunchies that flake off Outback Steakhouse's iconic Bloomin' Onion, which is one of the best compliments I can give to a batter. The buttermilk herb mayonnaise had a delightfully rich tanginess and set the sandwich apart from all the other plain mayonnaise-slathered contenders. The four pickle chips included were evenly dispersed and the shredded lettuce provided a nice crunchiness without overwhelming the sandwich or rendering the breading soggy. Even Shake Shack's classic potato roll is worth noting: pillowy soft, yet keeping everything together.
But for over $7, the size of the sandwich -- easily the smallest of all the sandwiches -- was disappointing. The inside of my chicken was slightly dry, too. All the elements of the sandwich carried Shake Shack to the bronze, but improvements could definitely be made.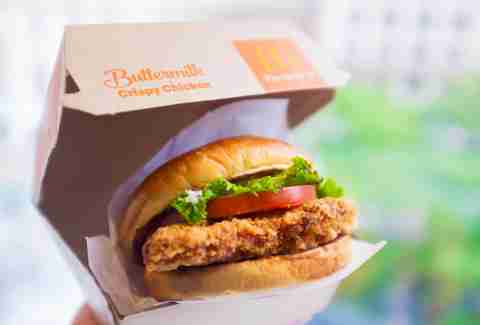 2. McDonald's: Buttermilk Crispy Chicken
Price: $5.69
Sandwich build: Artisan roll, white meat chicken filet, tomato, lettuce, mayonnaise
McDonald's buttermilk crispy chicken sandwich is a sleeper hit. While I'm just as shocked as you are that this sandwich ranks so high, I have to say that I'm even more surprised no one is talking about it.
The sandwich is phenomenal -- miles ahead of the flattened discs of the McChickens I ate throughout high school (which, to be real, I still love). The patty was so flavorful; the aroma of buttermilk is evident throughout. The chicken itself was cooked well, though pounded a little bit too thin to my liking. The lettuce was refreshing and -- my God -- the tomatoes. The tomatoes were a deep, succulent, cherry red and cut thick yet proportional to the rest of the sandwich. I could hardly believe I was enjoying sliced tomatoes from McDonald's because they tasted like they'd been picked fresh in a garden. And the mayonnaise was spread evenly and lavishly, seductively spilling over the edges of chicken in a way that is atypical for McDonald's.
I loved every second of it, and am looking forward to returning to McDonald's for another Buttermilk Crispy Chicken Sandwich. But, really, where's the meme war over this sandwich?
1. Popeyes: Chicken Sandwich
Price: $3.99
Sandwich build: Brioche bun, a hefty piece of buttermilk battered chicken, huge pickles, mayonnaise 
This is it. The superlative of all fast food chicken sandwiches. I hinted that this could be the absolute best chicken sandwich in fast food right now in my initial review of Popeyes' latest menu addition, and well, my initial reactions were confirmed this week after eating eight fried chicken sandwiches in three days. Popeyes' chicken sandwich is flawless.
The glorious newcomer has everything you'd want and expect from a properly done, classic fried chicken sandwich, at one of the lowest prices in the pack. The sandwich's balance of crunchy buttermilk batter; cloud-like and sweet brioche buns; and crisp, tangy pickles came together like a symphony of fat, salt, and zest. The mayonnaise was velvety, while the two sizable pickles filled the surface area of the bottom bun, ensuring a kick of vinegar in every bite. The glorious chicken breast -- the center of it all -- had the perfect amount of salt, spice, and seasonings in the crunchiest batter of all the chicken sandwiches I ate, while still maintaining a juicy, succulent interior.
Popeyes has upended the fried chicken sandwich game. It's an awe-inspiring chicken sandwich and it's shocking it took the fried chicken chain this long to share it with the world. Believe the hype people. The reason Popeyes is selling out of the sandwich left and right is because it's truly the best fried chicken sandwich in fast food right now.

Sign up here for our daily Thrillist email and subscribe here for our YouTube channel to get your fix of the best in food/drink/fun.