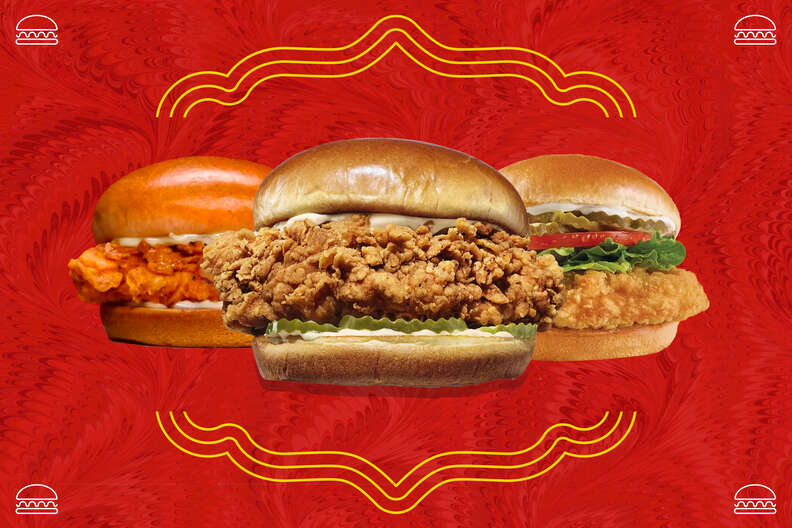 Image by Maitane Romagosa and Chineme Elobuike for Thrillist
Image by Maitane Romagosa and Chineme Elobuike for Thrillist
Welcome to The Fasties, Thrillist's third-annual fast food awards! The awards feature more than a dozen categories celebrating all the best foods that came out of drive-thru windows over the past year—from the Best Coffee Nuggets to the Best Spicy Chicken Sandwich, and many more. Check out the full list of categories and winners.
Chicken sandwiches can be a touchy topic. What type of batter works better—tight coats of seasoning and flour that shatter into oily little flecks, or popcorn-like blossoms of crackle and crunch? Does a chicken sandwich need pickles, or do tomatoes and lettuce suffice? Most importantly, which fast food chain makes the chicken sandwich to rule them all?
These are the questions that weighed on us as we set out on a quest to find the best chicken sandwich in fast food. We got our hands on chicken sandwiches from more than a dozen popular chains across the country—from Carl's Jr. to Culver's. Our rules were simple: The chicken sandwich had to be fried. It had to be similar in shape; only round buns, not squares of sliced bread or subs, were allowed. Finally, the sandwich had to have similar components to its competitors, meaning we didn't go around comparing spicy sandwiches to regular ones or smaller value menu offerings to those higher up the pecking order.
After devouring every chicken sandwich we could find at major fast food chains (sorry, Shake Shack, you're fast casual)—and definitely feeling some sodium-induced bloat—we can officially proclaim a winner and some runner ups, including a few that may surprise you.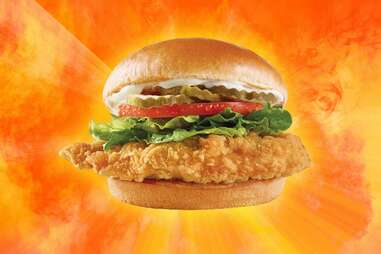 15. Wendy's: Classic Chicken Sandwich
The Build: Toasted bun, dry chicken breast, lettuce, tomato, pickles, mayonnaise
Wendy's. We're not angry, we're disappointed. Your prior contender, the Homestyle Chicken Sandwich, was a tragedy. And while we thought you may have learned from your previous fumbles, the new Classic Chicken Sandwich is equally sub-par. The chicken is still bone dry, with a batter that's completely forgettable. The only redeeming qualities are the addition of tart pickle chips and the same crisp lettuce that once graced the retired Homestyle sandwich. We tried to give you the benefit of the doubt by sampling the new Spicy Chicken Sandwich as well; surely, we just received a bad batch? But the spicy version was a meager step up with slightly more flavor. At more than $5 a sandwich, the whole thing feels wrong.
14. Checkers/Rally's: Mother Cruncher Sandwich
The Build: Toasted bun, battered chicken breast, tomato, lettuce, meh pickles, and new Squawk Sauce
With a name like Mother Cruncher, we were really hoping for a life-altering bite. Checkers and Rally's chicken sandwich, however, is average at best. The alleged "mega crunch" isn't all that crunchy, the chicken breast itself is okay, but slightly flavorless, the pickles are standard fast food pickles—pucker-inducing, but slightly shriveled—and the tomato and lettuce neither add nor detract from the overall experience. The Squawk Sauce, which comes on the Mother Cruncher, is creamy and delicious. But the sandwich itself falls flat.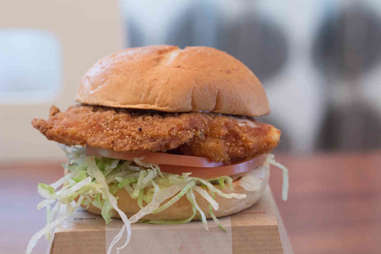 13. Arby's: Classic Crispy Chicken Sandwich
The Build: Star cut bun, buttermilk breaded chicken fillet, tomatoes, shredded lettuce, mayonnaise
From here on out, we want to make it clear that we enjoyed all these chicken sandwiches. Some are just better than others, and that's the case for Arby's.
Arby's Crispy Chicken Sandwich isn't a revelation, but it's a solid attempt. The chicken patty is juicy and has a nice pepperiness to it, while the fresh tomatoes are plentiful and succulent. Meanwhile, the iceberg lettuce doesn't provide much of anything for the sandwich, other than a slight crunch. Our main reason for ranking this sandwich so low is the lack of sauce or mayonnaise. Though the chicken patty itself isn't dry, the sandwich as a whole was.
This Crispy Chicken Sandwich could be improved with some pickles. A nice tang could really tie the entire sandwich together and make it feel whole. And, of course, not as dry. Again, it's a tasty sandwich—just don't expect it to leave you fist-pumping with joy at your desk or dinner table. That'd be kinda weird anyway.
12. Culver's: Crispy Chicken Sandwich
The Build: Kaiser bun, crispy chicken patty, lettuce, tomato, and pickles
Culver's Crispy Chicken Sandwich has some good things going for it. The batter is crispy and well-seasoned, the interior of the chicken is juicy, the pickle chips are tangy, and the Kaiser bun is fluffy. But all of this is lost beneath mealy slices of tomatoes and limp lettuce. That's excusable, but a complete lack of sauce—not even a smidge of mayonnaise—renders the sandwich completely dry and lackluster. If there were a melted slice of cheese, a squeeze of mayonnaise, or a pat of butter as Culver's is famous for, maybe this sandwich would be bumped up a few notches.
11. McDonald's: Crispy Chicken Sandwich
The Build: Potato roll, crispy chicken fillet, pickles, salted butter instead of sauce
We were wondering why this sandwich didn't have any sauce on it. Turns out, McDonald's Crispy Chicken Sandwich is served with a pat of butter—though all of it had melted and seeped into the squishy, rather flavorless potato roll McDonald's selected for this sandwich by the time we had our first bite. Even with the butter, the sandwich overall is spectacularly dry. We'd prefer a spread of mayonnaise or some form of aioli. We can appreciate simplicity (see Chick-fil-A later in this ranking), but we'd prefer the added flavor and juiciness a sauce could add here.
The chicken fillet doesn't measure up to that of other contenders in the chicken sandwich arena, especially Popeyes'. Literally. It's much smaller and thinner, though we found it to be well-seasoned. The batter isn't anything memorable and certainly doesn't taste as if it were dipped and fried in-house like Popeyes or Church's.
10. Jack in the Box: Cluck Sandwich
The Build: Brioche bun, white meat chicken fillet, a single pickle (but I hear it's meant to be two), mystery sauce
The first thing we noticed when we pulled Jack in the Box's Cluck Sandwich out of its heat-preserving bag (yes, it comes in one of those thermal insulated paper bags like Chick-fil-A) is how perfect the brioche bun looked. It honestly felt like something out of a cartoon: glossy, perfectly toasted, yet still spectacularly soft. If we were ranking on buns alone, this would take the cake.
Alas, chicken is the star of the show—but the Cluck Sandwich also shouldn't be overlooked in this department. The chicken is well-battered without being too greasy, giving way to a pleasant crunch. Inside, the breast meat is shockingly juicy. The patty marries well with the "mystery" sauce, which tastes like the love child of honey mustard, barbecue sauce, and mayonnaise.
The downsides: the Cluck is a bit smaller—and pricier—than its competitors. And in our entire sandwich, we only received one measly pickle chip.
9. Sonic Drive-In: Classic Crispy Chicken Sandwich
The Build: Thinly breaded chicken breast, tomatoes, mayo, and a brioche bun that can barely hold in all of Sonic's bizarrely cut lettuce
Sonic's vast menu is admirable. Where else can you get a double bacon cheeseburger, hefty patty melt, Footlong Quarter Pound Coney dog, and a side of jalapeño poppers—and wash it all down with a Cherry Limeade Slush? Having a crispy chicken sandwich on the menu among these more unique offerings almost seems perfunctory. At least, that's the sentiment we detected upon tasting one.
To be clear, Sonic is great at a lot of things on top of having a delightfully expansive menu. Look no further than the awards we gave it for having the best onion rings and soft serve ice cream. Its TV commercials are consistently amusing. And don't forget the servers on roller skates. They're fantastic. The Classic Crispy Chicken Sandwich, however, just isn't one of those great things. This is largely due to the chicken breast and it's thin, generic breading. The toppings don't do much to save it (we're looking at you, pale tomato slices). And, frankly, Sonic needs to cool it with the way it chops lettuce. Nobody wants giant, roughly hewn clumps falling onto their laps mid-sandwich. It finds some redemption in a liberal application of mayo and the warm brioche bun.
8. Jollibee: Original Chicken Sandwich
Price: $3.99
The Build: Fried chicken fillet, spectacular umami mayo, toasted brioche bun
Bless Jollibee for this tender, juicy, and well-seasoned chicken patty with all the right fixings. The crispy fillet in of itself is excellent, thanks to a fried batter that retains a high level of crunch throughout the eating experience. The umami sauce, meanwhile, adds a show-stopping creamy texture and savory flavor that earns this sandwich extra points—and places it above sandwiches from much bigger chains like McDonald's and Wendy's.
7. Church's Chicken: Chicken Sandwich
The Build: Honey butter-brushed brioche bun, fried chicken breast, pickles, mayonnaise
Church's answer to the Popeyes chicken sandwich appeared to be a mighty contender, when it hit the increasingly crowded chicken sandwich scene. We were impressed in our initial taste tests, but after subsequent tastings, we've found that it doesn't quite hold a candle to the Popeyes sandwich—or many other chicken sandwiches for that matter. That's not to say that it's bad.
The subtly sweet brioche bun, brushed with a layer of Church's beloved honey butter and featuring an X design reminiscent of hot cross buns, is the perfect foil to the seasoned batter and tart pickle chips. A generous spread of cool mayonnaise is also there to tie it all together. The batter, garlicky and peppery, shatters upon your initial bite, revealing tender and juicy chicken breast inside.
Is it a good chicken sandwich? Hell, yes. Is it magical? Not really.
6. Raising Cane's: The Sandwich
The Build: Three of the chain's damn good chicken fingers, lettuce, and, of course, some beloved Cane's Sauce—on a big toasted bun
Thrillist's annual fast food awards, The Fasties, named Raising Cane's Chicken Fingers the best in all of fast food in 2020. That shouldn't be much of a shock, considering that's basically all the chain serves besides crinkle-cut fries and Texas toast. The fingers are shockingly tender and covered in a crispy, non-greasy batter that falls in the sweet spot between the flaky kind you'd get from a fried chicken chain like KFC and the typically thinner fast food batter you're used to from, say, Chick-fil-A. Seasoned with just salt and pepper, they're exemplary. That's why we were so excited to put Raising Cane's chicken sandwich, which is made with three of its Chicken Fingers, to the test.
Given all of the above, we went into tasting the sandwich with high expectations, and, well, we were not disappointed. The Raising Cane's sandwich is sizable—built on a toasted bun that's big enough to house all three fingers and thick enough to hold together with each bite. The fingers, of course, are a delight, with the kick of pepper shining brightly among the other ingredients. However, the little lettuce present is sad and adds nothing in the way of flavor or texture. You might as well remove it.
Just a few bites in, it becomes clear that Raising Cane's relies on its category-leading fingers and Cane's Sauce to do all the hard work in the absence of other ingredients, like tomatoes or pickles. And they do to an extent. The fingers achieve this well, while the sauce doesn't quite carry the overall package to the high bar set by others in this category. It needs more, like pickles. Hell, maybe even some of its creamy coleslaw (available in combos), would do the trick.
5. Chick-fil-A: Original Chicken Sandwich
The Build: Buttered bun, boneless chicken breast, two very small pickles
We understand the hype around Chick-fil-A and its decidedly simple fried chicken sandwich. It's a great chicken sandwich. But unlike many other chicken sandwich enthusiasts out there, we're not comfortable with claiming that it's the best in the game.
Here's the good: The chicken itself is gloriously juicy, with a light, well-seasoned batter. We like the idea of customizing this no-frills chicken sandwich with the myriad of sauces offered—and Chick-fil-A sauce is undoubtedly delicious. The two pickle chips pressed between the chicken and bottom bun provide some appreciated acidity.
But here's the bad: The chicken batter is almost always soggy, as is the bun. The sandwich steams within the confines of its foil bag, rendering it soft all over and borderline wet on the outside. And yet, the interior of this sandwich is surprisingly dry without a dousing of the aforementioned sauce. The flavor of the pickles is respectable, but they're the smallest pickle chips of any of the sandwiches—easily devoured within a bite and a half.
If this were purely a judgment based on the piece of fried chicken alone, then perhaps Chick-fil-A could have gone for the bronze. But since we're discussing chicken sandwiches, we have to note that not all the components worked.
4. Bojangles: Bo's Chicken Sandwich
The Build: Juicy chicken with a crispy coating, creamy may, a couple of thick-cut pickles, all on a buttered bun
If you've ever experienced the delights of Bojangles' cajun fried chicken and buttermilk biscuits, then you don't even have to eat one of its fried chicken sandwiches to know that its delicious. But you should absolutely eat one. Or eight. It's one of the best your money can buy.
Like many of the top-ranking chicken sandwiches on this list, it's a simple one that follows the traditional southern fried chicken sandwich playbook. When your chicken as well-seasoned, flavorful, and crispy as Bojangles, you don't need a bunch of toppings to lean on for help. So, the pickles and mayo on this sandwich end up being bonuses; extra layers of goodness that take the overall package to the next level.
Next time you find yourself in the South or otherwise near a Bojangles outpost, don't miss this sandwich. We will find out. And shame you forever.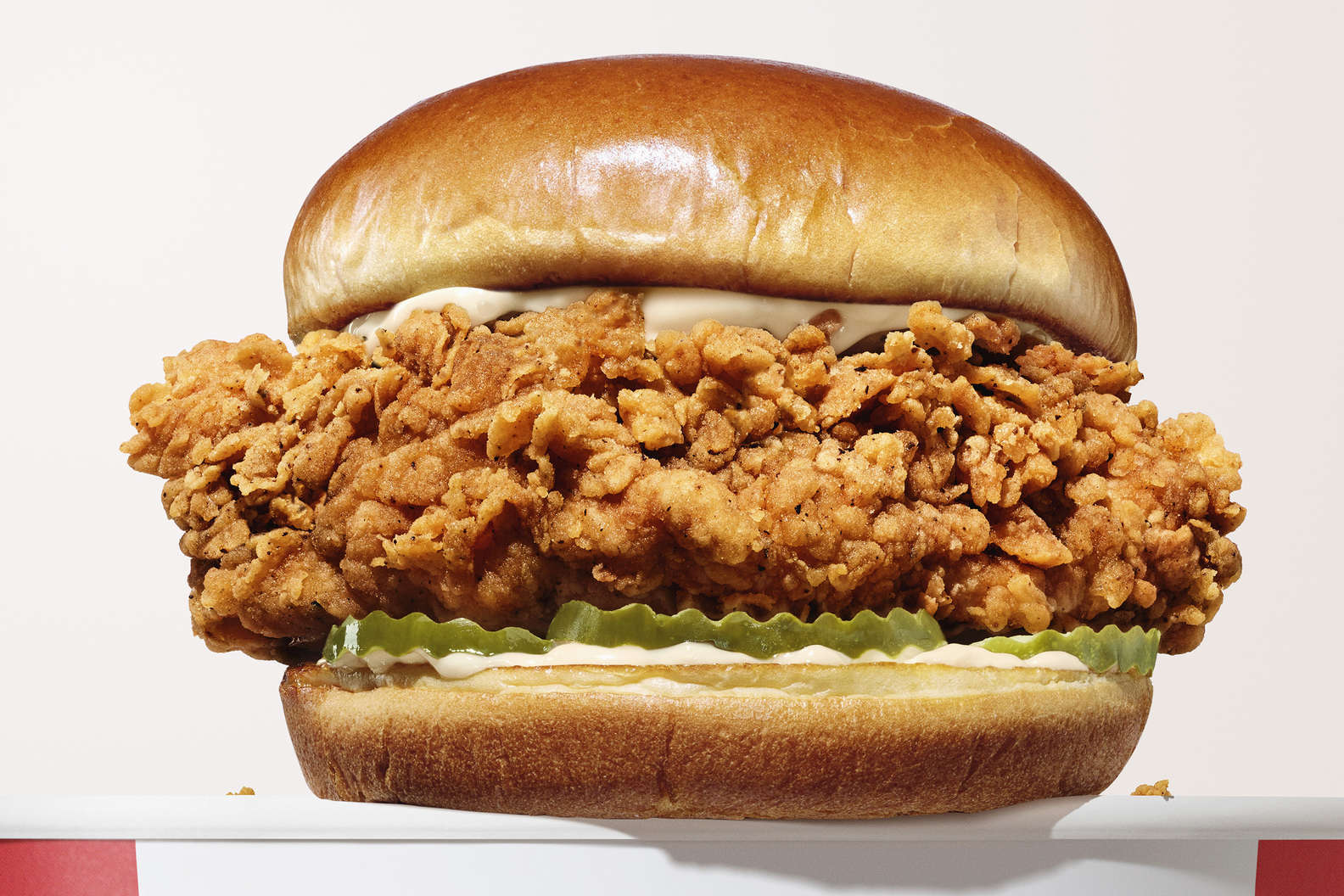 3. KFC: KFC Chicken Sandwich
The Build: Brioche bun, fried chicken breast, pickles, mayonnaise
KFC's previous crack at a fried chicken sandwich, the Crispy Colonel, was merely solid, not exceptional. So, when the chain unleashed the all-new KFC Chicken Sandwich in early 2021, it arrived to somewhat low expectations and the extremely high bar set by Popeyes. How could it defy the former and, at the very least, get near the latter? The colonel found a way.
The sandwich is blessed with a generous slather of mayo that made its way into every bite, leaving no part of the sandwich too dry. The chicken itself has that unique flavor characteristic of KFC's standard fried chicken offerings, likely thanks to its famous 11 herbs and spices. While the meat isn't as inexplicably juicy as the top two sandwiches we tasted, it's decidedly moist and tender with an above-average amount of crunch that holds up through most of the eating experience. However, it suffers from the same downfall as its predecessor: the whole thing is a tad too salty—even by fast food fried chicken standards. Meanwhile, the pickles are an absolute delight (how could they not be, just look at them), though they're certainly guilty of adding to the overall saltiness. As for the brioche bun, well... we can't find a single fault. It's a fantastic vessel.
Did KFC manage to one-up Popeyes? No. But nobody really expected it to anyway, right? But it meeting Popeyes and other rivals at the frontlines of the chicken wars, it put out a damn-good chicken sandwich. Easily among the best you can get.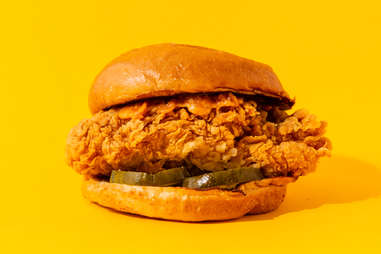 2. Popeyes: Chicken Sandwich
The Build: Brioche bun, a hefty piece of buttermilk battered chicken, huge pickles, mayonnaise
This is it. The chicken sandwich that changed the game. The one that upended fast food and left every other chain scrambling to somehow catch up... even though the race had already been won. Hell, even to this day, fast food chains continue to launch their own new and improved chicken sandwiches to take a bite out of Popeyes' success, but only one has managed to best it—and only by a paper-thin margin (keep reading to find out who).
This legendary menu item has everything you'd want and expect from a classic fried chicken sandwich, and—get this—at one of the lowest prices in the pack. The sandwich's balance of crunchy buttermilk batter; cloud-like and sweet brioche bun; and crisp, tangy pickles come together like a symphony of fat, salt, and zest. The mayonnaise is velvety, while the two sizable pickles fill the surface area of the bottom bun, ensuring a kick of vinegar in every bite. The glorious chicken breast—the center of it all—has the perfect amount of salt, spice, and seasonings in one of the crunchiest batters of all the chicken sandwiches we ate, while still maintaining a juicy, succulent interior.
It's an awe-inspiring chicken sandwich. There's a reason why Popeyes was selling out of the sandwich left and right at first. It may no longer top this ranking, but the Popeyes Chicken Sandwich will forever be a fast food icon.
1. Burger King: Ch'King Sandwich
The build: Extra-crispy chicken, thick crinkle-cut pickles, signature sauce, potato bun (!)
When Burger King finally launched its updated chicken sandwich, aptly dubbed the Ch'King, in mid-2021, it was late to the game. But clearly, the King was spending all that extra time perfecting it. No, really. This sandwich is damn-near flawless.
It's so good that we're going to go so far as to say that it's the only fast food chicken sandwich that bests that of Popeyes. We repeat: Burger King's Ch'King sandwich is better than Popeyes' game-changing Chicken Sandwich. But only by a hair.
Burger King's crispy chicken fillet is a substantial piece of chicken, with the most perfect golden-brown hue to it that's—dare we say it—a bit more visually appealing than Popeyes'. The crunch you get with every bite is perfect and lasts noticeably longer than what you get from the Louisiana-style chain. The chicken itself is the definition of juicy, a marvel of fast food engineering. The potato bun—and its sweet, buttery softness—elevates the entire sandwich and, frankly, sets this thing above the rest. The generous smear of mayo-based sauce adds a creamy note to the lean chicken while foiling the fried, greasy notes with its slight acidity. The thick, crinkle-cut pickles add to the tang and send the whole thing over the edge, leaving you wondering, How in the world is this chicken sandwich from Burger King?
Well, that shouldn't come as much of a surprise considering Burger King and Popeyes are owned by the same company, Restaurant Brands International. They're clearly sharing some research and development secrets behind the scenes. And you know what? That's fine by us. The more insanely great chicken sandwiches to choose from, the better.
Sure, the Ch'King is almost certainly based on the successes of the Popeyes sandwich, but it can proudly stand on its own. Right here at the top.
Fast Food Fried Chicken Sandwich FAQ
When did Popeyes first introduce its game-changing fried chicken sandwich?
Although Popeyes wasn't the first fast food chain to sell fried chicken sandwiches, it's safe to say its entry was the most memorable. The Louisiana-style chain first released its fried chicken sandwich on August 12, 2019. The sandwiches quickly drew a viral following, causing supply shortages that prompted their suspension from the menu for over two months. They reappeared on November 3, 2019 to coincide with National Sandwich Day.
Which fast food chain takes credit for inventing the fried chicken sandwich? And when did it happen?
Chick-fil-A frequently credits its founder, S. Truett Cathy, with inventing the fried chicken sandwich in the 1940s and bringing it to mass-market audiences in the 1960s. But while he can certainly be credited with successfully doing the latter, his claim to the former is unsubstantiated.
Does Taco Bell serve a fried chicken sandwich taco?
Taco Bell wasn't content to sit on the sidelines just because its cuisine doesn't typically include fried chicken. The chain introduced its Crispy Chicken Sandwich Taco in August 2021 featuring a jalapeño buttermilk marinade and a tortilla chip coating wrapped in a puffy flatbread shell. It was a limited-time menu item, however, and isn't currently available, although the chain's Cantina Crispy Chicken Taco released in 2022 hits many of the same notes.
When is National Fried Chicken Sandwich Day?
Fast food lovers and home chefs alike celebrate National Fried Chicken Sandwich Day each November 9. That's not to be confused with National Fried Chicken Day, which falls on July 6 each year.
Which fast food chain makes the best spicy chicken sandwich?
The fast food fried chicken sandwich competition is fierce. But the competition for the best spicy chicken sandwich in fast food is, well, even hotter. Not only do you need to create a delicious overall chicken sandwich to serve as a strong foundation, you also have to infuse it with a delightful kick of heat that will please the masses. Who does it best? Check out our ranking of the best spicy chicken sandwiches.